Chelsea Kayak Club was proud to be involved in one of the rehearsals for The Thames Diamond Jubilee Pageant, taking place next year, when around 1000 boats are expected to make their way down the Thames, to celebrate sixty years since the coronation of Her Majesty, Queen Elizabeth II.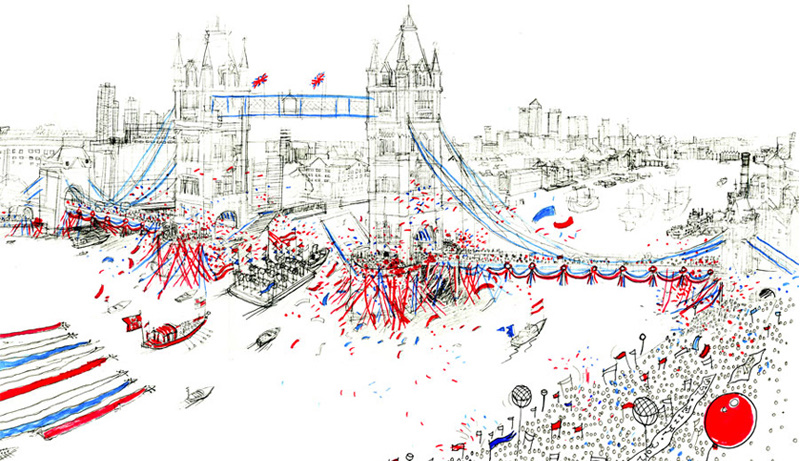 The Diamond Jubilee celebrations are to take place during the first weekend of June 2012, with the flotilla dominating the Sunday's festivities as it winds the 13+ miles through London, from Putney to Canary Wharf.
Yesterday's practice run was specifically for the kayak contingent of the 'armada' to ensure that we were able to maintain the required 6 knot speed over ground that the precession will need to take. As the typical sea kayaker paddles at around 2.5-3 knots on flat water in calm conditions – you can see why all eyes were on us, to see whether it would even be possible to take part.
It was Judes and I who were flying the flag for Chelsea Kayak Club when we met with Port of London Authority (PLA) Harbour Master, David Phillips, in one of the club houses on Putney Embankment for our briefing, protocol and safety talk, with around 16 other kayakers.  This forum proved to be quite useful to share some of the learnings from the Kayakathon – for paddler dynamics in large groups on the Thames tideway – and for British Canoe Union (BCU) best practice.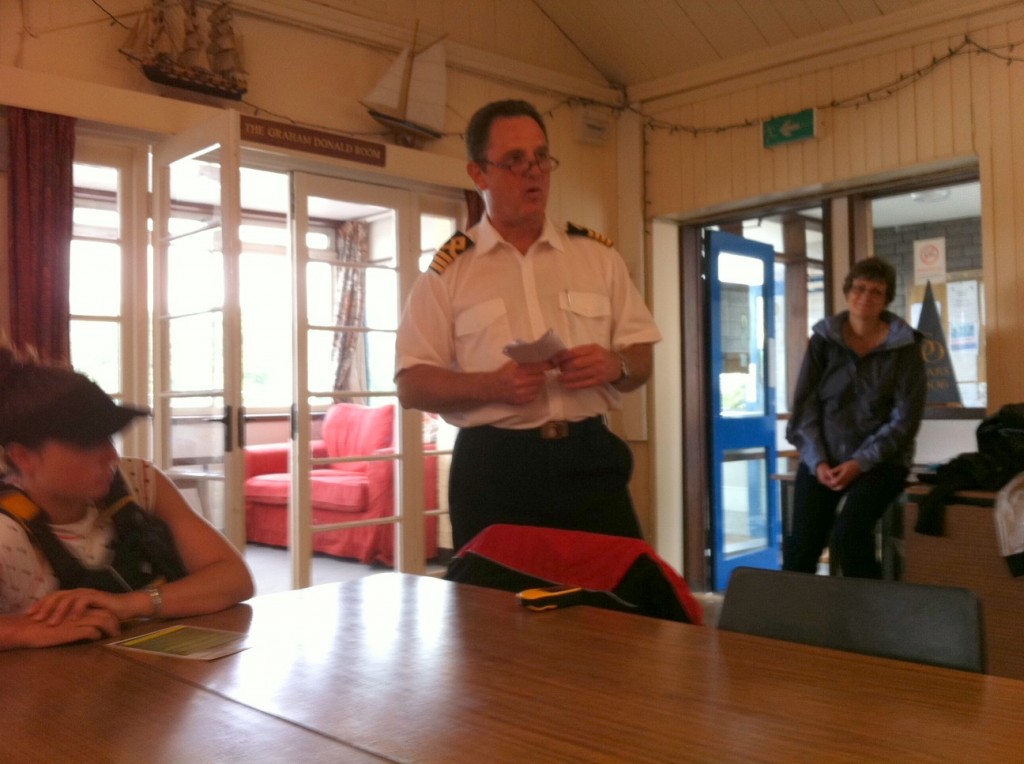 It was a little after the high tide, that all the boats marshalled on the river and set off behind our escort for the trip, PLA's Kew catamaran – which was tasked with setting the pace, a steady 6 knots.  It was then that the dozen or so sea kayaks; a combination of composite, plastic, solo and double kayaks attempted to keep up with Kew. Few did.
As the tide had just changed, we were all paddling on slack water with no support from the ebbing tide – and despite being in one of the Cremorne Riverside double kayaks for the day, I could see our lead marker chugging into the distance, getting away from us.  We were paddling like fury to try and stay in the required tight formation, but it wasn't long before there was a natural lag – creating a long string of kayaks, stretching back for nearly half a mile.  It was hard going and exhausting trying to maintain this pace over any length of time.
It was at about Vauxhall Bridge that we finally caught up with Kew, having been gaining ground for the previous 20-30 minutes as the tidal flow beneath the boat lent its power to our now tired limbs. After that it was a relatively easy and sociable 'ride', we all managed to maintain the pace quite comfortably as we paddled passed Big Ben, The London Eye and ultimately Tower Bridge.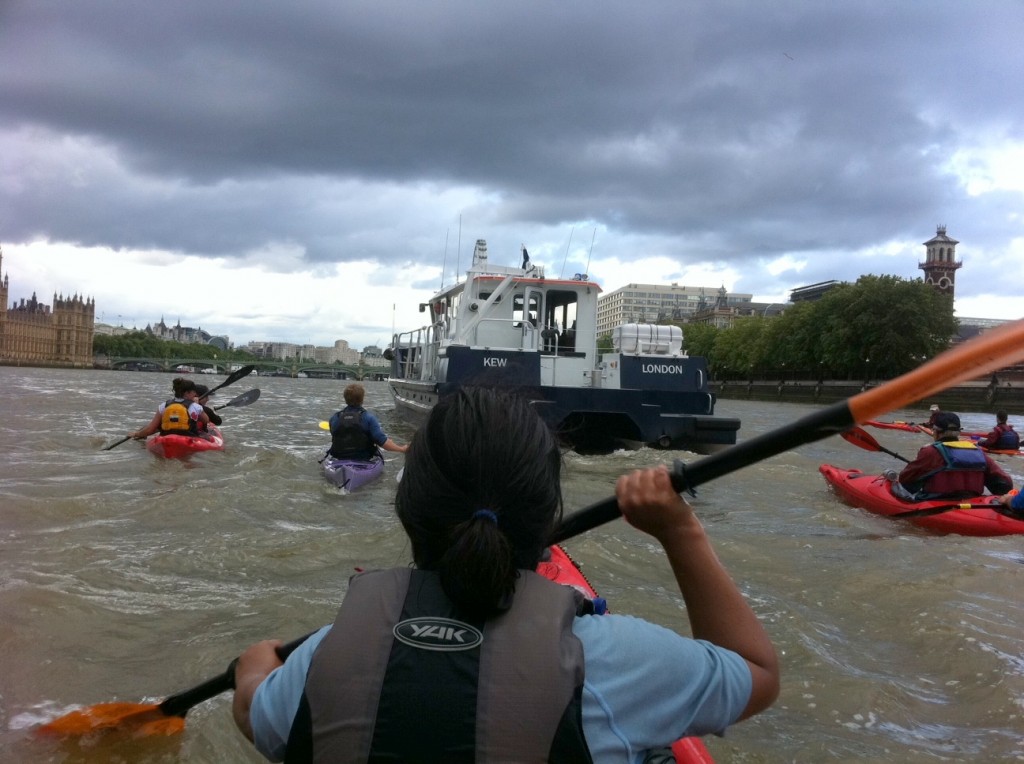 Shortly after Tower Bridge, we all practiced our best improvised 'paddle salutes' as we went passed HMS President and discussed the merits of either a 'synchronised roll' or an 'all-in-swim' as the best way to impress Her Majesty on the big day, should we be selected to participate.  I guess the Jubilee Pageant organising committee will need to make the final decision on that one!
The guys at Tower Hamlets Canoe Club, who'd also been paddling in this mini flotilla, played host to all the weary, yet cheery, paddlers when we landed at their club house – and a hot shower and dry clothes were extremely appreciated at that stage.  We then headed to the Prospect of Whitby for a pint to dissect the day's event and give our two pennies worth about how it 'should be done' and ponder what it would be like to take part in the real thing next year.
There will be 80-100 sea kayaks from all over the UK selected to take part in The Queen's boat precession, these will join around 200 rowers to form the 'man powered vessel' section of the flotilla.  Anyone can register to take part, so long as they're in a boat that's 14ft or longer, by visiting the Thames Diamond Jubilee Pageant registration page and completing the form before 31 October 2011 – selection will take place shortly after that.
Although initially it was hard work, there was a great sense of achievement – both personally and as a group – when it all came together and we learnt some interesting things from this rehearsal that can be applied to the real thing.  I for one will be putting my name down and will hopefully make the cut and be picked to be one of the lucky hundred on the day.
John Mayne