7th – 9th October 2011
My adventure began on Thursday 6th October and I still get a strong heartbeat every time I see a photo of Old Harry – I definitely must see him again – soon!
It all started in Lot's Road Pub that Thursday evening, when 10 enthusiastic sea kayak paddlers met in order to plan the last details of our trip to Dorset the following weekend.
The weather forecast was quite bad – strong winds from west (F5>7 Beaufort) was expected and the planned route from Swanage Bay to Kimmeridge Bay might be too big a challenge and too dangerous in these weather conditions.
The route had  to be picked carefully because even in calm wind it can be a difficult and exposed trip with a quite strong flow going east on the flow and west on the ebb.  And once past Duriston Head, there is no stopping and often no landing until Chapman's Pool.
So we had a very interesting, instructive and loud discussion around the table! Everybody's opinion was heard – the brave and experienced paddlers as well as the more inexperienced or faint hearted  (me) 

.   And I must admit that I changed my mind several times during the discussion, when new views came  into consideration ;-). 
But at last we decided to pick a route along the east coast that would be relatively protected against the strong wind.  And this route passed by Old Harry Rocks!
Friday late afternoon I left Bromley – with my beloved kayak on the roof rack, all the shopping for the weekend in the trunk and a brave passenger next to me (he was supposed to show me the way and ensure that I wasn't lost in traffic as I usually am 

  Thank you so much, Jonny!). 
Approximately 4 hours later we arrived at the wonderful Bungalow that we had rented for the weekend. Almost everybody had arrived and we had a lovely evening together – eating Chinese takeaway and having a couple of drinks, before heading to bed.
The next morning we woke up to an irresistible smell of bacon, eggs and toast, prepared by Jonny and Alastair who had been up since 6 o'clock watching a Rugby Game

.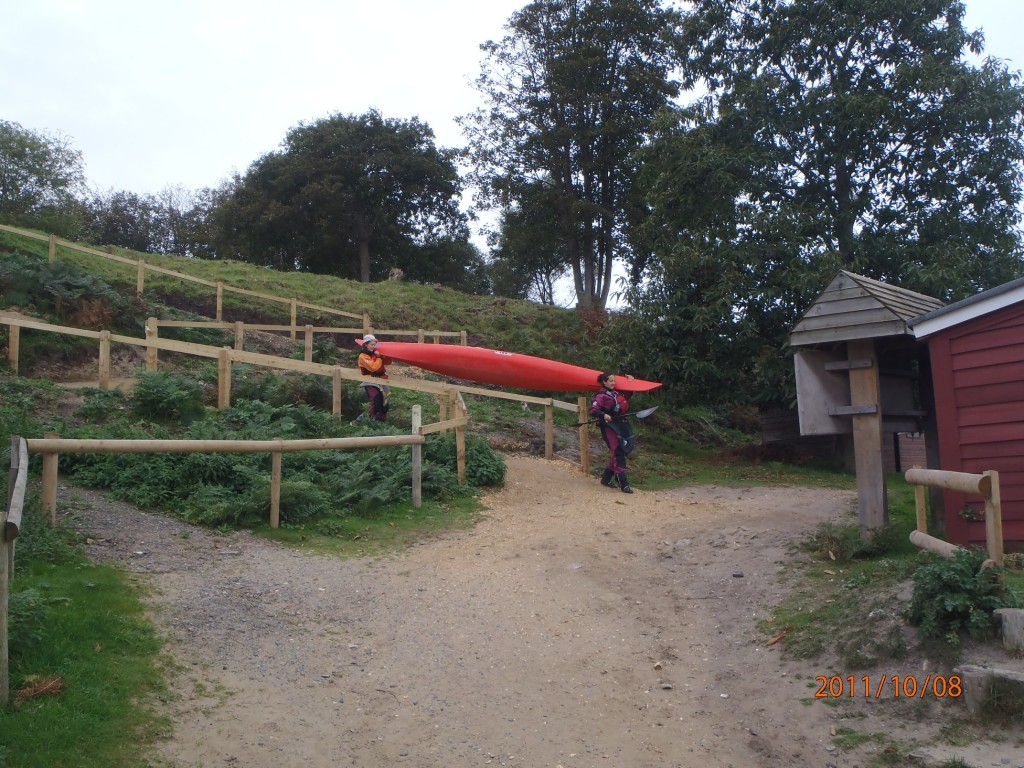 At 9.30AM we arrived at a carpark on the hill at Studland Beach, where we had quite a carry down to the beach (we didn't see the slipway down to the water's edge where we could have dumped the kayak's before parking ;-)). So we were perfectly warmed up when we launched the boats heading for Old Harrys Rock, Swanage Bay and a play around Peveril Point if the weather conditions allowed it.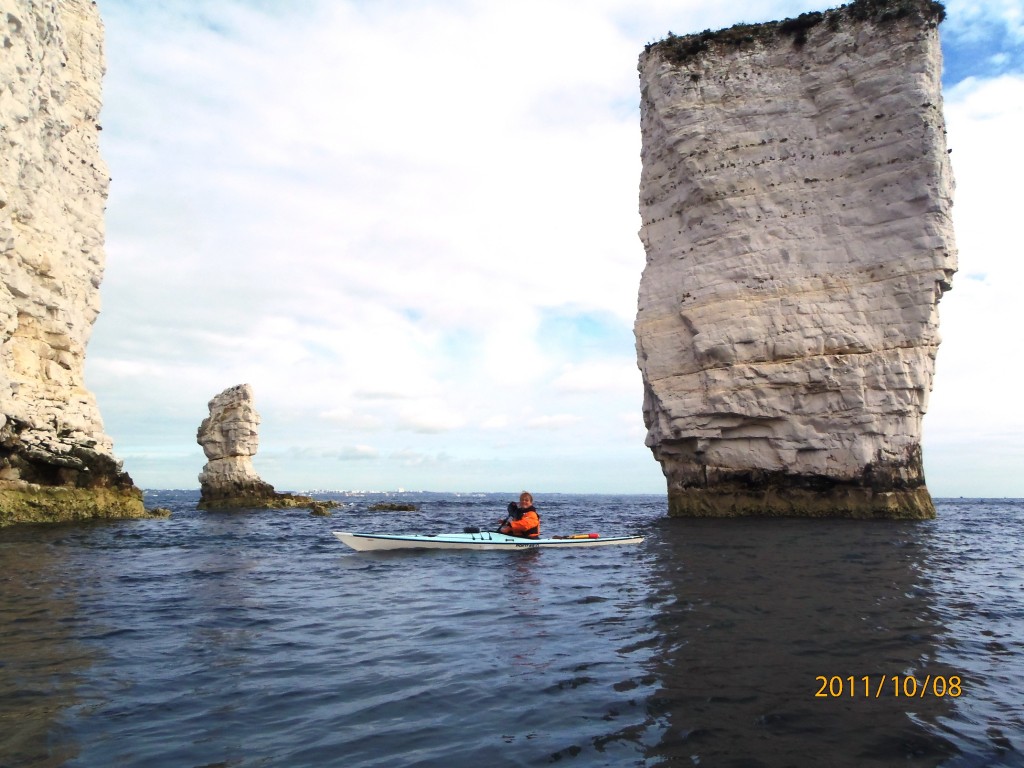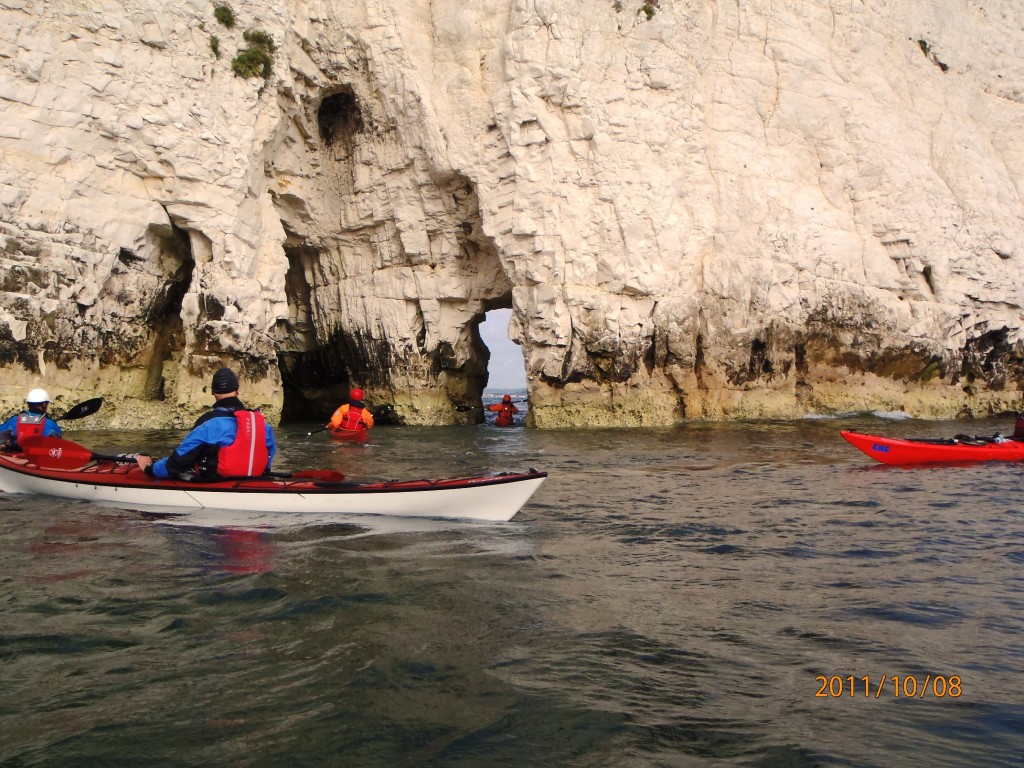 For the next 3 hours I was in another world! Enjoying the bright clean water, the strong wind and the beautiful, beautiful views of the chalk cliffs! I will never forget the first view of Old Harry Rock – strong, proud and steady – It was breath taking!
We spend an hour playing around in the caves, exploring the cliffs and trying to get through the narrowest arcs we could find. But then Stu's stomach started to roar and we headed towards Swanage Bay and the best Fish and Chips along the east coast (according to Stu)

. 
On the way we almost lost our Chef (and Birdsman) when he caught sight of a young Perigrine Falcon, sitting in its nest on the cliff – crying after the parents, who was out of sight. Paul was determined to stay until the parents arrived – and he talked so very touchingly about this bird, which is the fastest creature on the planet – it can dive at over 200 miles per hour!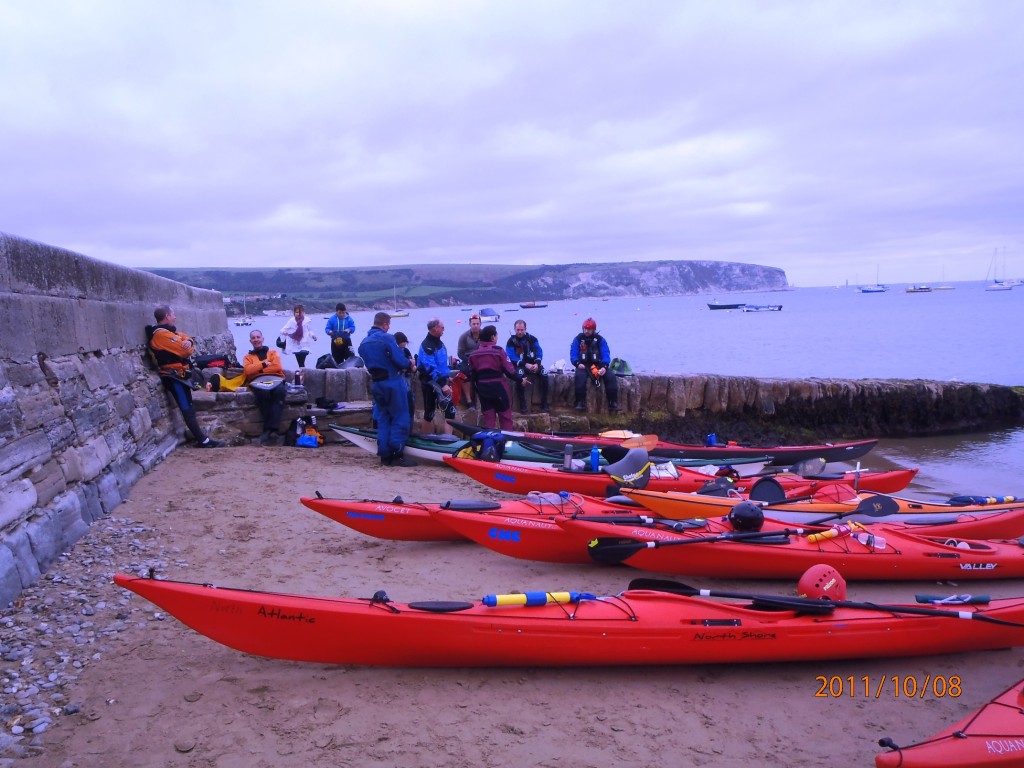 After a perfect and sunny lunch break in Swanage, we headed towards Peveril Point.
It was big fun to paddle in the lovely unstable waves and to feel the smooth swell that came from far away. The cliffs were beautiful and rough and everybody enjoyed being so close to this fabulous coastline. We spent some time exploring the rugged cliffs and I had the feeling that nobody really wanted to leave the wonderful place again.
But the clouds were accumulating and the wind was getting stronger, so we decided to call it a day and head home again. With the wind behind us we were almost blown back to Old Harry and we only had to fight against the wind the last bit from Old Harry Rock to Studland Bay. Back in the Bay we still had some energy left, so we spend another hour playing – on and in the water – some doing rolling exercises and others just fooling around

.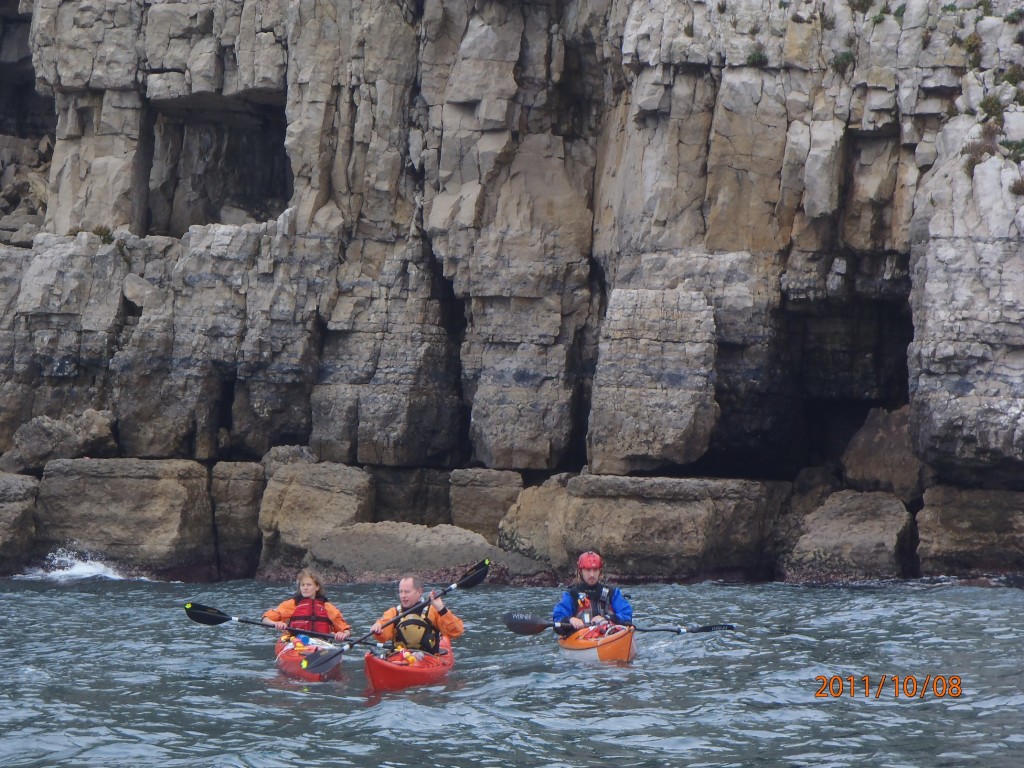 Saturday evening was gorgeous! Playing fresbee and drinking tea (or whatever

) until sunset and then everybody was occupied by cooking the most fabulous dinner I'd had for a long time! Paul was in charge of producing a fantastic Fish Pie and Fiona brought apples for a delicious Apple Crumble Recipe! And I trust that I wasn't the only one who could hardly eat anything the next day.
Sunday morning the wind was a lot stronger than the day before, so we decided to split the group. Michal, Alastair and Martin went for a bigger challenge near Kimmerige and the rest of us went to launch at the more sheltered Studland Bay in order to do the gorgeous trip from the day before once again.
That was a good decision, because we had a very different experience this time due to the strong wind. It was a nice but strong paddle against the wind and some of us would definitely have had troubles coping with the conditions on the other side of Peveril Point! So I think everybody was happy with their choice of route and we had another enjoyable day on the water!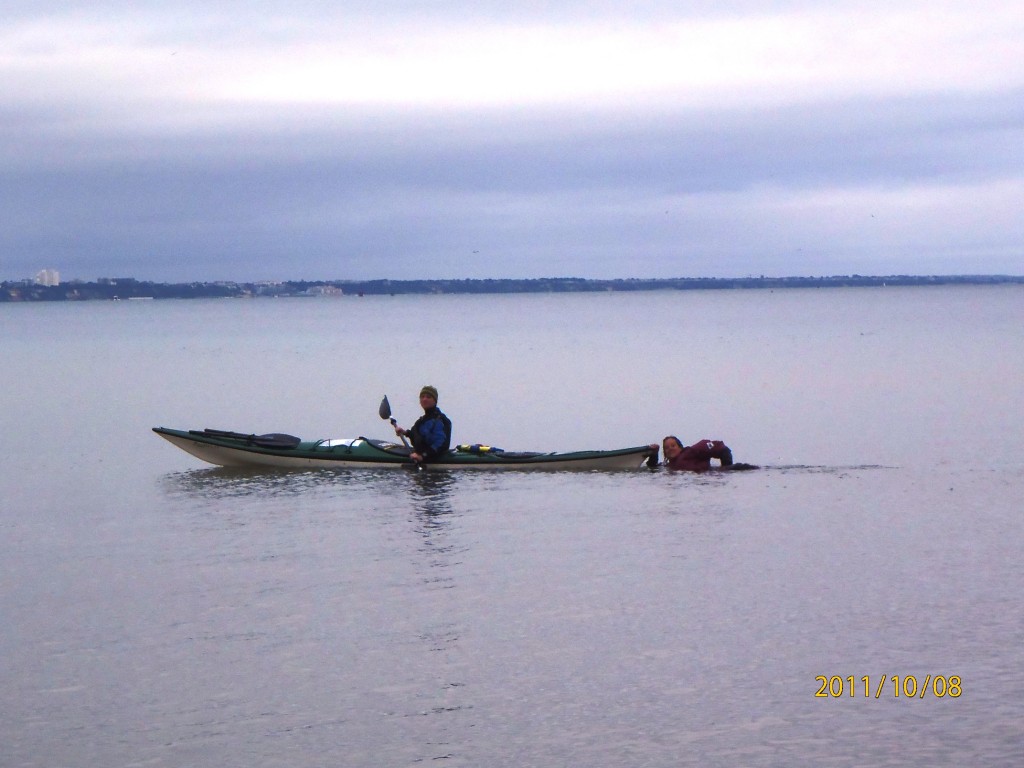 At 4 o'clock we were back at Studland Bay where we again spend some time on doing rescue and rolling exercises (thank you for coaching, Stu!) Finally we finished a perfect weekend with having a swim in the cold but lovely sea before we loaded the trailer and the cars and headed home again!
On the way home I was continuously dreaming about my new love, Harry. I felt high and happy and would definitely have burst into singing, if it wasn't for my poor passenger, who had quite a hard time already, keeping me and the car on the road!
But I can't wait until I will see Old Harry again (in November?)!
Thank you Fiona, for an excellently organized trip!
Pia (The "Danish"

)