26th March 2011
On the 26th March we set off for the inaugural Chelsea/Battersea joint surfing trip.  Heading off to the Gower we were not expecting much action; Magic Seaweed was predicting almost no surf.  But it just goes to show, you've got to give it a go.  Our first day at Llangenith on the Gower gave us a gentle introduction and was perfect for those of us (like me) who were feeling a little rusty.  Lovely little waves, just perfect for the sea kayak, soon got me surfing in nicely.  Great for the edging skills and an unexpected bonus was the practice you get in turning the kayak around.  With the waves coming in pretty quickly you want to get the turns in promptly or else face the next wave side on.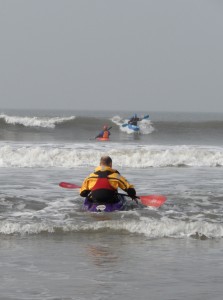 Day two took us to Rest Bay in Porthcawl.  Much bigger surf and in the interest of my own safety and the crowds of other surfers and kayakers, the sea kayak stayed on the roof.  We had a amazing few hours in a lively surf with plenty of spills and thrills.  Paddy from Battersea was snapping away from the beach and he informs me that I am not the third person to be using one of his photographs as a Facebook profile.
Great couple of days.  When's the next trip?
Geoff