18th to 20th March 2011
We finally made it over to Pembrokeshire after what seemed like an impossible trip to organise.  Nobody could agree on dates before Christmas and once a date in January had been agreed could you believe it we had to postpone it because the weather was too rough!   Several people also pulled out due to injury or illness too.  So it was with great trepidation that 9 of us from CKC headed westwards to Wales in the hope that the sea conditions would be suitable but the weather would not be too dire.  It also happened to be the first CKC away trip for Fiona, Paul and Judes!
We had arranged a bespoke moderate to rough water handling course with Sea Kayak Guides (Martin Leonard and Nige Robinson).  All of us had something slightly different to get out of the weekend – for me, I wanted to supplement the 4 Star Sea leader training I received last year because conditions at the time were relatively calm. 
Arriving at various times on the Friday – Judes and I arrived to find a drunken contingent loosely playing Junior Scrabble in the bunkhouse kitchen.  I say loosely because I didn't recognise any of the rules they were playing to…  For one Olwen seemed to be challenging John for using words in every day usage – apparently she had never heard of "toe-day" before…
Saturday morning arrived and the sun was shining – after a quick briefing we headed off to White Sands Bay in the knowledge that we may well be heading over to Ramsey Island to experience The Bitches.  Despite suffering from an immense hangover Olwen was beside herself with excitement as The Bitches had been on her "To Do" list for as long as she could remember – she would never have guessed that her first experience would be in a sea kayak though!
Nige, Martin and Denise got us doing various manoeuvring exercises before taking us to an area of modest current to practice breaking in and ferry glides sea kayak style.   We then headed off to Ramsey Island and pulled up into the harbour area for a lunch stop to wait for the tide to turn and the race to begin (not before a quick trip further along the island to see the seal colony).  The spring tides combined with a little swell made for exciting conditions, big grins (and a few unplanned swims…they will remain nameless).  After the session on the tide race we regrouped and headed as a tight group over Ramsey Sound to get back to White Sands Bay – very strange water to be paddling over and I found myself wondering how a shorter kayak would ever make it back without tripping over the funny eddy lines and swirls.   We all surfed into White Sands Bay in a relatively controlled manner – unfortunately I did not have my camera ready to capture an amazing roll Olwen had to resort to in the surf!   It was also Stu's first time at surfing.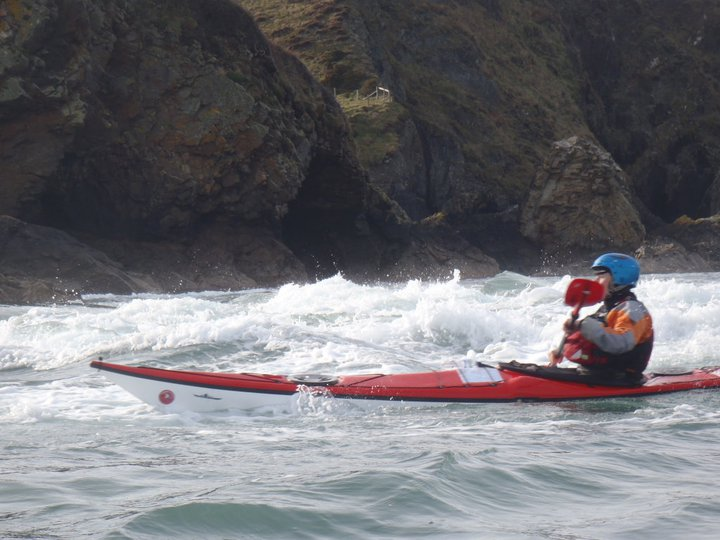 Back at the bunkhouse we quickly showered and John and I came up with an outline plan to head to the north coast for Sunday to discuss with Martin in the pub and we headed over to The Ship Inn for good food and to generally chill out before turning in early (for us anyway).
Sunday arrived and was as forecast – overcast and generally gloomy – the outline plan discussed the night before was still on and we all headed to Abercastle.  We headed out through the harbour and turned west along the coast with the eventual aim of ending up in Abereiddy. 
John and I were given opportunities to lead various sections as the group headed along the coast rockhopping and practiced surfing and group leadership techniques (such as around headlands).  I even got the opportunity to practice a rocky landing.  The weather certainly kicked up during the trip and at times we were on the upper bounds of a Force 4.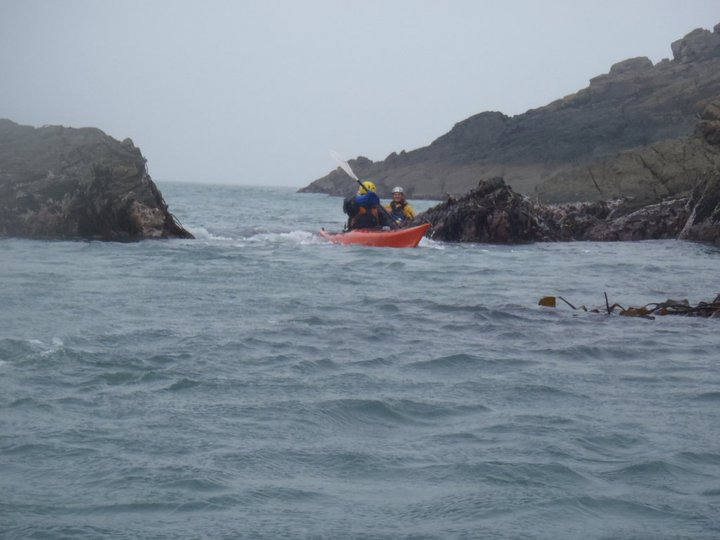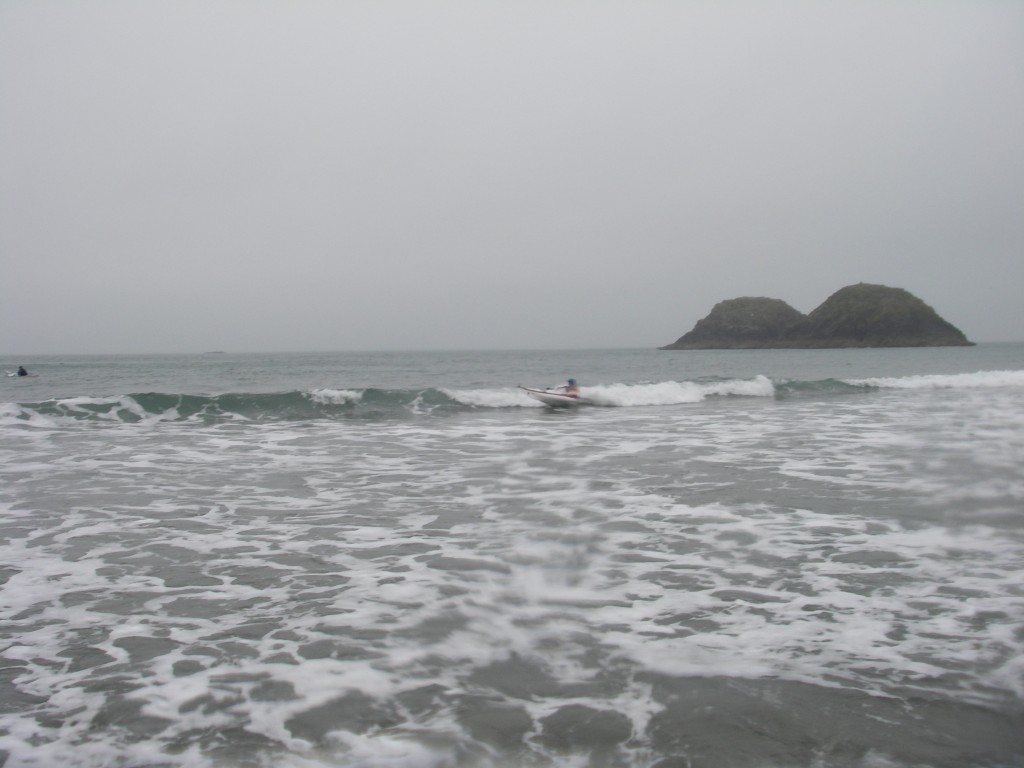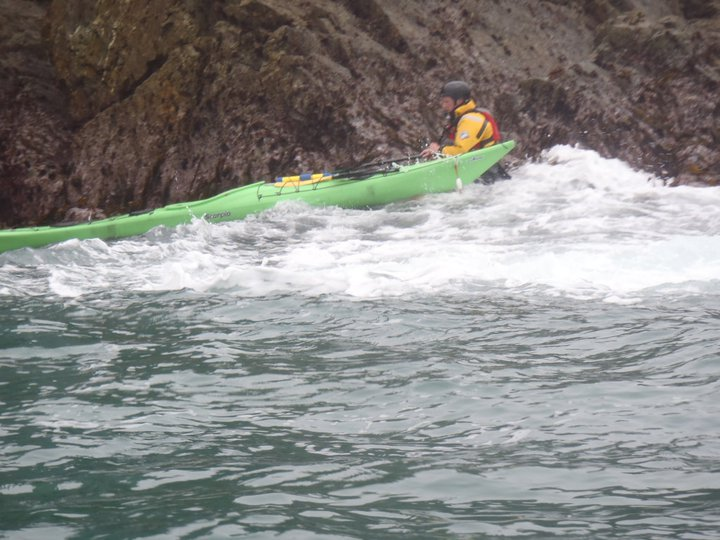 All in all an amazing weekend and everyone got a lot out of it – and a great first away trip for Fiona, Paul and Judes!   For John, Olwen and Dave T the weekend was a mere warm up for the Severn Bore they rushed off to do when they got off the water (see their trip report on the Battersea website). 
Phil