Thursday 11th March 2010
Tonight was the night – the maiden voyage, so to speak, of Chelsea Kayak Club on what will become our 'home turf' – padding on a flood tide, it's from Chelsea Wharf outbound along the Thames to Westminster and the foot of the London Eye.  It was also an opportunity for some of the founding members to take a look at the facilities we'll be sharing, get to grips with the Club's enhanced safety protocols and sit in a sea kayak for the first time in ages.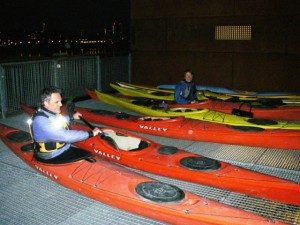 This was the first of a number of introductory sessions, where the CKC river leaders (those who either hold or are in training for a 4-star qualification) are taken out by one of the experienced pros from the centre and given first-hand insights into the skill of navigating London's busy River Thames.
We had a great night for this first outing – hardly any wind, reasonably warm and no rain – eight of us managed to get on the water a little after 6.30pm, truly the only thing missing was the bottle of Champagne smashed at the side of a boat to christen the trip.  Anyway, armed with a couple of water proof cameras, head torches and the eagerness of toddlers on Christmas Eve, we set off on what would be around a seven mile round trip.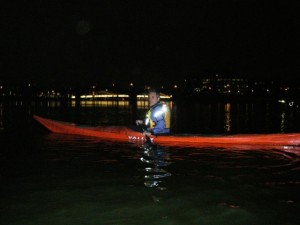 Once finding our sea kayaking legs again and adapting to the stability of the boats, the first of the sights was the beautifully lit Albert Bridge reflecting off the calm waters of the river beneath.  After this we headed on down to the Peace Pagoda in Battersea Park, then up past the four great chimneys of Battersea Power Station, we then sloped by the MI6 building at Vauxhall and approached the Houses of Parliament as Big Ben chimed 8pm.  We continued on, under Westminster Bridge and stopped to catch our breath in the lights casting down from the pods of the London Eye before turning around and heading back with the tide.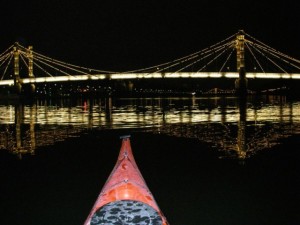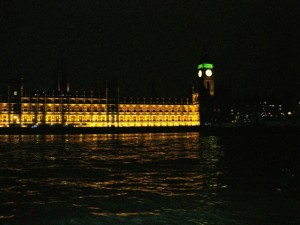 This wasn't just some sightseeing tour of London's greatest tourist attractions in a sea kayak – throughout the 2 hour or so paddle we were constantly being shown the rules of the river; the eddies to head for, the ferries to watch for, the bridge lights to observe, the things needed to keep the group together and safe.
Back on terra firma a little after 9pm we stowed away the kayaks and hit the changing rooms and showers – keen to see what the other local Chelsea sites had to offer… it wasn't long before we found the one we were looking for; the Lots Road Pub and Dining Room to celebrate CKC's inaugural trip and recap everything we'd learnt from the session over a pint and a portion of chips.
John M