Tuesday 23rd March 2010
Some of us from CKC attended a get together of local clubs on Tuesday night to test and compare a number of lights/ torches that paddlers are using for after dark Tideway paddling.  Representatives from the Port of London Authority (PLA) and BCU were there too.  The PLA are keen that paddlers operate as safely as possible and common sense and good practice prevails.
The trials were held at Shadwell Basin – so a very busy stretch of the river – and arranged by our very own Centre Manager (Harry Whelan).  Some earlier trials were held in February so this was the second round and was attended by more paddlers from several clubs around London.
Several of the Tower Hamlets lot volunteered to go out in their boats and help trial lots of different types of lights and combinations in different points of the river, i.e. dark/light/facing forwards/backwards/side on/close and faraway.  These were observed and assessed from the shore for the most effective and visible arrangement to other river traffic.  The performance of reflective materials on equipment was another aspect of the exercise.
No firm conclusions were drawn however it was decided that one light only was not enough and head torches are not ideal as they disappear when people turn their heads (head torches could instead be attached to BAs).
The best light of the night came from our very own Richard B's 'Blue Peter special' the now named "diffuser" light.
So as a keen and eager Kit Officer following the meeting I wanted to earn my very own Blue Peter badge and have made some of these 'diffuser' lights for CKC.  These are relatively inexpensive and comprise an LED diving torch (44mm OD) with a 250ml Narrow Neck HDPE Bottle with the top cut off and inserted onto the torch to 'diffuse' the light and make it visible from the sides (max £10ea).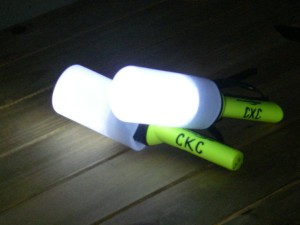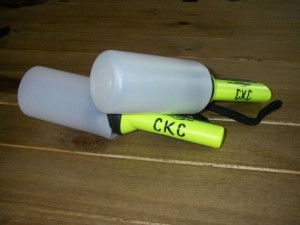 White flashing lights were also considered very effective – however care needs to be taken that these are not so bright that they blind other paddlers.  I will also endeavour to make some smaller flashing diffuser lights for shoulders – ideas on a postcard please!
I believe that there will be a formal email going around about the light session and guidance on the PLA website updated shortly thereafter.
Here's to safer paddling on the Tideway and to me earning my BP badge

)!
Jac