We set off eastwards along the same route as our leisurely paddle on the first day, but this time without loitering. Although Kilchoan is almost opposite Tobermory, on the Isle of Mull, a southwest wind made a direct crossing impractical. Instead, our plan was to hug the coast with the wind behind us and cross in two stages; first from Ardnamurchan peninsular to the mainland at the narrowest point, then across the Sound of Mull into Tobermory's postcard-pretty harbour.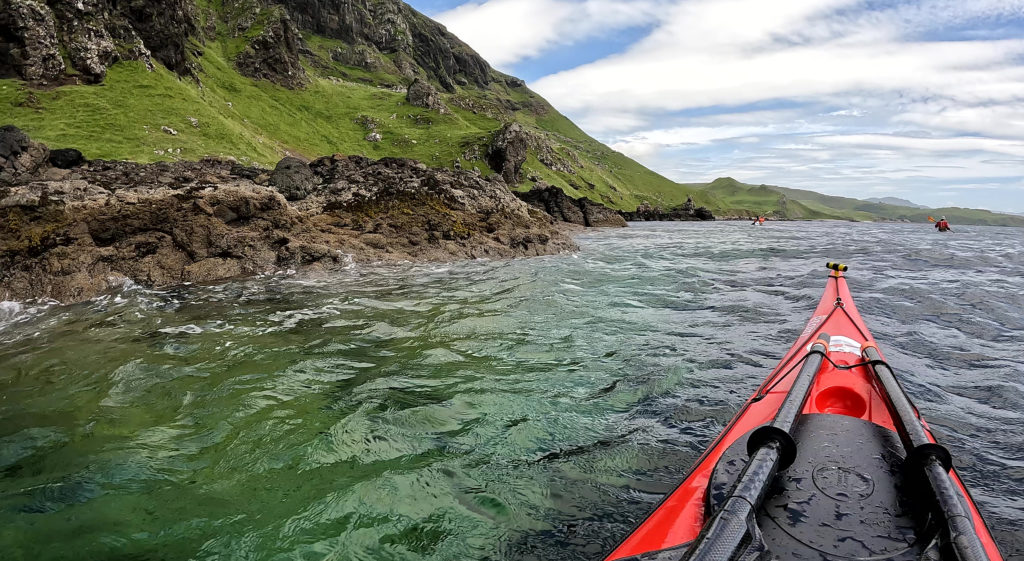 To get home, we intended to paddle northwest along the tip of Mull then cross back to Kilchoan with the wind sending us in the right direction. Or, as Tudor said to dismissive chuckles, we could put our boats on the ferry. His suggestion seemed less ridiculous as the day wore on.
Most of the group turned out of Kilchoan bay smoothly, unflustered by wind and waves hitting from the side, but some (me) found it trickier. Wind was F3 all day with waves 0.5m, not breaking.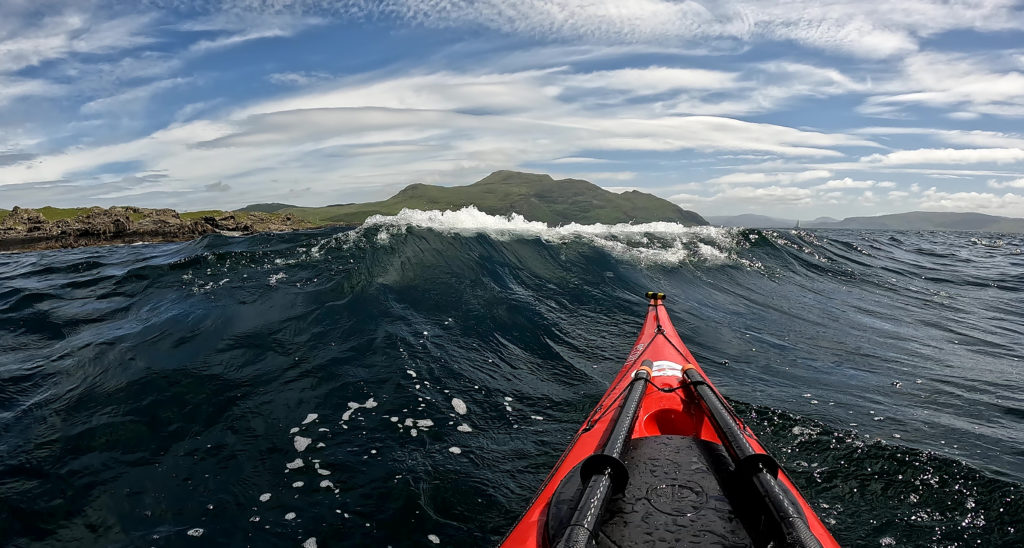 Skills gained in Spring training sessions were put to the test, with humbling and wobbly results. Progress was a slog, despite having the wind behind us, as less experienced paddlers struggled to anticipate waves from unpredictable directions.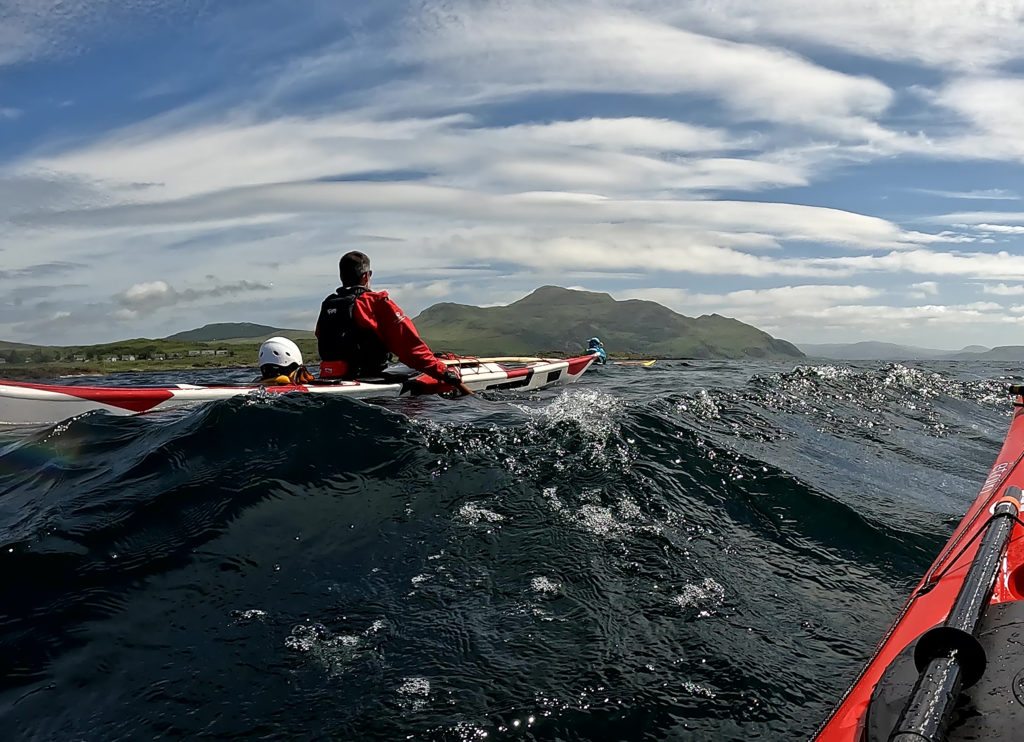 We pulled up on an isolated shingle beach to refuel with sandwiches before the crossing. A mountain blocked access from the land – unfortunately, as Kenneth's phone went missing here.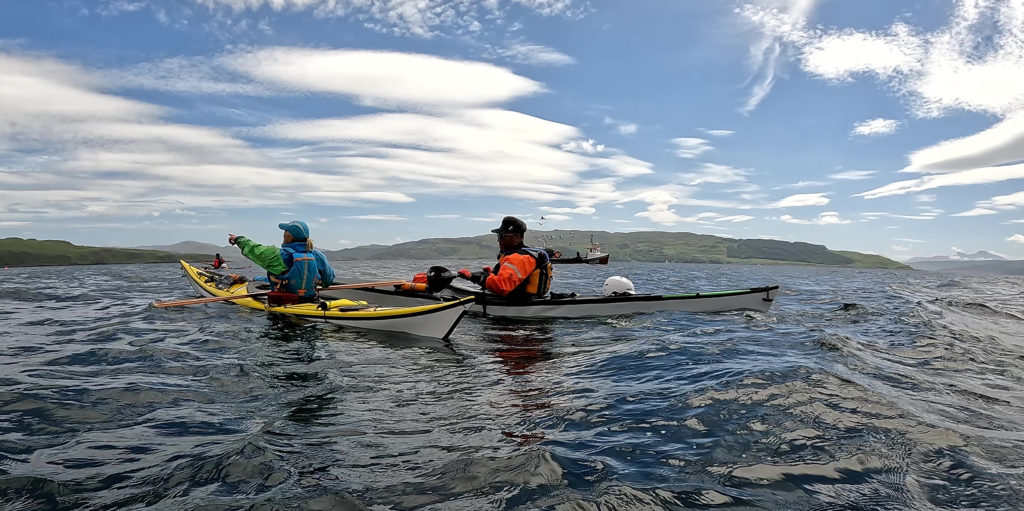 Bright sun and breezes were giving way to grey cloud, and drizzle as we set off. We aimed for a rock in mid-channel – in fact we aimed behind the rock – but as some passing in front anyway we soon abandoned the finer manoeuvres and headed instead for a red buoy and Auliston Point beyond it.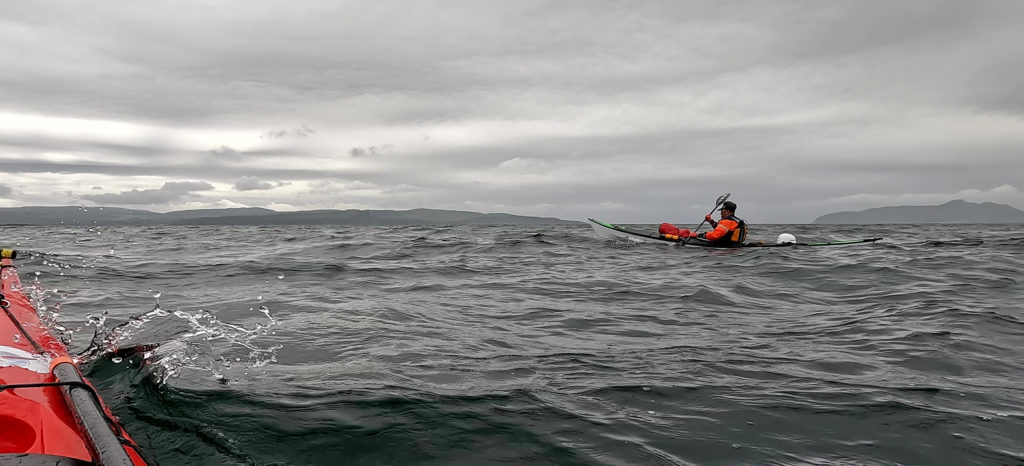 We had turned into wind. More effort, yet easier as there's only one thing to do, and that's dig in. David reminded me to dig my blade into the face of the oncoming wave. Timely advice.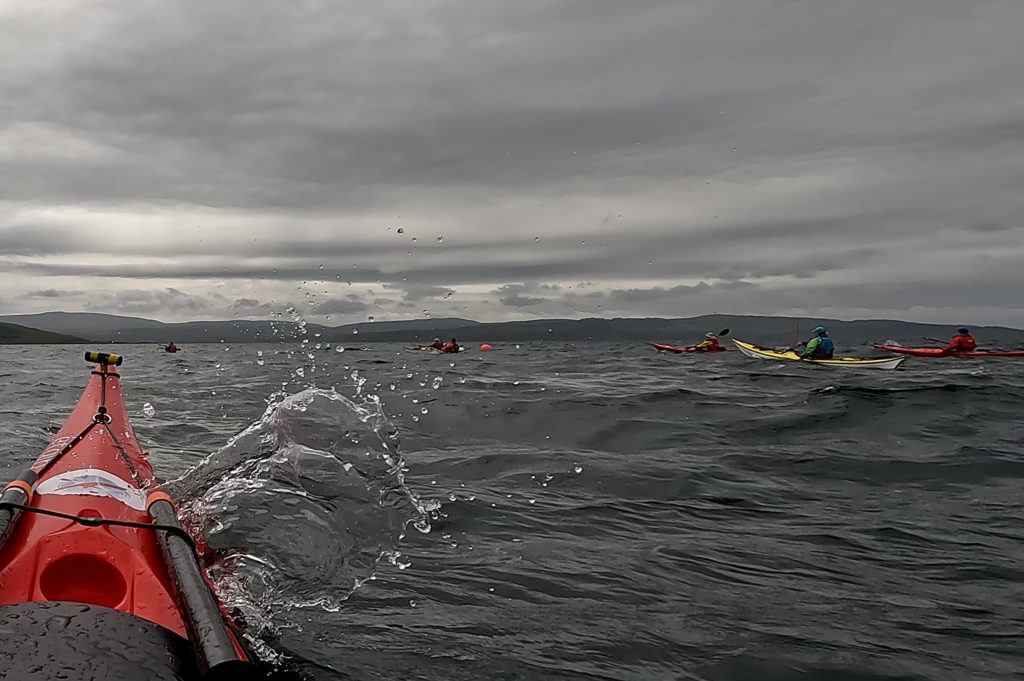 At Auliston Point, we tucked into a rocky inlet so everyone could get their legs out of the boats and waggle them to dispel any pins and needles. What had looked like a building turned out to be a huge pile of lumber.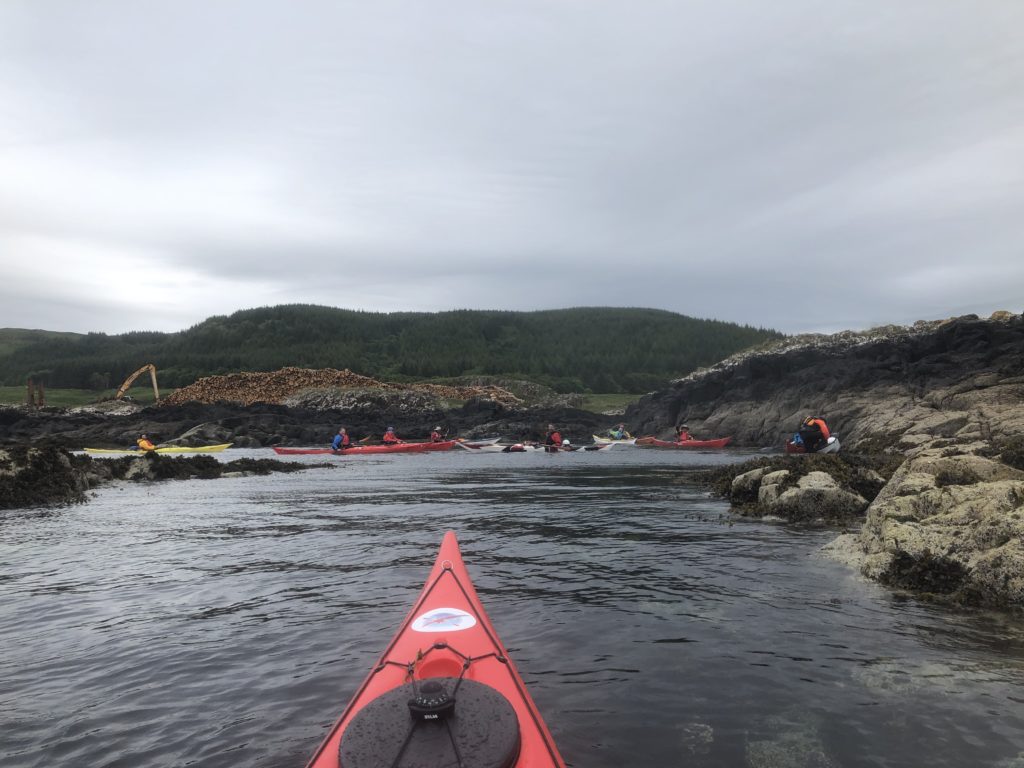 We expected conditions would be gentler in the Sound of Mull, as the island gave shelter from the SW wind. It wasn't. Some lumpy water lay ahead, so we split into two groups – double 'hamburger' formation – divided into stronger paddlers with David and Tudor, and less experienced kayakers shepherded by Liza, Fiona and Phillipe. As the experienced group disappeared into the wind and rain, Fiona stuck close to my boat all the way.
The first half was choppy, with unpredictable waves were the waters of the Sound mingled with the main channel, and it was hard to see Tobermory through the drizzle. But eventually, things calmed down. We spotted the others again, and the jetty ahead. Liza decided we should make straight for the jetty.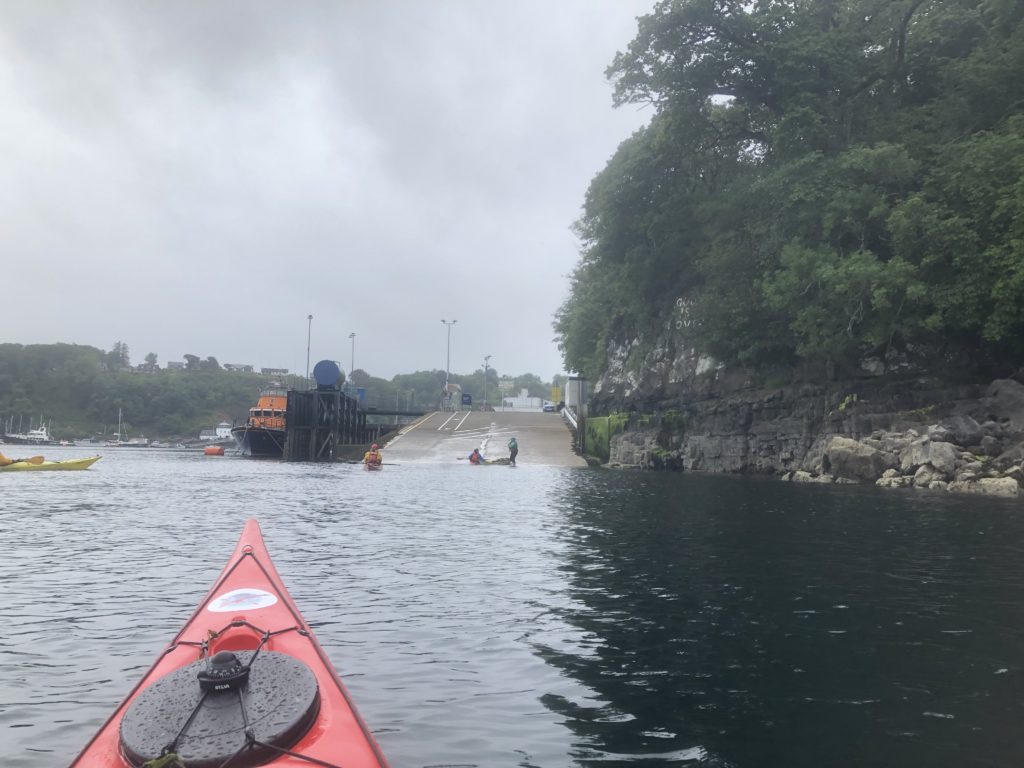 We carried our boats up to the top as fast as possible, as a ferry sped in. Fortunately, it was a tour boat back from tiny Staffa island that went past to dock elsewhere. Tudor's suggestion that we take the ferry back had majority support from us weaklings by this point.
We set off to look for the others and admire Tobermory, whose brightly painted houses in ice-cream colours look more Neapolitan than Hebridean. The Pier Café fish and chip shop's kitchen was closing but they kindly stayed open a few more minutes. There's nothing that doesn't seem better after a bag of chips, and we waited eagerly for what turned out to be irresistibly chunky, skin-on fries.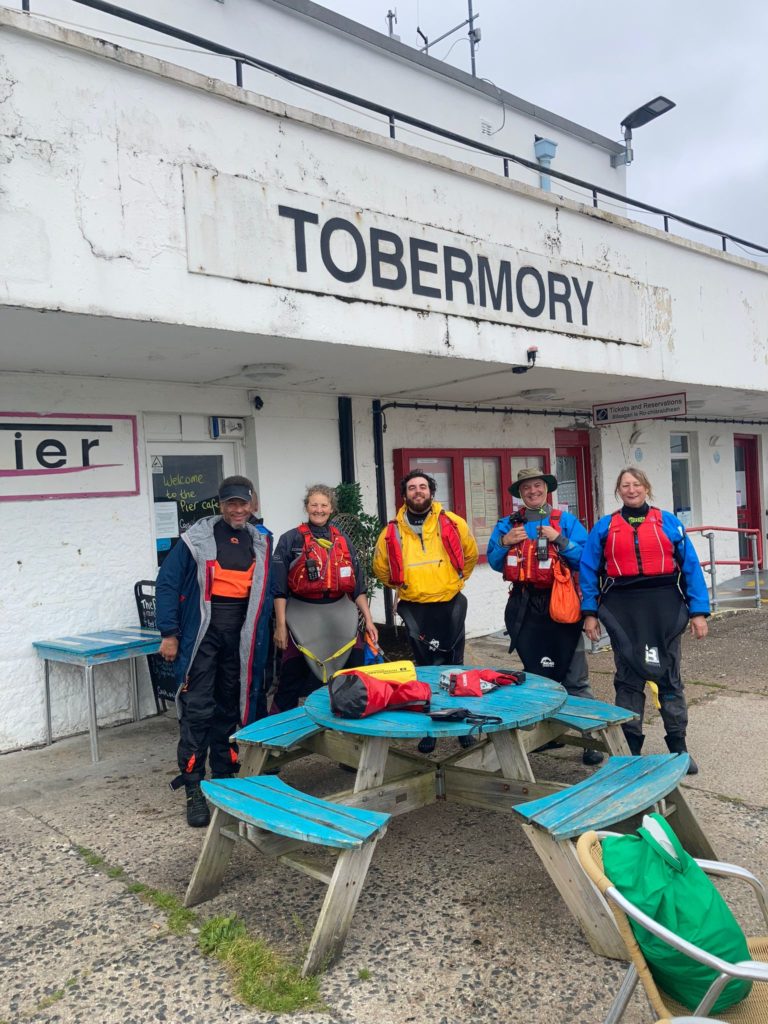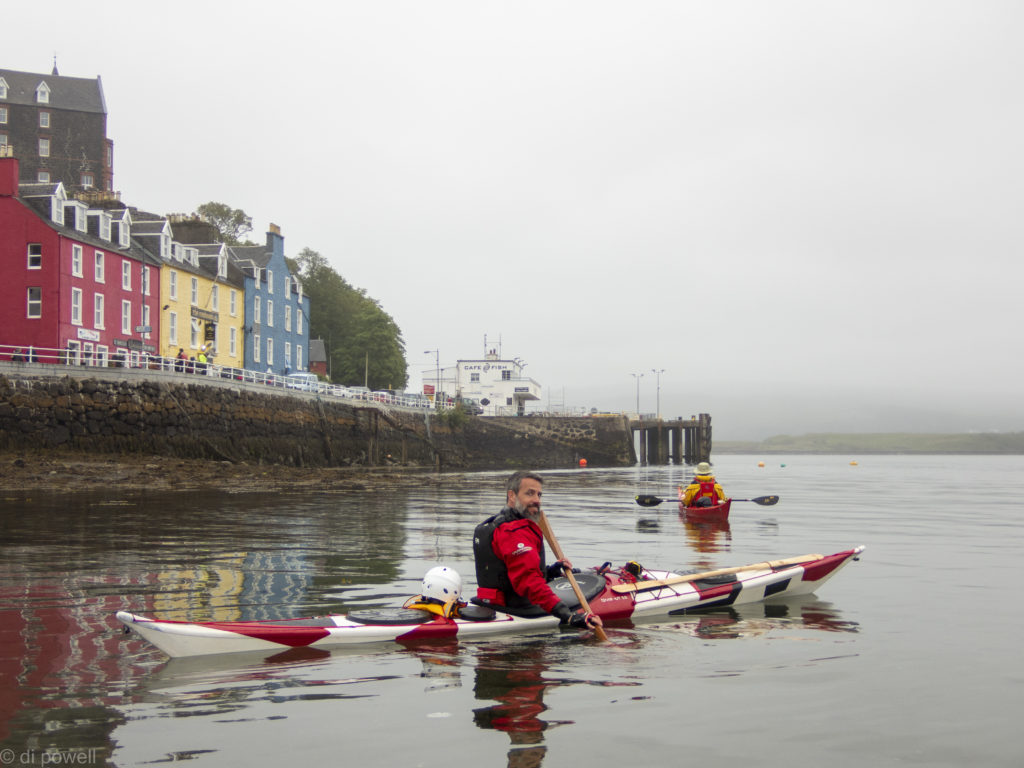 Kenneth, Joanne, Rich and I opted to take the ferry back with Fiona leading our group, while the majority disappeared into the murk to paddle back from Mull's north shore. They made it, and so did we. The ferry docked a few kilometres from Kilchoan, and we made our way back. It was a varied and enjoyable trip that tested my skills and proved there's no substitute for time spent on the sea.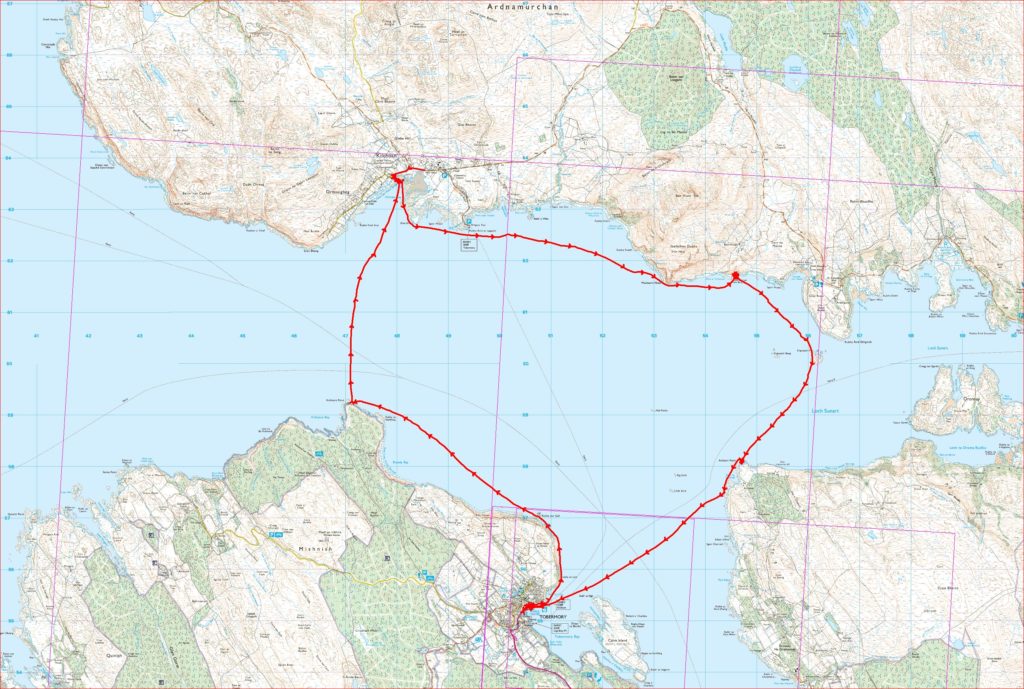 Distance: 31.8 km, about 25km for the slightly shorter trip with the ferry
Duration: 8 hours, 30 minutes
Average Speed: 3.7 km/h