Kilchoan is home to a small and active kayaking community which includes Geoff, one of the founding members of Chelsea Kayak Club, as well as Martin and Nicky who recently set up a small business in Kilchoan to produce Greenland paddles. Learning that we had a small group of Greenland paddlers and interested kayakers within CKC, we were therefore invited to join the weekly rolling and rescue session in Kilchoan harbour. The session was scheduled on a Wednesday evening, which happened to be upon the return from our overnight paddle and camping and meant that we were still tired, wet and cold from the day. Participants in the rolling and rescue session were Liza, Rich, Matt and myself, Jan.
The session was very effective, breaking down the movements of the standard Greenland roll into four simple steps which had to be followed in order to successfully put the boat upright. We started rolling in the grass with our respective sticks, before rolling in the grass with boats, and finally proceeding with rolling exercises in the water in pairs.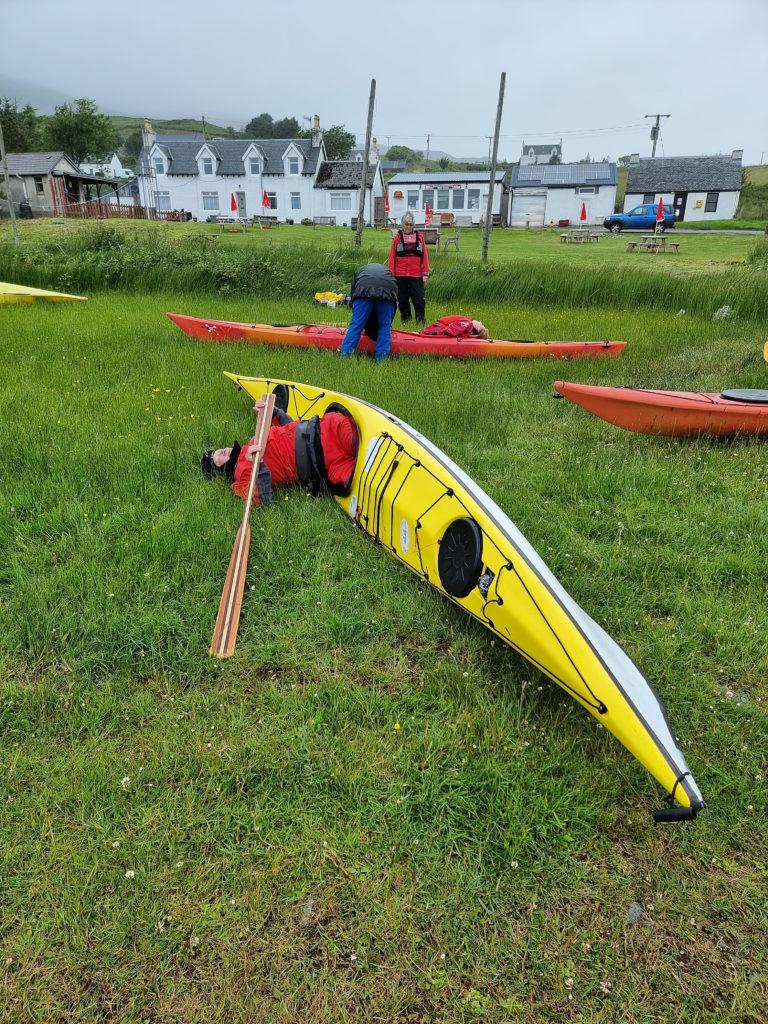 Liza who already was able to role proficiently prior to participating in the session, was able to replicate the basic Greenland roll  in the water with ease. Rich was new to Greenland paddles and had not been able to routinely roll before; he learned quickly and soon managed to roll without assistance. Matt comes from white-water kayaking, an environment where rolling skills are crucial. Being used to flipping short white-water kayaks, Matt succeeded to flip his sea kayak forcefully, to the extent that he initially hip-flipped his boat into the upright and immediately back under water on the other side.
For my part, I'm excited about having learned and practiced the basic steps of the basic Greenland roll, hoping to not forget everything until the next time when we are on the water! In the meanwhile, I shall keep practicing on the grass.
A great thanks to Martin and Nicky for introducing us into the technique of rolling and their patience with us, and to the Kilchoan kayak club!