On this morning of our West highland adventure we were to wake up in our tents on a headland known as Sanna Point on the North coast of the Ardnamurchan Peninsula. We were in thick mist and cloud which was very atmospheric and part of the Scottish experience.
Looking back on this day it is good to reflect that not all days will be about moving forward on day trips, having a beach lunch and getting from A to B as planned, but can also be about gaining learning from the different potential and real incidents that occur. On this day the day did not go as planned and we had four main learning points.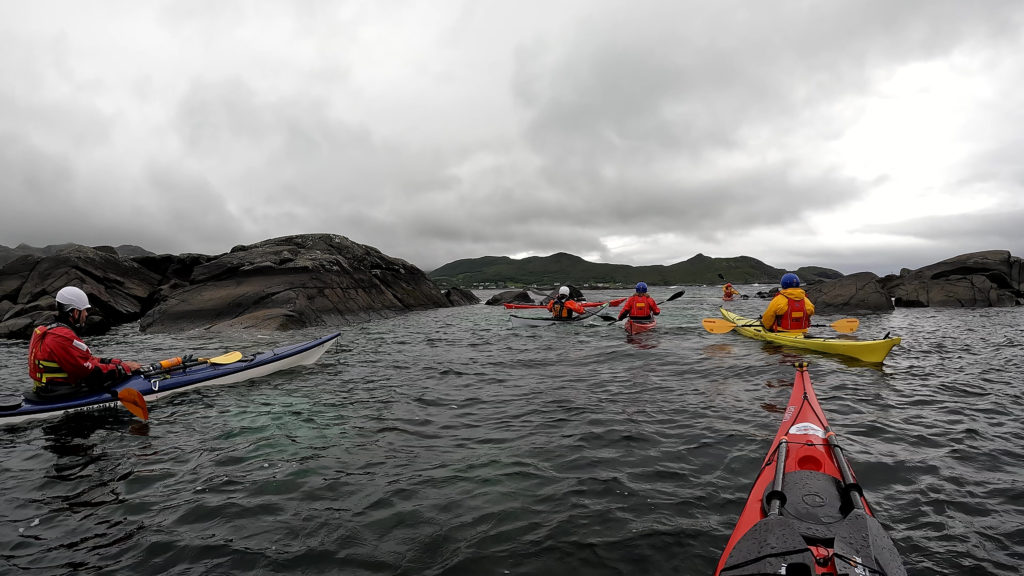 Towing an empty boat. Firstly unfortunately one of the group was not feeling very well and did not feel able to get into his kayak and paddle. Deciding to walk back to the basecamp meant we had to tow his empty kayak back to Portuairk before we headed East for the day. Towing an empty kayak is not always straight forward if the weather conditions are a bit challenging – which they were starting to be. Anyway it was achieved by Jan taking the main tow and Rich holding the boat steady with a tow line at the back with Liza supporting them and acting as the communication link between them. We'd not done this for real in windy conditions before, so was a very useful learning experience. It was also very positive that the communication, planning and execution all worked effectively.
We met with some others of our group at Portuairk, then headed off together on our trip for the day.
TRAK kayak in choppy swell and windy conditions. The swell and wind were building a bit, F3 as we moved out of Sanna Bay. One of the group with his own foldable kayak that fits in a large bag, a TRAK (TRAK®: Ocean Sea Kayaks – Portable Performance Kayaks For Sale (trakkayaks.com), was struggling to keep straight in his kayak.
He had used the hydraulics system to 'improve' his rocker in a way that looked like he was sitting in the middle of an extremely U-shaped banana! No wonder he could not steer the boat easily. Once he had shifted the rocker hydraulics to be flatter he was able to make some better headway. These kayaks do not have a skeg so will always be challenging to handle in bouncy sea conditions with strong wind.
Rescue of capsized paddler. The group was just about to pass through some rocky islets with waves breaking onto the rocks, when one of our group capsized. We immediately split the group with one person taking the majority of the paddlers to a calm inlet. Meanwhile the paddler in the water and their boat was towed out of the rocky islet so that an assisted rescue could be performed, without the risk of being pushed onto the rocks.
While the rescue was successful and neatly executed, we could see that an excess amount of rope in the water that had been used for towing could have made this rescue a lot more difficult. Once the paddler was back in the boat they needed time to recuperate and also get changed.
After this, the situation was reassessed and the decision made with the current weather and sea conditions that the rescued kayaker would struggle to continue with the day's trip plan and we headed back to Portuairk.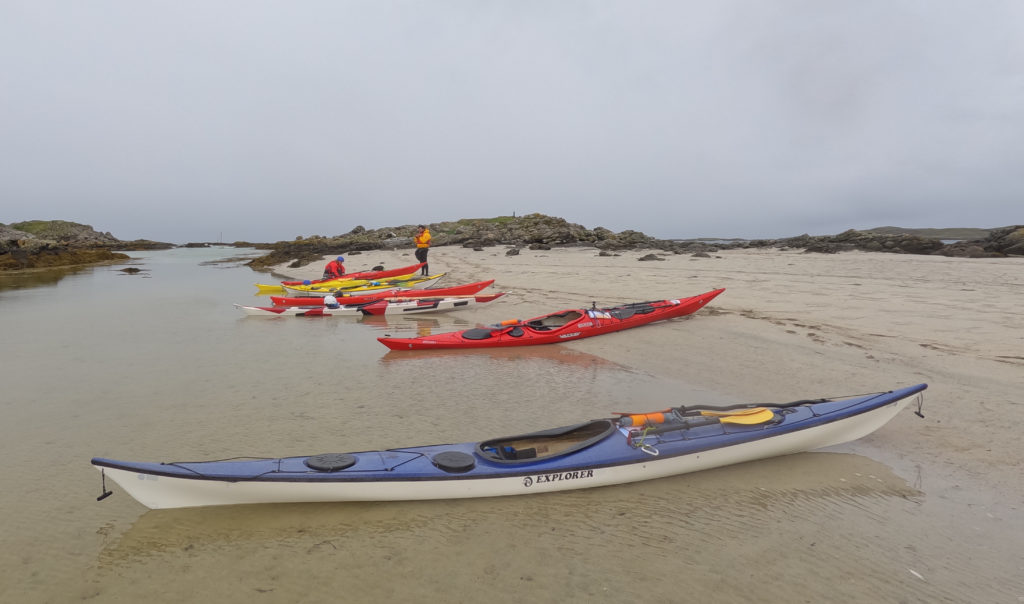 VHF radio communication. The main group had also re-assessed the weather and sea conditions and decided to abandon the day's trip also. This was effectively communicated on the radio so that all the group understood the situation and were all able to land safely at Portuairk, without re-grouping first.