Saturday 21st May 2011
Five CKC kayakers (Miranda, Toons, Jacquelin, Phil and I) loaded up at Cremorne and headed off for Lymington on Saturday 21 May.  It was easy to find Richard B in the car park because he had left a kayak on his roof.  The weather forecast indicated that a weather system bringing strong winds were going to come through earlier than expected, and so we modified our plans to travel east along the shore of the mainland to Lepe Country Park (7.5 nautical miles) and make an assessment as to whether or not we could 'leap' from Lepe over to Cowes on the Isle of Wight. 
We headed off from Lymington marvelling at how tightly the Isle of Wight ferry fits into the Lymington channel, especially when two ferries are passing one another. Needless to say we kept out of their way! In the Solent we headed out into the main channel to get some tidal assistance (at one point we were paddling at~4knots) on the way to Lepe, and enjoyed judging when to cross through groups of yachts which were racing. Experienced sailors in the group gave accurate predictions about when the yachts were likely to tack to head round their next racing point, and so when it was best to head through them. At one point we were concerned that a fishing vessel was playing chicken with us or perhaps hadn't seen us, as it was heading straight for us, but it soon became clear that it was going to a buoy directly between us to check the trap underneath.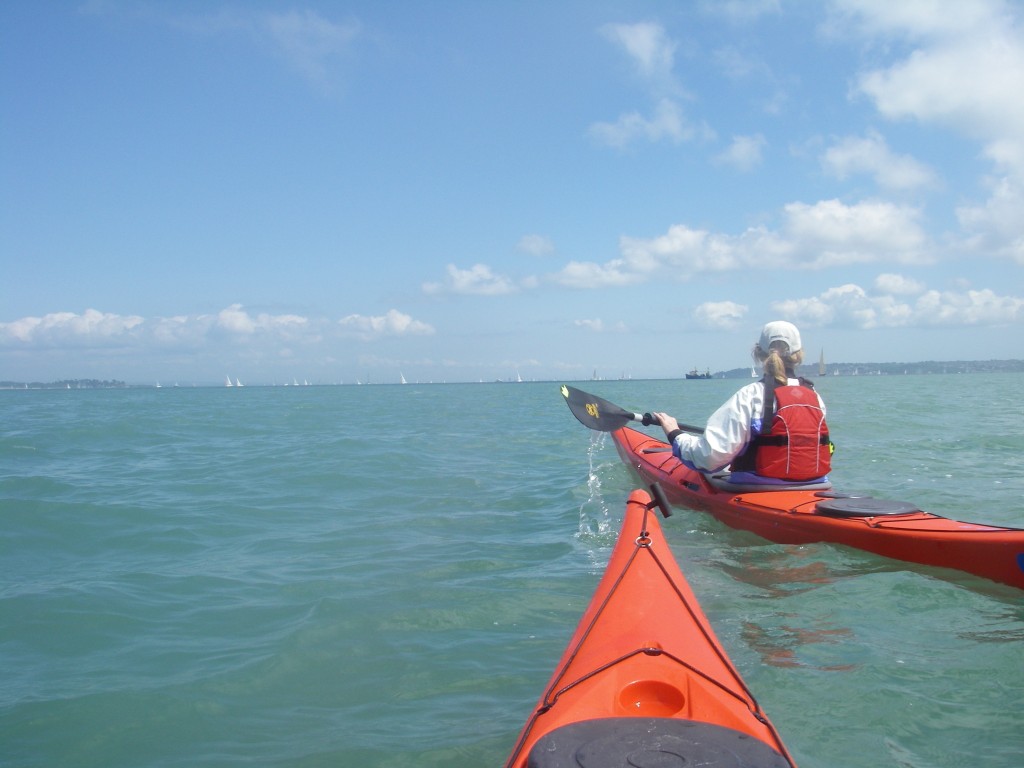 We landed at Lepe Country Park and enjoyed picnicking outside, whilst the tide turned, and spray-covered kit dried in the sun. Discretion is the better part of valour, and so it was decided not to cross to Cowes, a decision which was reinforced when we heard on our return paddle a gale warning issued over the radio for "Later". I was grateful to learn that "Later" had a specific meaning implying that the gales were likely to arrive after ~3hours from the warning, then they would have said imminent! Whilst on land we listened into the radio and heard a "Pan Pan" call which was slightly intriguing since we could only hear the coast guard's side of the conversation.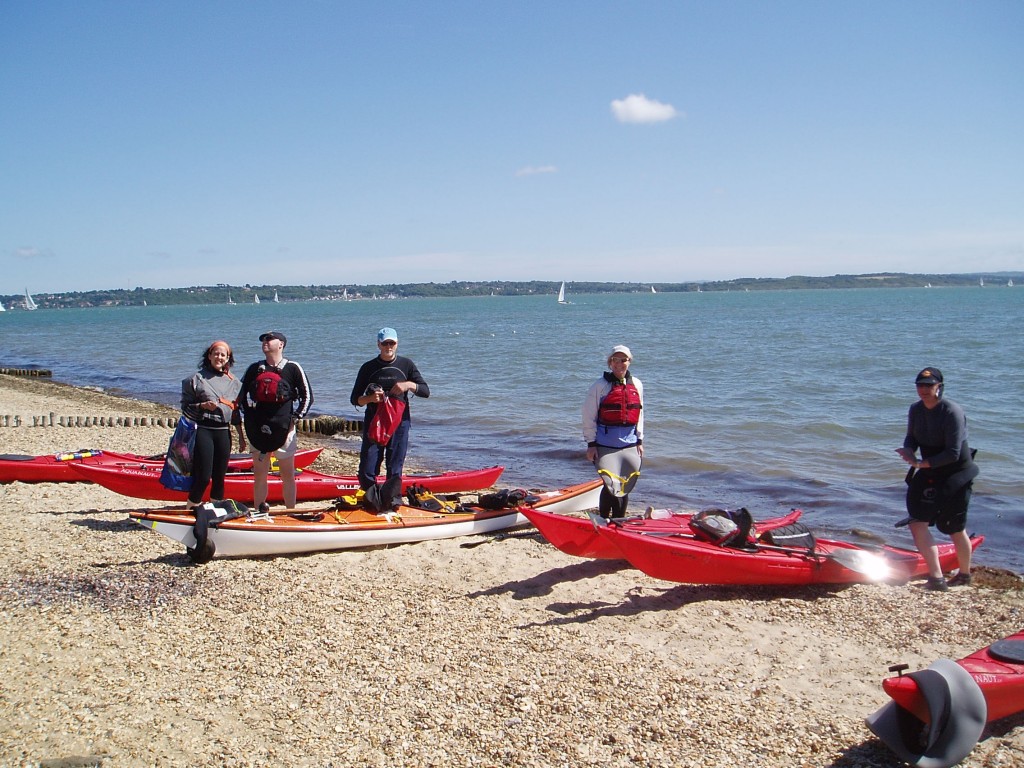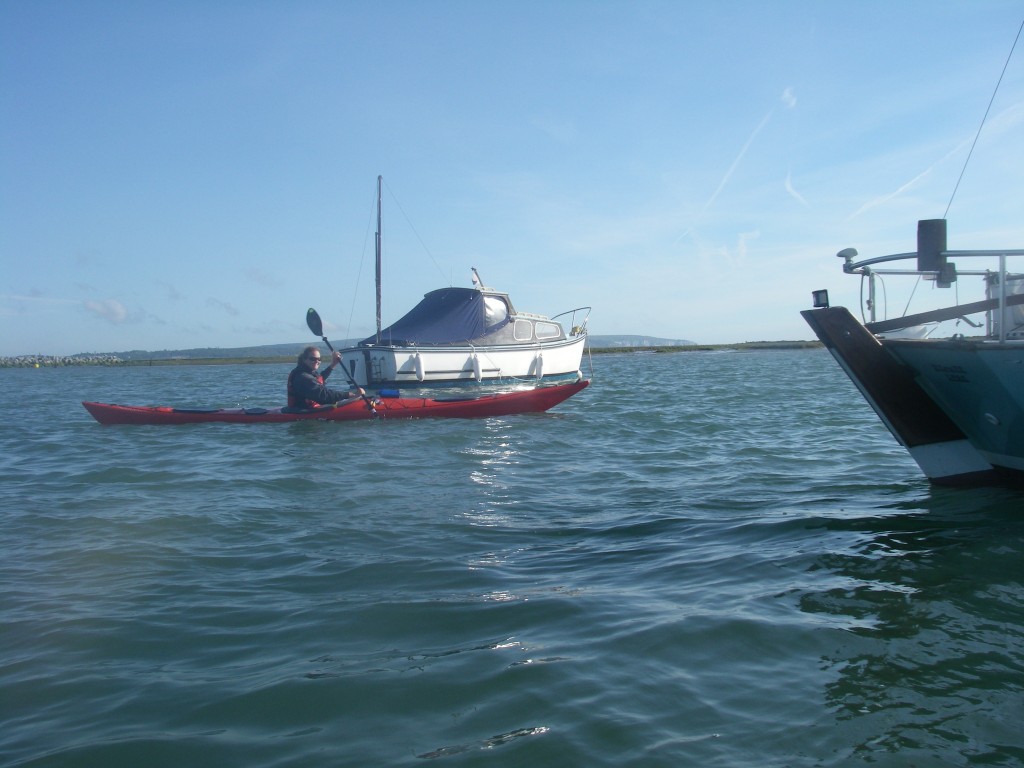 On the way back to Lymington a couple of us enjoyed some surreptitious slipstreaming.  Miranda was superb at proposing rests, which were so desired that they occurred a few minutes in advance of the designated time on the return trip! We also discovered that Richard B has amazing eyesight – spotting from miles away the ferry heading back into Lymington well in advance of the rest of us.
The tide was higher than when we left so we paddled through shallow waters of the mud flats – enjoying looking at the birds, feeling the noticeably warm water on our hands & judging which channel to take to avoid beaching! As we returned to the slipway we were serenaded with music from Lymington Sailing Club who were celebrating on their balcony at the end of a day of racing. Enjoying the evening sun in pub garden several of us discovered that the day had marked us!  Odd looking suntan markings around where our sunglasses had been started to appear. The wind had disguised the strength of the sun!
All in all a very happy outing, with thanks to Miranda and Richard B for a great paddle, as well as nicely organising and taking care of the group. The first Chelsea Kayak Club trip crossing to the Isle of Wright has been saved for another day's adventure!
Techie bits:
Total distance: 15 nautical miles
Total paddling time: 4.5 hours
Average group paddling speed: 3.1 knots
Weather: Sunny
Wind:  Force 3-4 W
Sea State: 2(3)
 Fiona