This month's issue of Canoe & Kayak UK magazine is dedicated to sea kayaking, something close to the heart of all Chelsea Kayak Club members – and is jam packed to overflowing with features, trip suggestions and tips – so much so, there's a 24 page mini-mag pull out.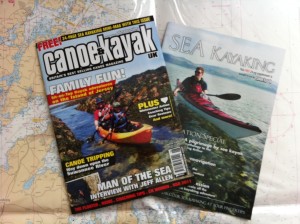 What to expect inside the cover of the June isssue:
A review of the new Greenland-style Anglesey Stick sea kayak paddle
A look at P&H's new Cetus HV sea kayak
An interview feature with Jeff Allen – expedition sea kayaker and the man behind Sea Kayaking Cornwall
As well as features about touring down the Suwannee river and sea paddling around Brittany
Whilst the dedicated supplement focuses on some smashing UK destinations including a two day circumnavigation of the Isle of White, heading out to Bardsey Island and sea kayaking to The Skerries.  The team at Canoe & Kayak have also gone all out on the website too, posting a few informative videos for sea kayakers to get hints and tips from the pros, check these out:
Heads up – there's also going to be a a free sea kayaking DVD attached to the July issue (#124), so keep your eyes peeled for the next issue too, or get yourself a subscription so you don't have to fret about it! There are a couple of nice subscription deals going on at the moment, including a free Coleman Stove & Lantern worth £45 for subscriptions before 6/7/11 quoting CKUK-JUNE11, as well as discounts for BCU and CKC members (check club emails for details).