6th June 2010
Some people would say that the VHF radio is perhaps the most important piece of safety equipment to have aboard a boat.  VHF radios can be used to check the weather, communicate with other boats and land stations, and to hail people when you get into a jam or an emergency.
And so it was that a bunch of us armed with the Club's newly acquired Icom M33 handheld radio headed over to Canary Wharf early on Sunday to do a VHF Radio course to obtain the Short Range Certificate.  Given the relatively early start none of us were particularly upbeat (not least Debs who was nursing a hangover) but the day turned out to be pretty good thanks to Tim from Timuna Seawho did his best to make it as relevant as possible to sea kayaking and the nature of our activities.
Taking it in turns to use (non-transmitting) equipment we went through the process of learning the radio functions and the limited frequencies we should use if required, radio etiquette, and distress procedures.  For instance, did you know that there are three different types of distress message that can be used?  But then did you know that Toons looks like a younger version of President Logan from 24 – no, neither did he until the course 

!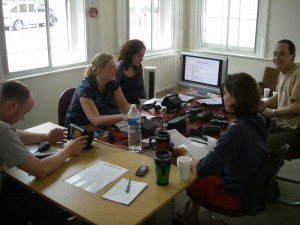 We also went through some specifics for the Thames and how to interact with London VTS (Vessel Traffic Services – Port of London Authority) in respect to kayaking on the tideway and figured out that a whilst in a kayak a handheld has an approximate range of 2.25 nautical miles.
All in all a great day and well worth doing – I certainly feel able to use a radio should I need to even if it's just to check for weather broadcasts.
Phil