Friday 11th – Monday 14th June 2010
Last weekend was the inaugural club trip and what better place to choose for getting on the sea than Kilchoan – a remote Scottish crofting village at the westernmost end of the Ardnamurchan peninsula, a two-hour drive to the west of Fort William.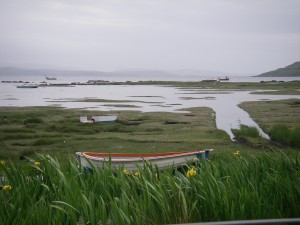 Seven club members set off from London by train, plane and automobile to arrive in Kilchoan in time for a Friday evening paddle around Glas Eilean with a full escort from the inquisitive seal population.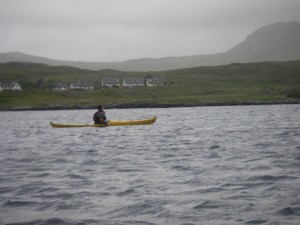 On Saturday we set off up Loch Sunart pushed along by a brisk westerly wind with some fairly exciting paddling around Maclean's Nose and Ardslignish Point (Rubha Aird Shlignich).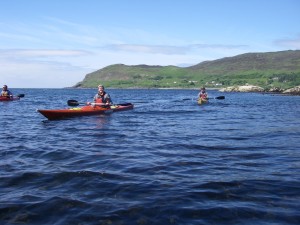 We stopped off at some beautiful deserted beaches on the way that are only accessible by sea. Once past Ardslignish Point, things became a little calmer and we had a leisurely paddle to the Nature Centre at Glenmore for a well deserved tea.  All in all 7.7 nautical miles clocked up!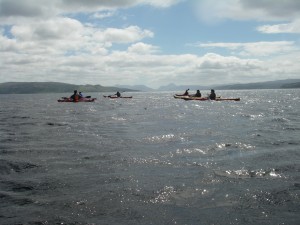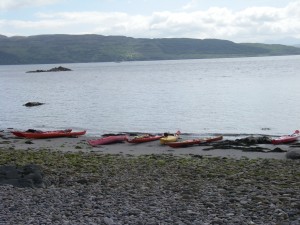 On Sunday we returned back to Kilchoan from Glenmore clocking up a distance of over 10 nautical miles, this time going into the wind and waves which proved to be a demanding exercise. Just to make things a little more interesting we crossed over Loch Sunart to Oronsay and a quick look into Loch Na Droma Buidhe (Loch Drumbuie) before heading back across Loch Sunart via Sligneach Mor to say hello to some seals and along the coast to Kilchoan. On the way we stopped for lunch at Port a Chamais, a deserted settlement at the foot of Ben Hiant. A couple of ruined crofter's cottages on the shore front made a beautiful picnic spot.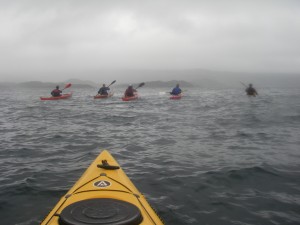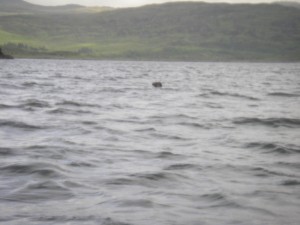 As you would expect we experienced the full range of weather and sea conditions which was just what we were looking for.  A special thanks to Jon Haylett and Trevor Potts for the loan of equipment and to John Chapple for the taxi service and much appreciated bottles of beer!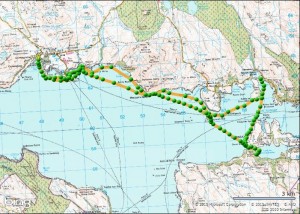 Geoff