Saturday 22nd and Sunday 23rd May 2010
Whilst I have maintained a full First Aid at Work qualification for well over a decade now given most of my free time is either spent up a mountain or on the water I figured I really should top up my skills with a course specific to the outdoors and tailored to my activities.  So I took it upon myself to organise a course for Chelsea Kayak Club and Battersea Canoe Club and after a bit of research decided that the ITC Level 2 Certificate in Outdoor First Aid was the most appropriate one to do.  The course comprised two 1 day units leading to a full certificate – Unit 1 "Outdoor First Aid Emergency Action" and Unit 2 "Emergency Incident Management" and was delivered by Charlie Holmes from React First an ITC accredited provider.
Whilst I was pretty clear in my mind what I wanted (and hoped) to get out of the course I have to confess I was also slightly apprehensive.  This was because other first aid courses I had attended (albeit largely office orientated) had always left me a little wanting.  Happily my apprehension was misplaced and from the outset the course took a very different tack to the others I had experienced before.  It was very fast paced, hands on, practical, pragmatic and realistic.
We learnt the essential emergency lifesaving skills and protocols which provided us with a framework to a systematically manage first aid incidents including improvised techniques – let's face it you're limited in what you might have up a hill or on the water (and stuff like duct tape and cling film is definitely really handy to have in your first aid kit)!  The incident management scenarios really helped me reinforce what we were being taught and reflect on what I did wrong or missed.   We were also shown some advanced techniques such as how to safely remove a helmet if the need arose.  We also took the opportunity to constructively work through how we might remove an unconscious casualty from a kayak – which proved to be no easy task, although we did reach a conclusion.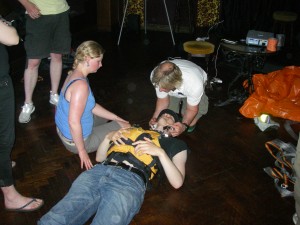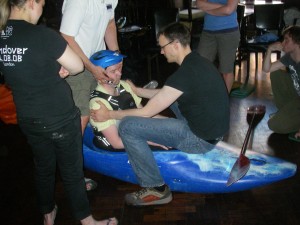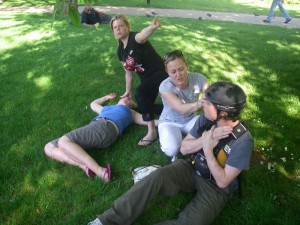 Clearly until faced with an actual incident (god forbid) it is difficult to say how well I will perform properly under pressure (although the course certainly gave me an insight into this).  However, I certainly feel better equipped than I did before and can definitely say the course was well worth doing and would recommend it to anyone who spends a significant amount of time in the outdoors.
Phil