Liza, Lorna, Tim, Rich, Mike & Andrew with David on land support with Liza's dog, Lola.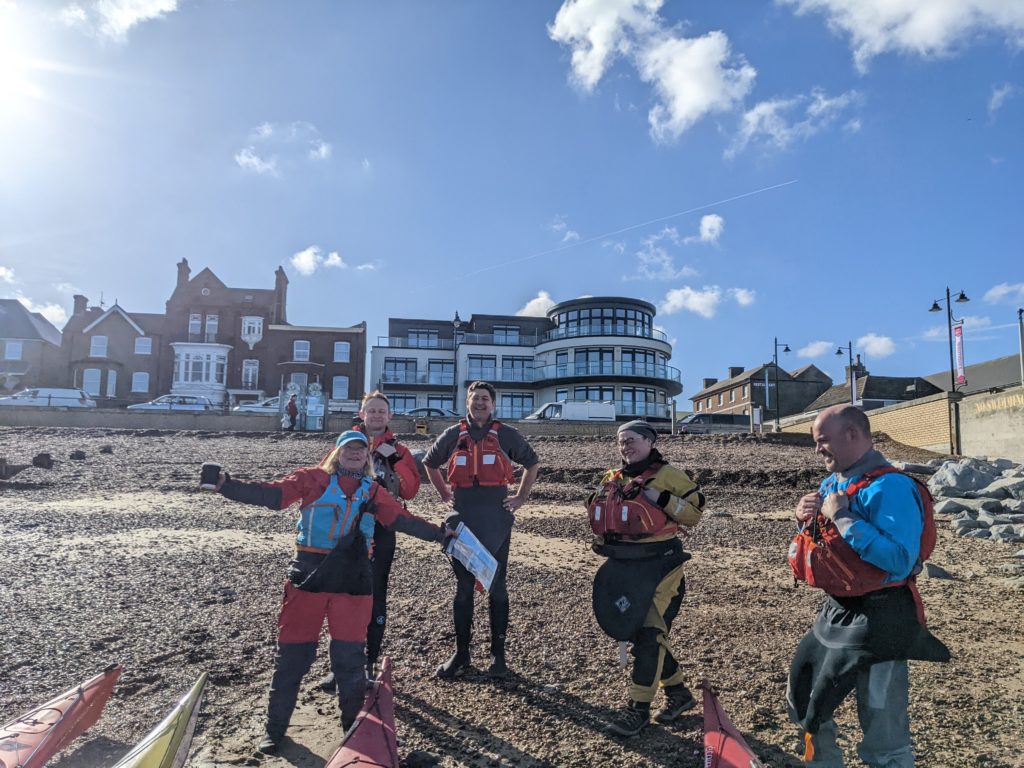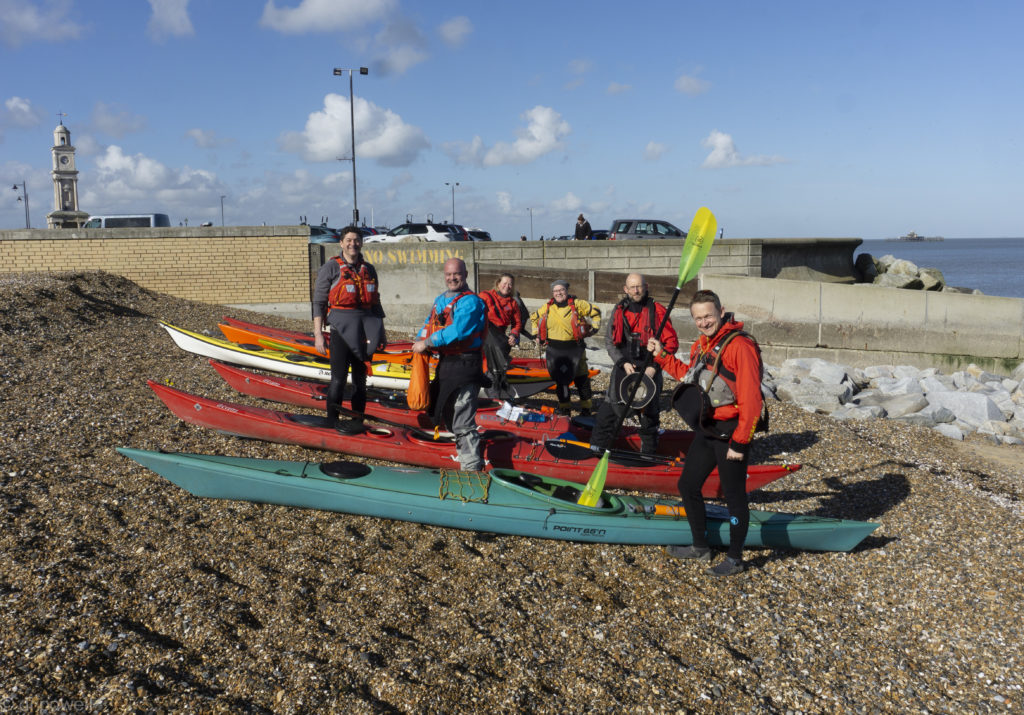 Six paddlers met in the Kent seaside town of Herne Bay for a winter paddle. There was frost on the ground as we left London, but at Herne Bay we were greeted with sunshine and a calm sea.
After refuelling at the seafront café, we prepared our boats and Liza gave a final briefing before we launched about 10:30am from the beach just East of the Neptune car park. In the excellent visibility, our itinerary was clearly visible – first the headland of Reculver with its striking church towers in silhouette, and beyond them the blocks of flats at Minnis Bay, 12km away.
The southerly wind picked up a little as we paddled East along the shore, paralleling the beaches exposed by the falling tide, with some assist from the Eastward current. We made good time and landed on the pebbly beach around the point at Reculver.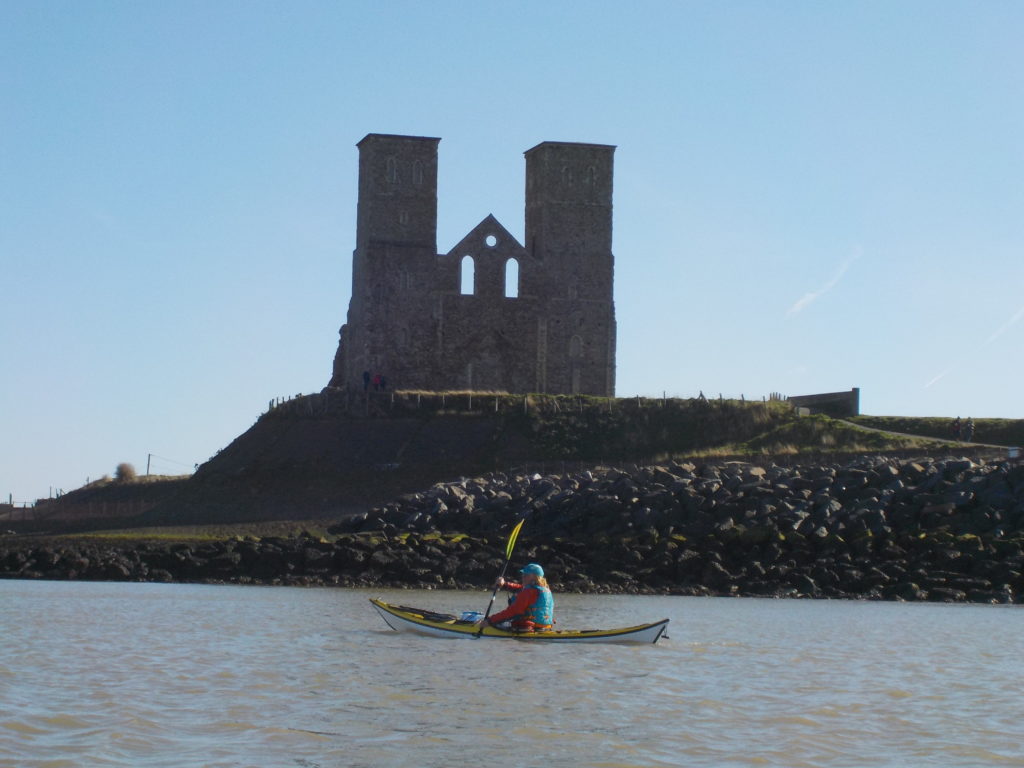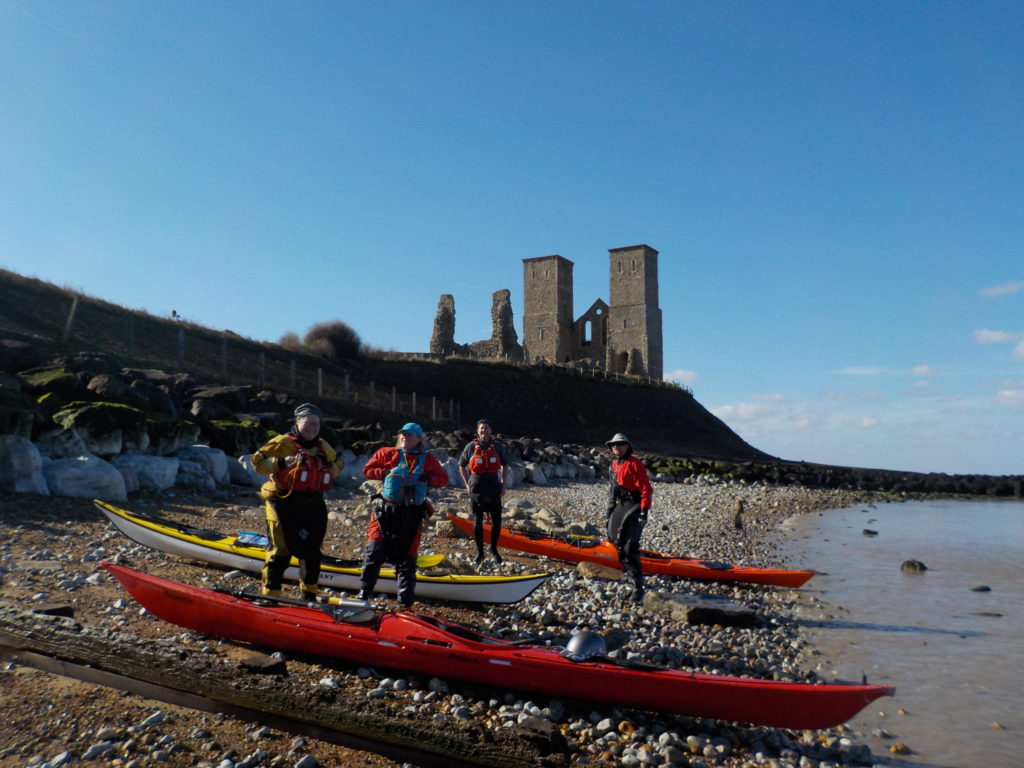 After a stretch on the beach we made our way up the eroded concrete steps to visit the ruined church. Reculver was the site of a Roman Fort Regulbium and in 669 a monastery was founded here. A plaque records how in 1819 Trinity House rebuilt the ruined towers of the abandoned church to make them "sufficiently conspicuous to be useful for navigation", which they certainly are.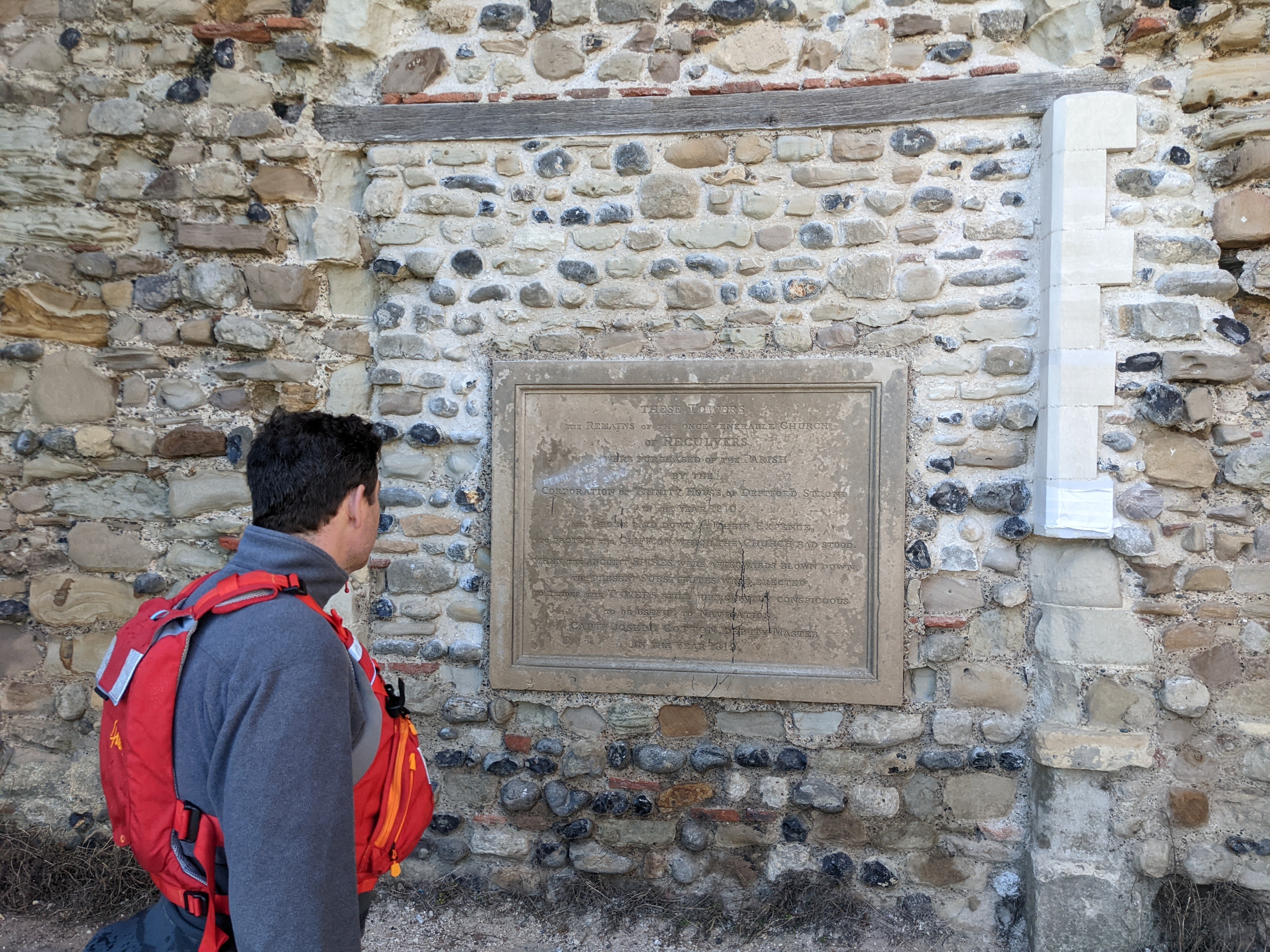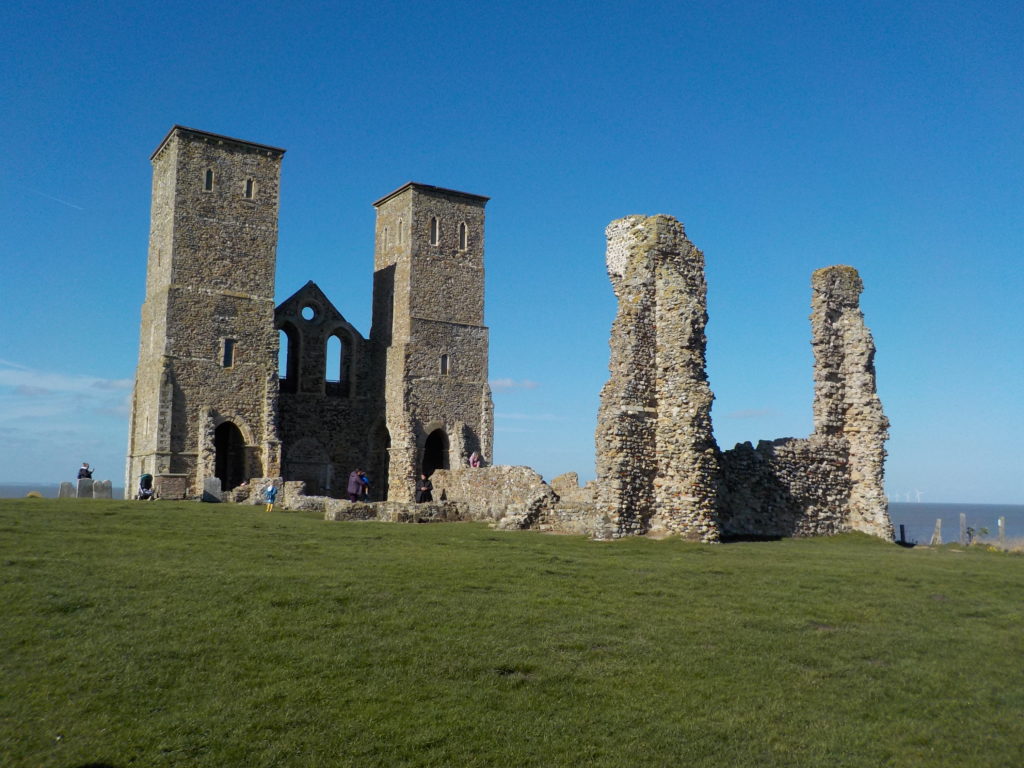 From Reculver it was a straight paddle to Minnis Bay. Towards the end we had to keep offshore to avoid very shallow water and to cross over a couple of groynes. David and Lola met us on the beach at Minnis Bay and we had lunch by the beach huts as the tide turned. We got back in our boats and paddled back to the West, with a following sea. We stopped for a quick rest at Reculver and were back on the beach at Herne Bay by 4pm, well ahead of schedule.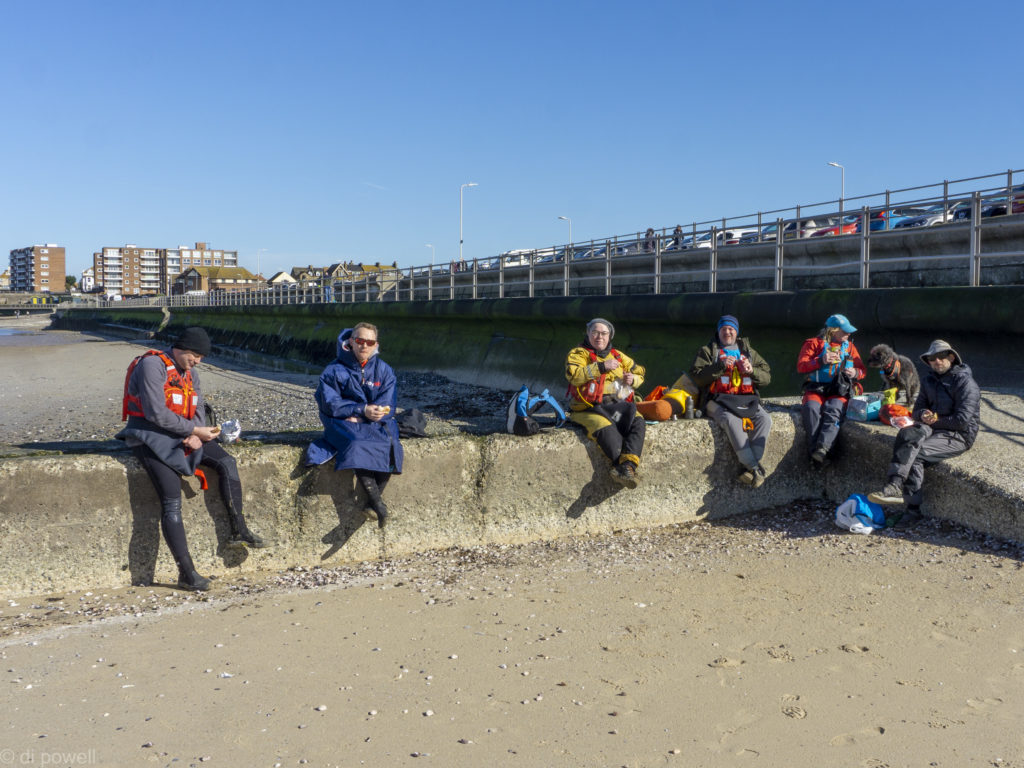 After packing our gear up, a group of us went back to the Makcaris café for food and drinks before heading back to London by car and train.
Despite our fears in the Zoom briefing on the Wednesday before, of the wind being too great for a club trip under "extended remit", we had excellent conditions with a swell under 20cm, wind up to force 4 but mostly force 3, plus sun all day. Thanks to Liza for putting together a great trip, and getting us out on the water in the winter.