Ten paddlers huddled on Ringstead Beach for a safety briefing as the rain fell and cloud thickened; day one of CKC's Jurassic Coast trip was underway. The weekend was designed for newer members to gain sea experience alongside seasoned kayakers, supported by Alex, our sea leader.
Dave's route plan took us past dramatic cliffs, including the 60-metre arch at Durdle Door. Striking scenery, rock hopping opportunities, wave action near cliffs, and a weak tidal stream promised a mix of interesting features in relatively safe conditions.
We planned to launch by 10am to benefit from the tide eastward to Lulworth Cove and arrive as it turned. We made it, though some drivers spent an anxious hour hunting for diesel, foraging as anxiously as any fossilized plesiosaur buried in the Jurassic cliffs ever had.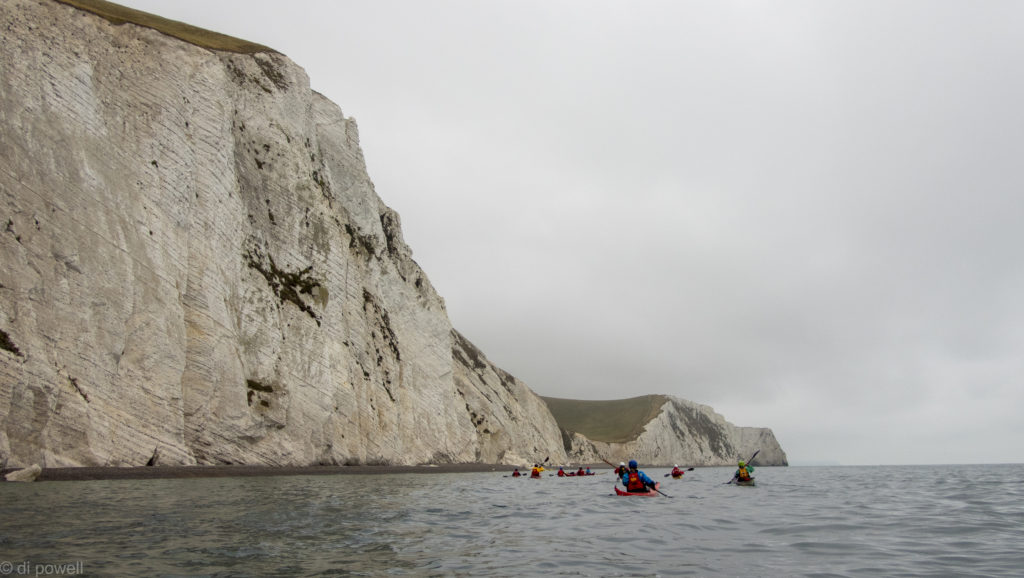 We launched eastwards towards White Nothe headland in moderate winds. Our three newbies (including me) soon settled, with many helpful tips from more experienced kayakers – Fiona, Liza, Dave, Olwen, and Alex. Fortunately, the rain subsided as we passed vertically folded chalk headlands and geometrically-weathered rock platforms.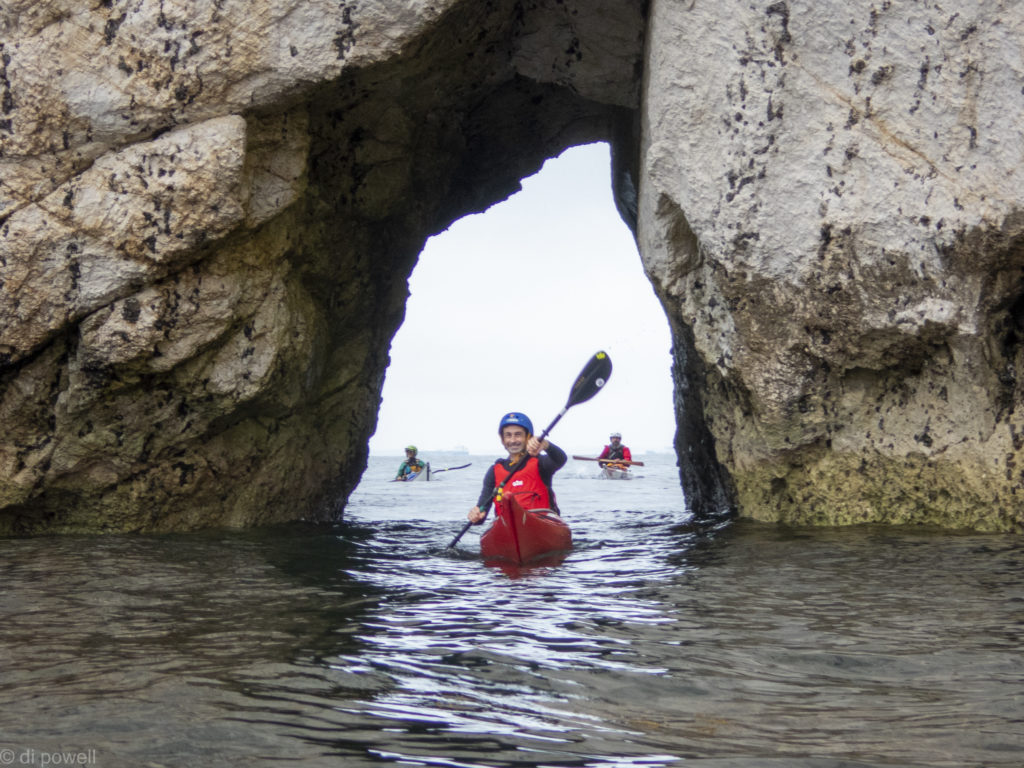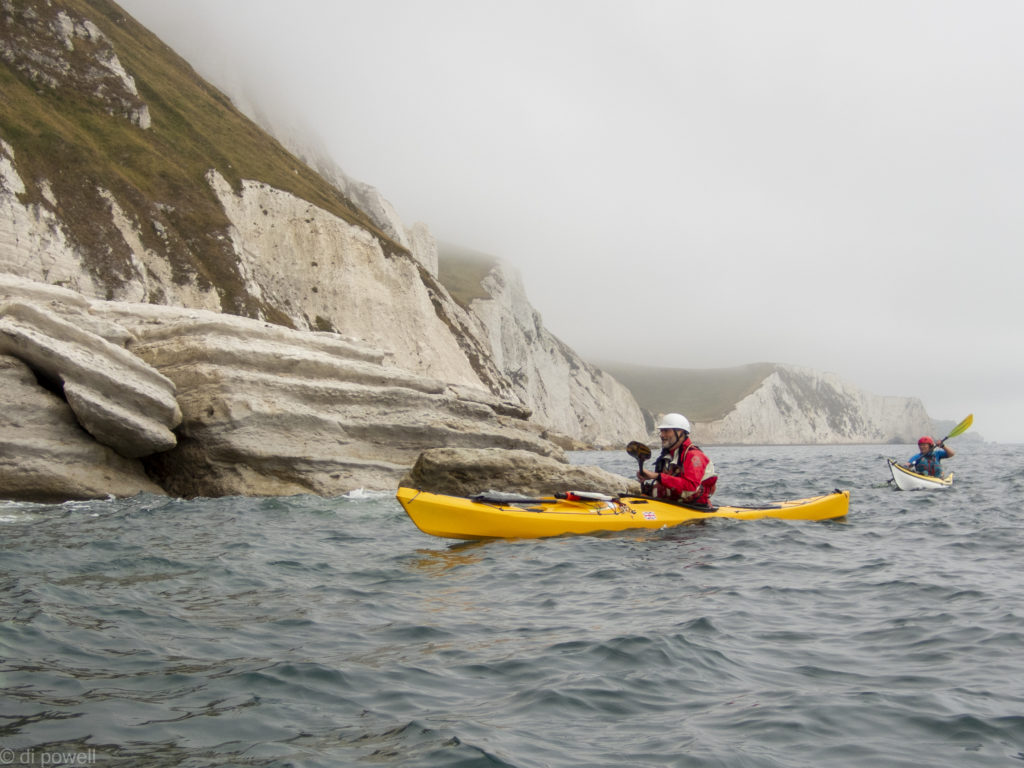 Rock-hopping was the highlight of the day. "I'm so glad you made me do that!" yelled Nick, displaying the marine equivalent of summit fever as he shot through two linked arches joined by a rocky channel. My favourite was a rock reef with a single gap-toothed opening that forced the surge high, making for a great ride.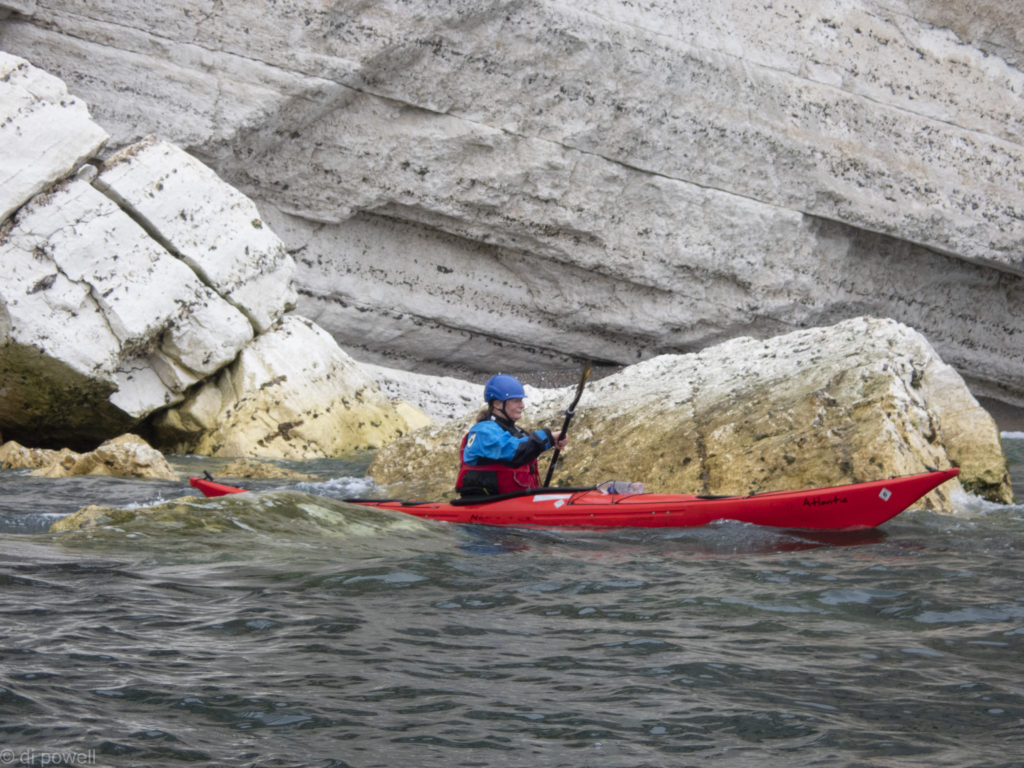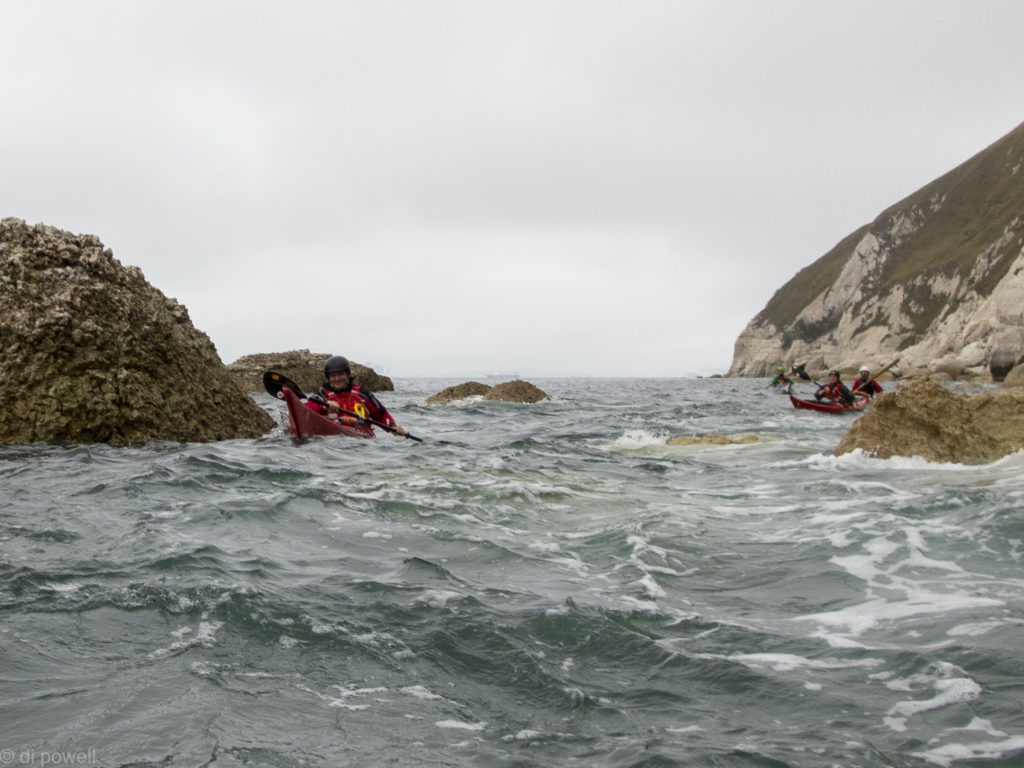 Our first arch was Bat's Hole, then the mighty Durdle Door. There, the main hazard was other people. A powerful Rib loaded with sightseers stood off to one side, while paddle boarders, divers and swimmers crowded the archway. We went through cautiously, in single file. Between Durdle Door and our lunch stop at Lulworth Cove, we found many rocky spots to swish through gaps and practice catching the swell.
Entering Lulworth Cove, we gave the rock ledge a wide berth. Divers were another hazard, visible as orange floats dotting the water but liable to surface anywhere.
During our quick lunch break, the tide turned. Alex shot out into the bay blasting sea shanties from a cockpit-mounted stereo. As Dave had named the WhatsApp group "Say no to sea shanties," grudge-match banter over these songs was a feature of the trip. I became a mild convert.
The wind dropped, giving us a placid return run with misty light and muted colours. Back at Ringstead, we tried capsize and rescue drills, before carrying the boats back up the steep track to the carpark.
Over a robust pub meal on Saturday night, Fiona and Dave checked on the newer paddlers' energy levels and appetite for risk (both high). Several Plan Bs were mooted as the wind was due to rise through Sunday. The most cautious option was a river paddle, up the Wareham River "and down the Piddle" (definitely Plan D-minus). In the end, we stuck to our route into Poole Harbour from Swanage, but as a one-way trip with a car shuttle rather than doubling the distance.
We pushed off from Swanage in a light chop; the forecast was for a maximum swell of 0.4 metres. More of a hazard was a sailing race and pleasure boats. Soon we reached the leeward side of the towering chalk cliffs, where the wind dropped. Fiona led us into a series of wide-mouthed caves.
We approached Old Harry rocks, the impressive chalk stacks at the headland, in calm, sunlit water, able to relax and enjoy the view.
The tide was just a bit too low to play in many of the tempting arches and gaps at the headland – rocks were sticking up on the far side. Finally, we found one that looked promising, and everyone shot through into Studland Bay, a dramatically different view of a wide, low-lying inlet stretching past Poole.
For the next ten minutes, we did gleeful circuits of Old Harry's Wife, who has been crumbling lately and may not be around much longer.
We made for Studland beach, passing a Border Force vessel seemingly close to shore. Thirty minutes later, when we beached on blond sand, it was a misty shadow behind us. After quick snack break to stretch our legs and wee in the gorse, we got back on the water. Jan, our Greenland stick paddler, loaned me his paddle at this point, and it was a revelation – light, easy and natural as well as pleasingly atavistic.
Timings were critical, as we needed to get into Poole Harbour around 1pm, an hour before slack water, to benefit from incoming tide, while avoiding strong tidal flows that could throw up rough water in the narrow channel. Additional hazards included ferries and the chain link shuttle.
As we turned towards the harbour mouth, a new tune, quieter, sober, more reflective, poured from Alex's stereo, singing of crossing the bar.
It's about death, he yelled into the wind.
Are you OK to carry on for a bit, Fiona asked?
Yes, I said, ignorantly bemused. If I had known about the hard pull across Poole Harbour that lay ahead, I might have been more cautious. But we were in, across the bar, and turned hard left into the toughest paddling of the trip. The wind blasted our faces, I tried wash riding and found it didn't work in such heavy chop. Suddenly, it was fun – bracing and brilliant.
We rested on a small sand bar, sheltered by low gorse then set out again for the next peninsular where our cars were parked. Poole Harbour was bigger than expected and had seemed a tame option, but it was a thrilling ride straight into the wind.
Next morning, a gale came up the channel and Swanage was battered by rain and high winds.
As Tudor said, "We got lucky with the weather and the more planning we did, the luckier we got."
Many thanks to Dave for trip planning, to Jan, who was our overall organiser, to sea leader Alex for shepherding us on the water, and to everyone who made it so enjoyable.