A weekend of rock hopping and paddling in the summer sun, around the beautiful south coast of Devon near Salcombe and Dartmouth.
Arriving on Thursday evening, we were the first campers to setup at the Slapton Sands camp site. Although the evening was warm and mild, some CKC members had taken the easier option and rented the mobile home on the campsite and that was to become CKC HQ for the weekend.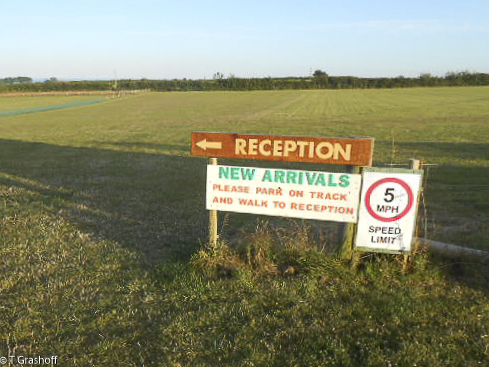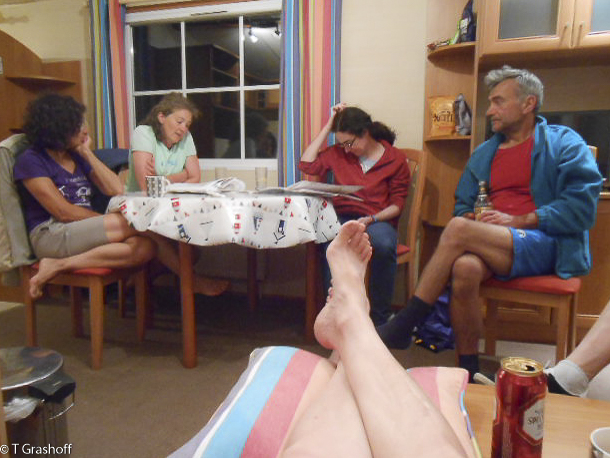 CKC HQ
So after some fortifying fish and chips and, gin and tonics inside CKC HQ, our attention turned to planning for the next day.
The next morning in brilliant sunshine, we met David Jones from Dartmouth Yacht Club who had kindly offered to accompany us and offer some local advice. We arrived at North Sands car park after traversing an incredibly windy road down to the beach that felt more like the Italian Riviera than Britain. We launched from North Sands as the beach goers started to arrive, and crossed the Kingsbridge Estuary boating channel in a group over to Hipples. Following the coast south easterly with light winds (F2), full sun (23C), waves less that 0.3m and no clouds, we immediately started to rock hop. The coastline here is amazingly intricate with big and small rocks to manoeuvre around; small arches, holes and corridors to squeeze through; blind passages to investigate and reverse out of backwards (or attempt to turnaround).
David Jones leads the way.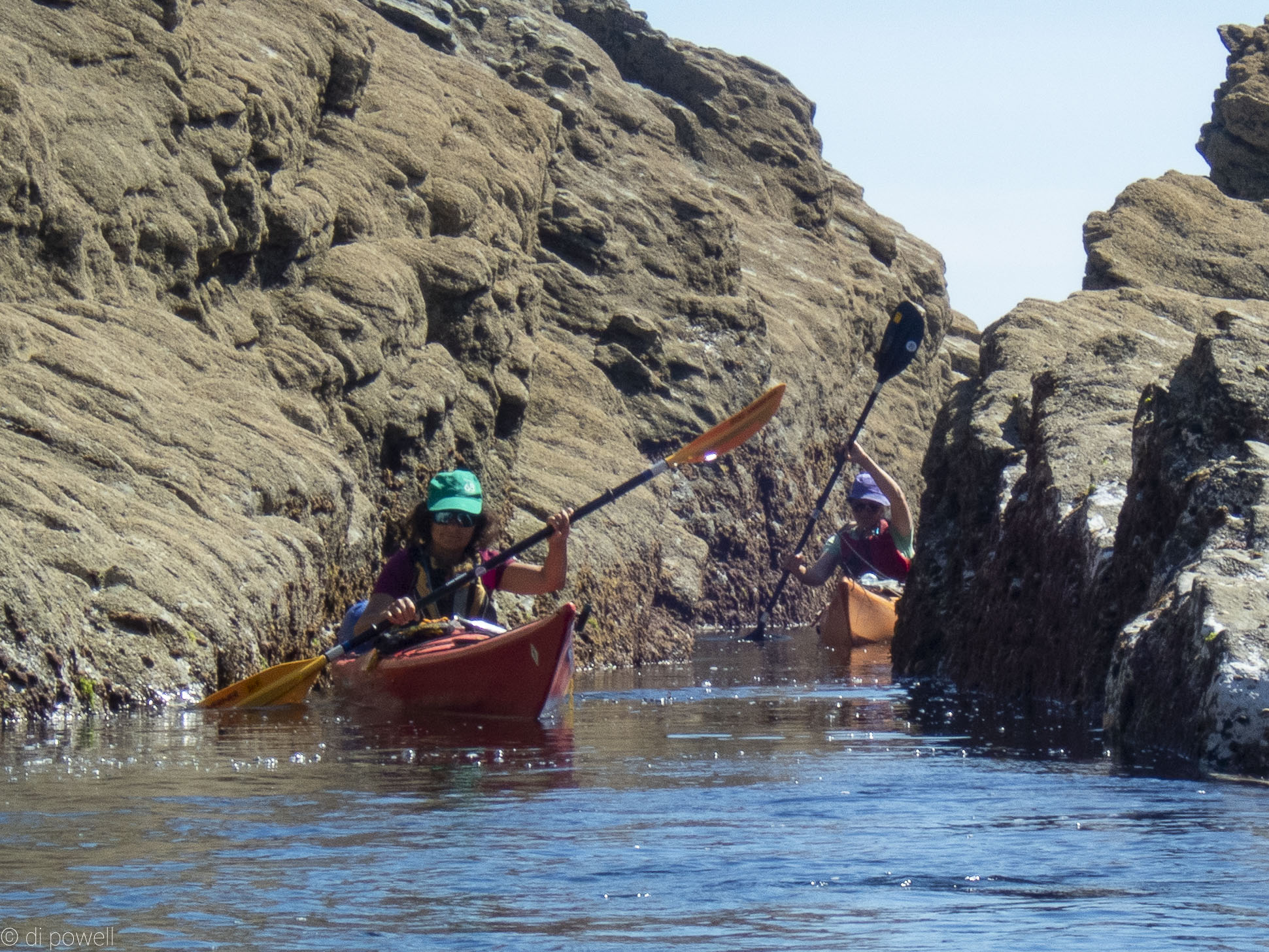 Rock hopping heaven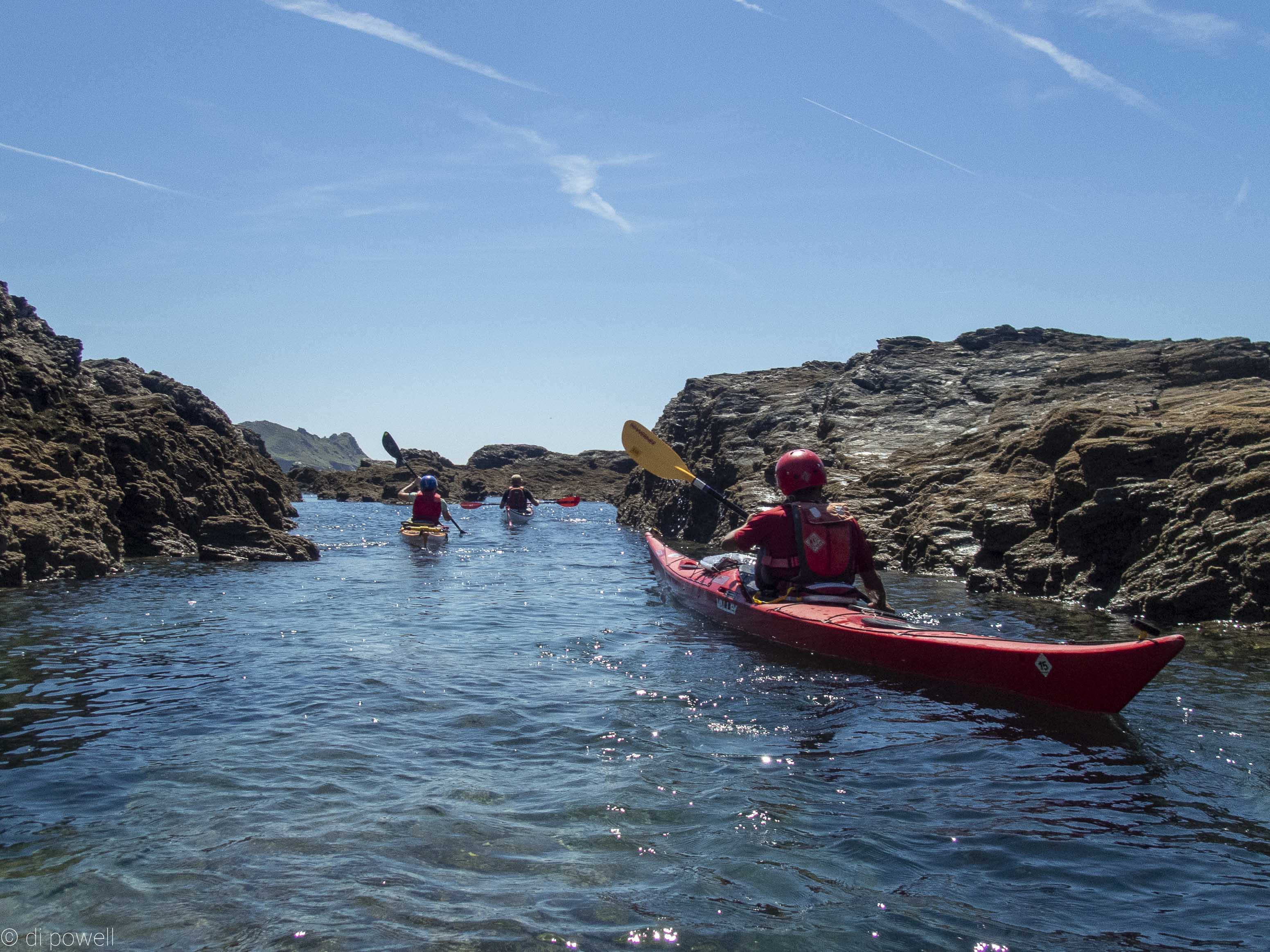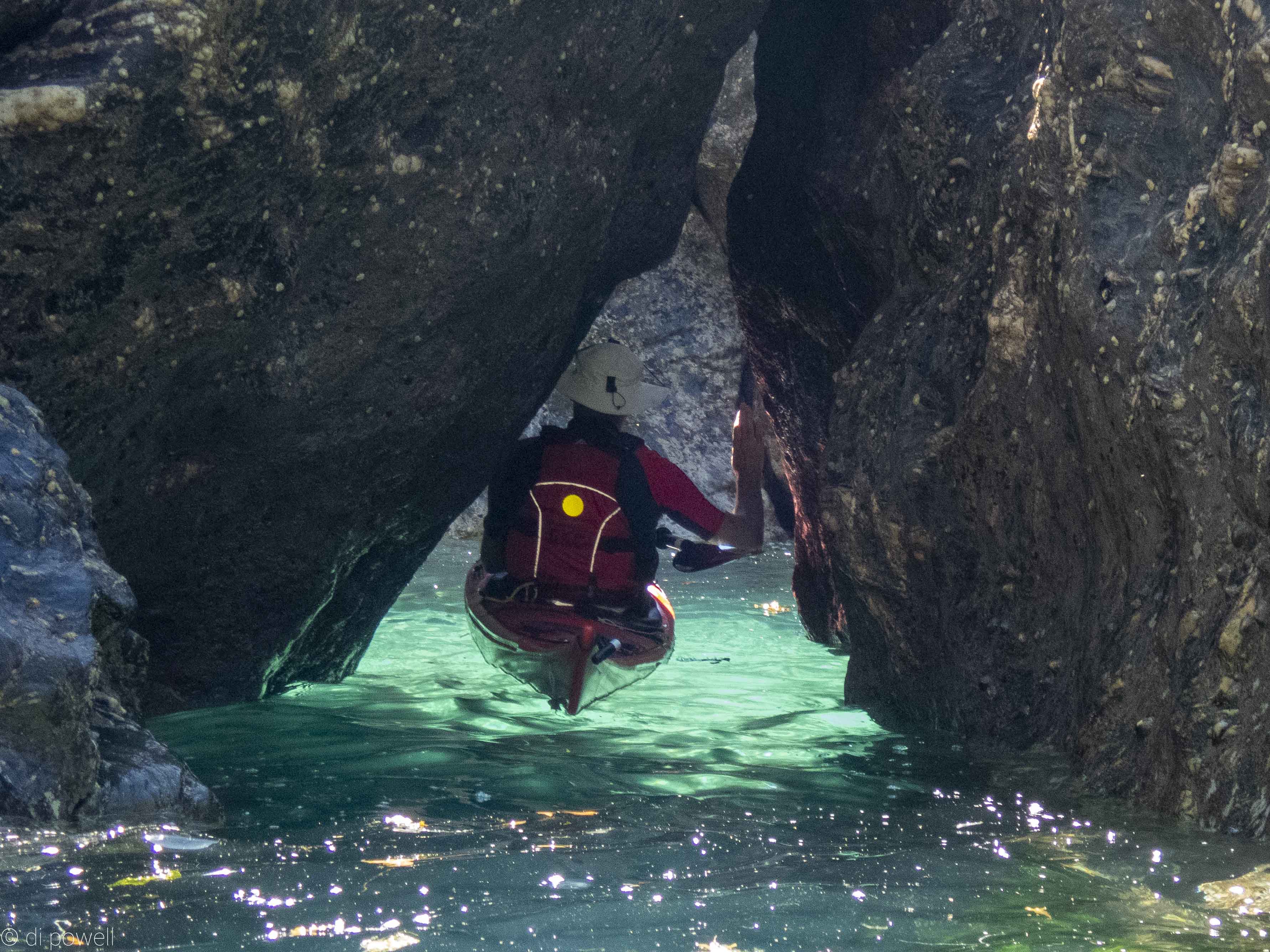 Sometimes the gaps were a tight squeeze.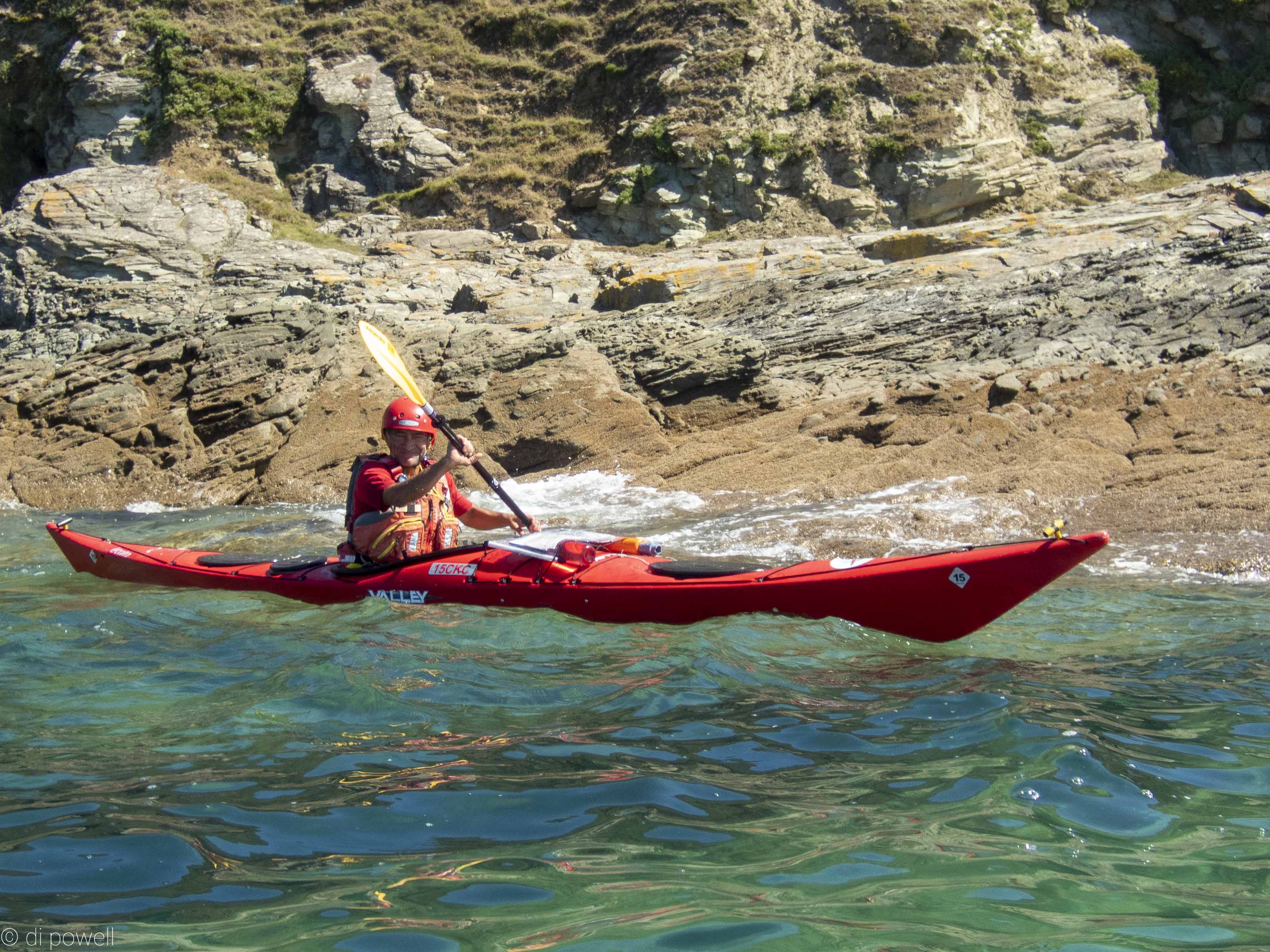 Other times not so much of a squeeze.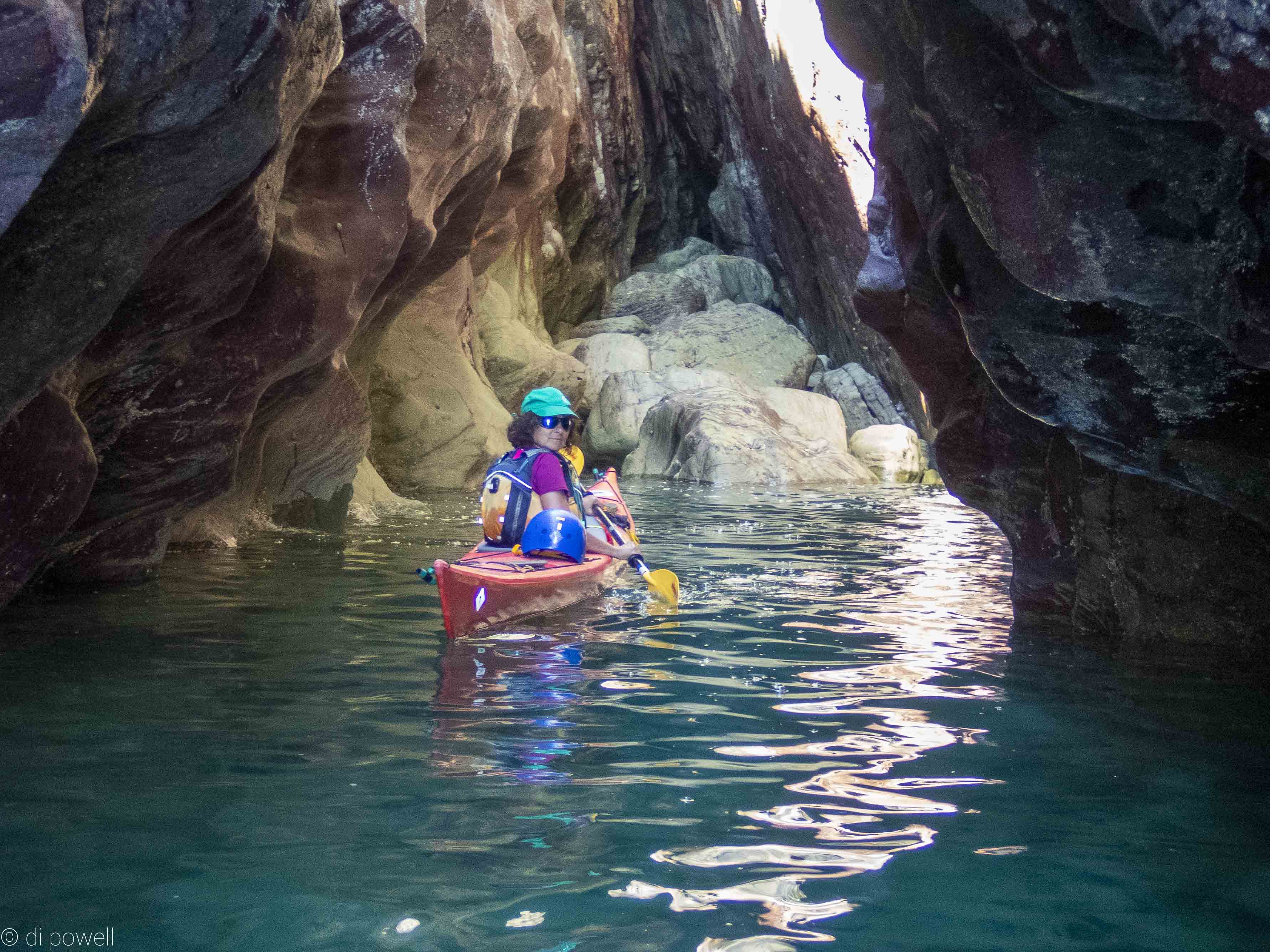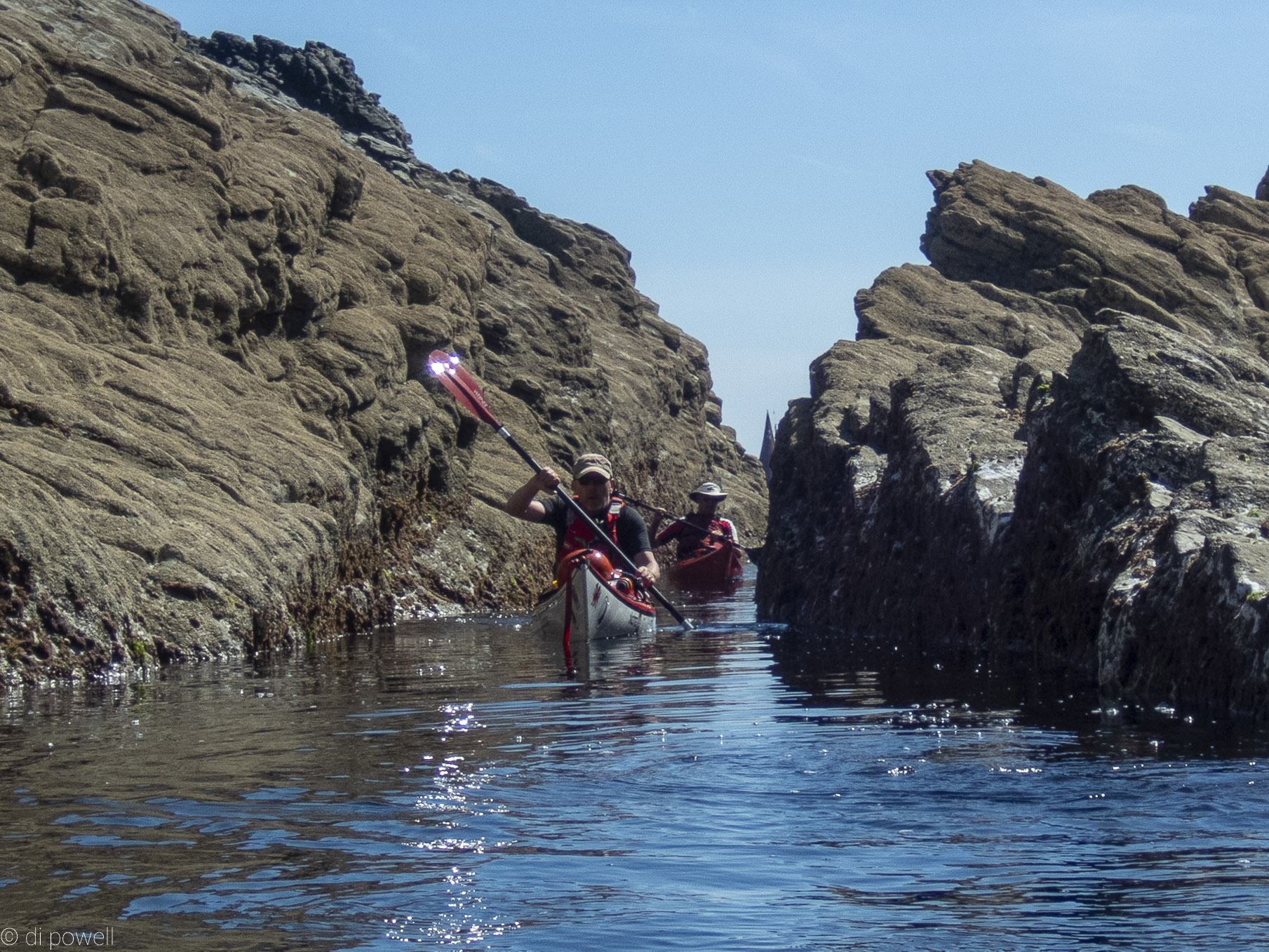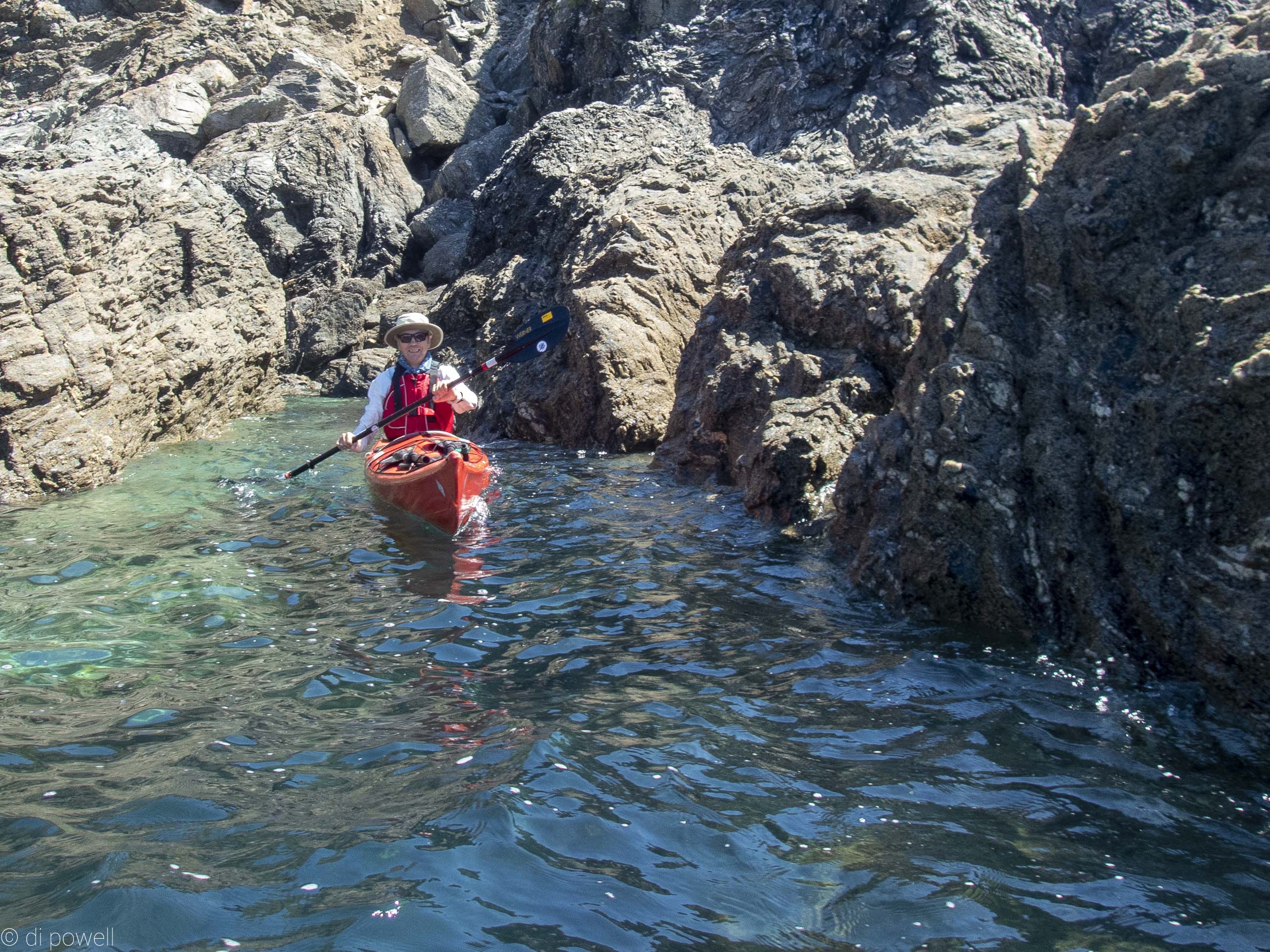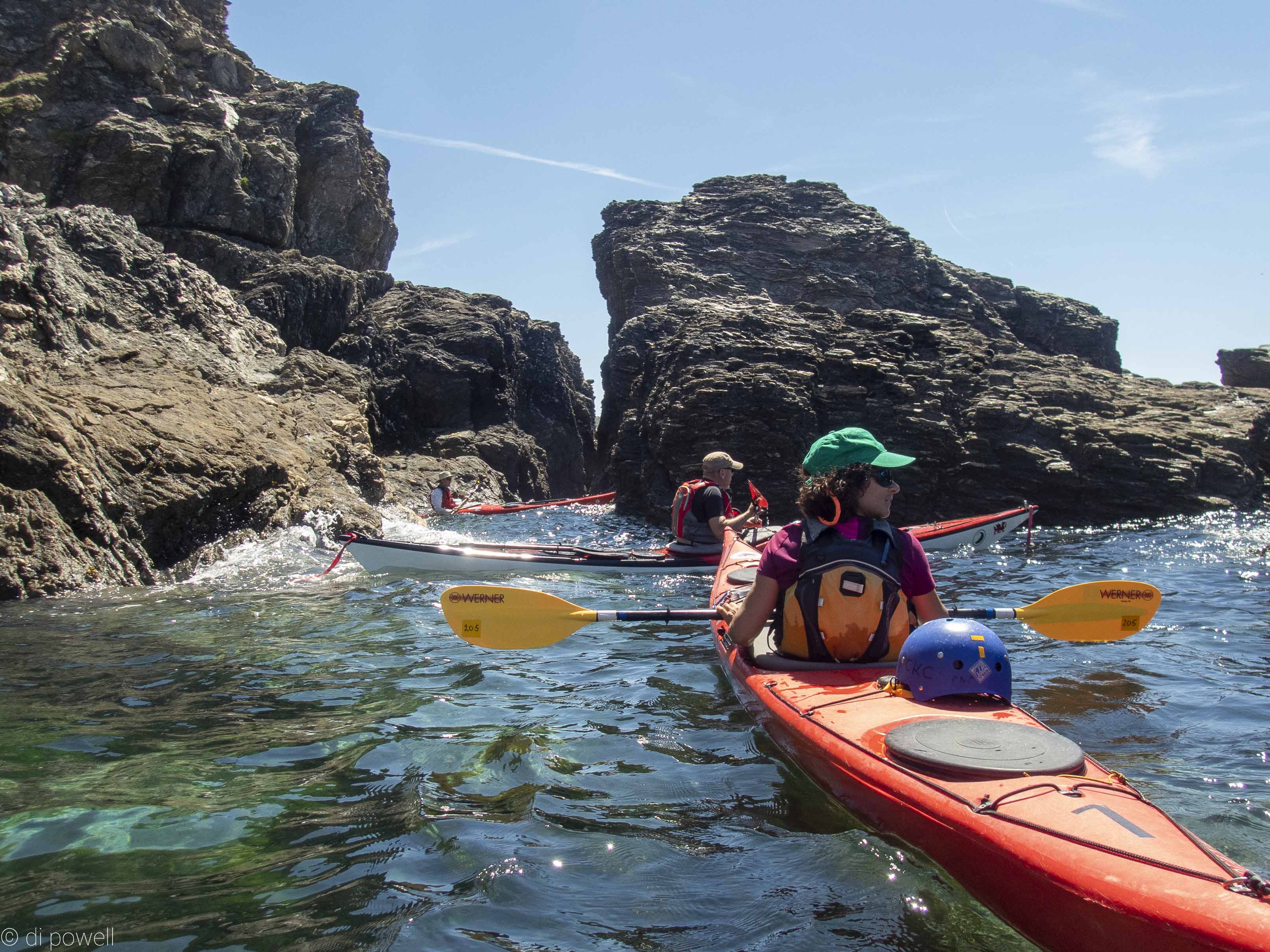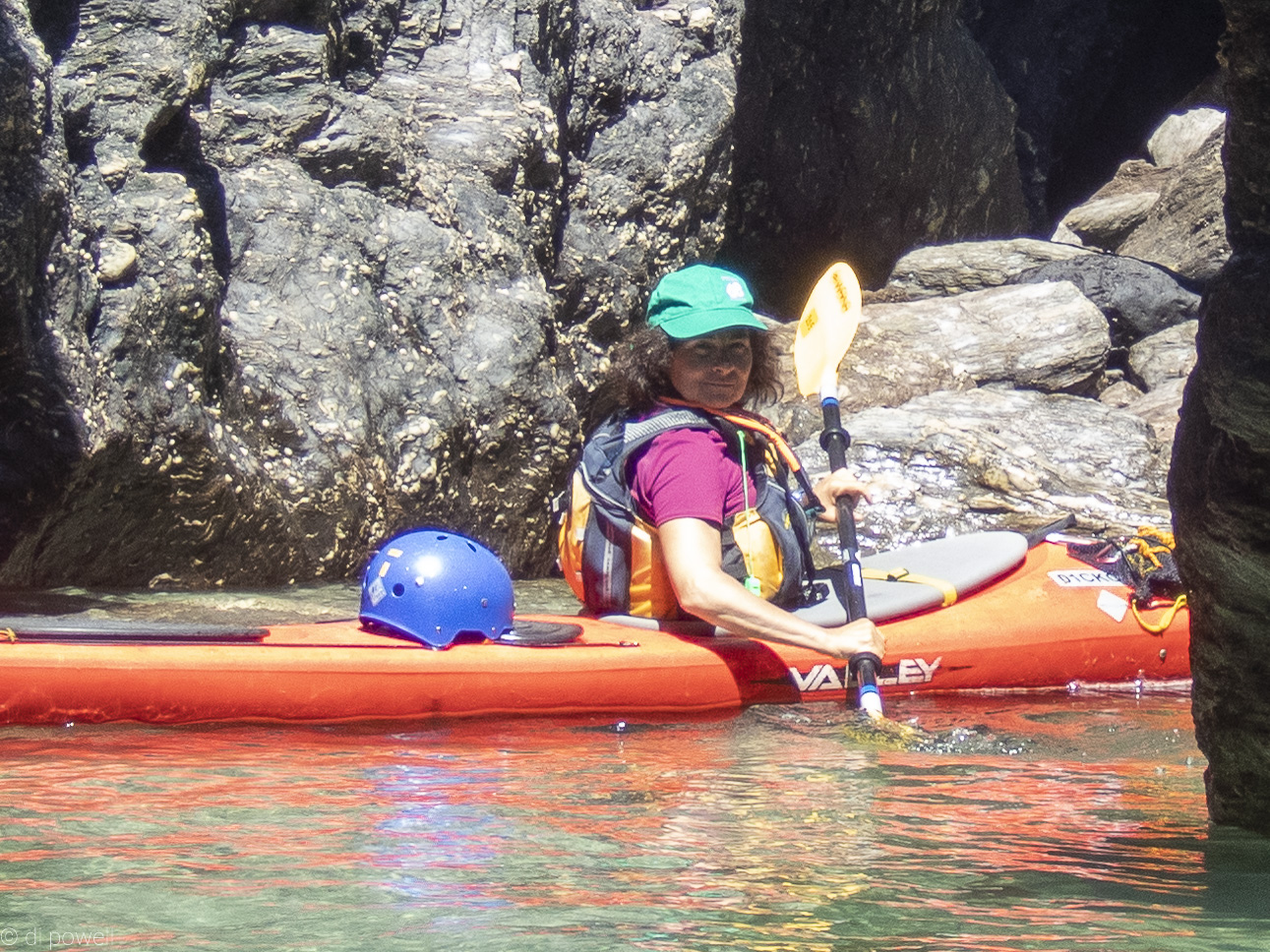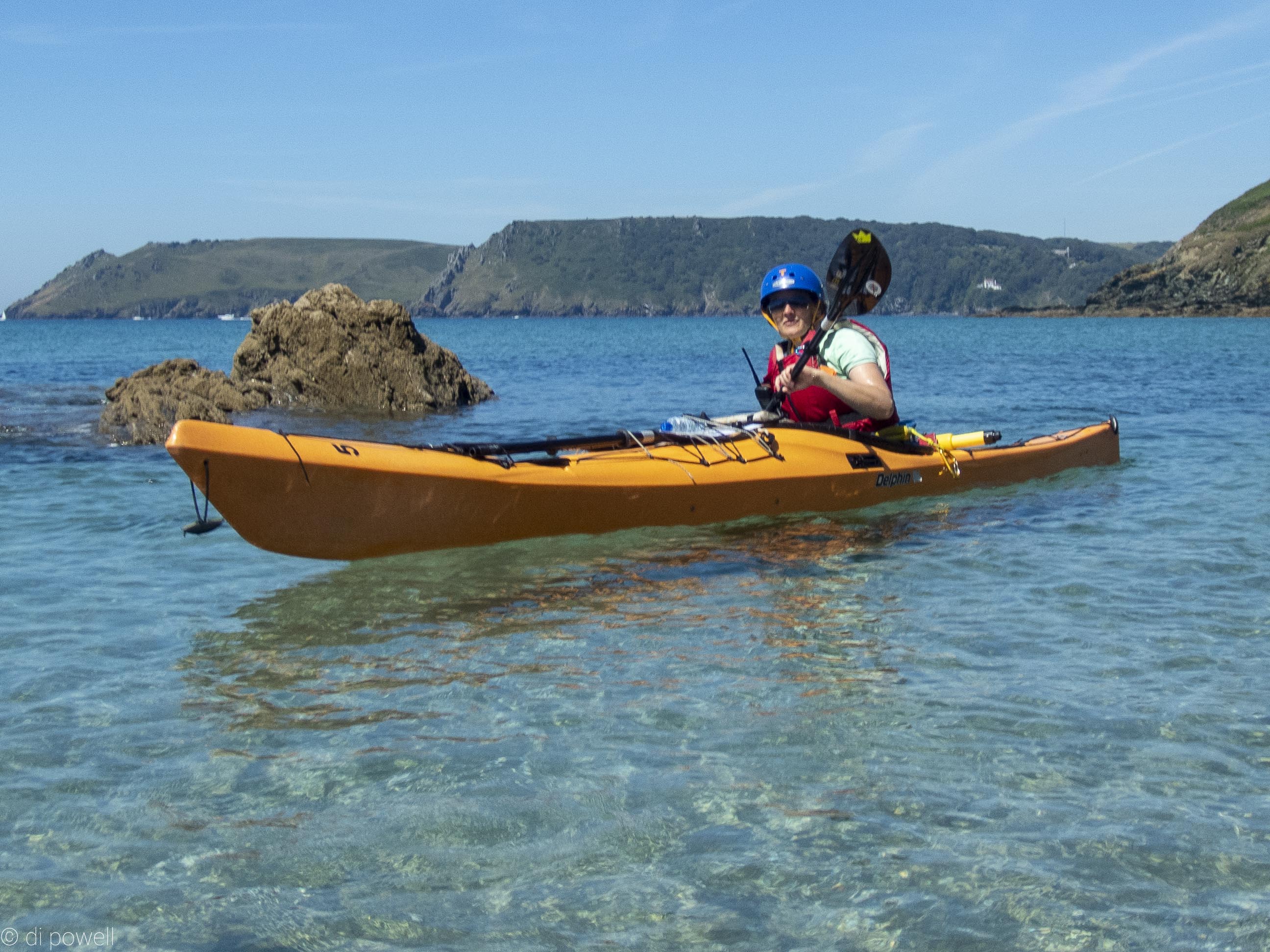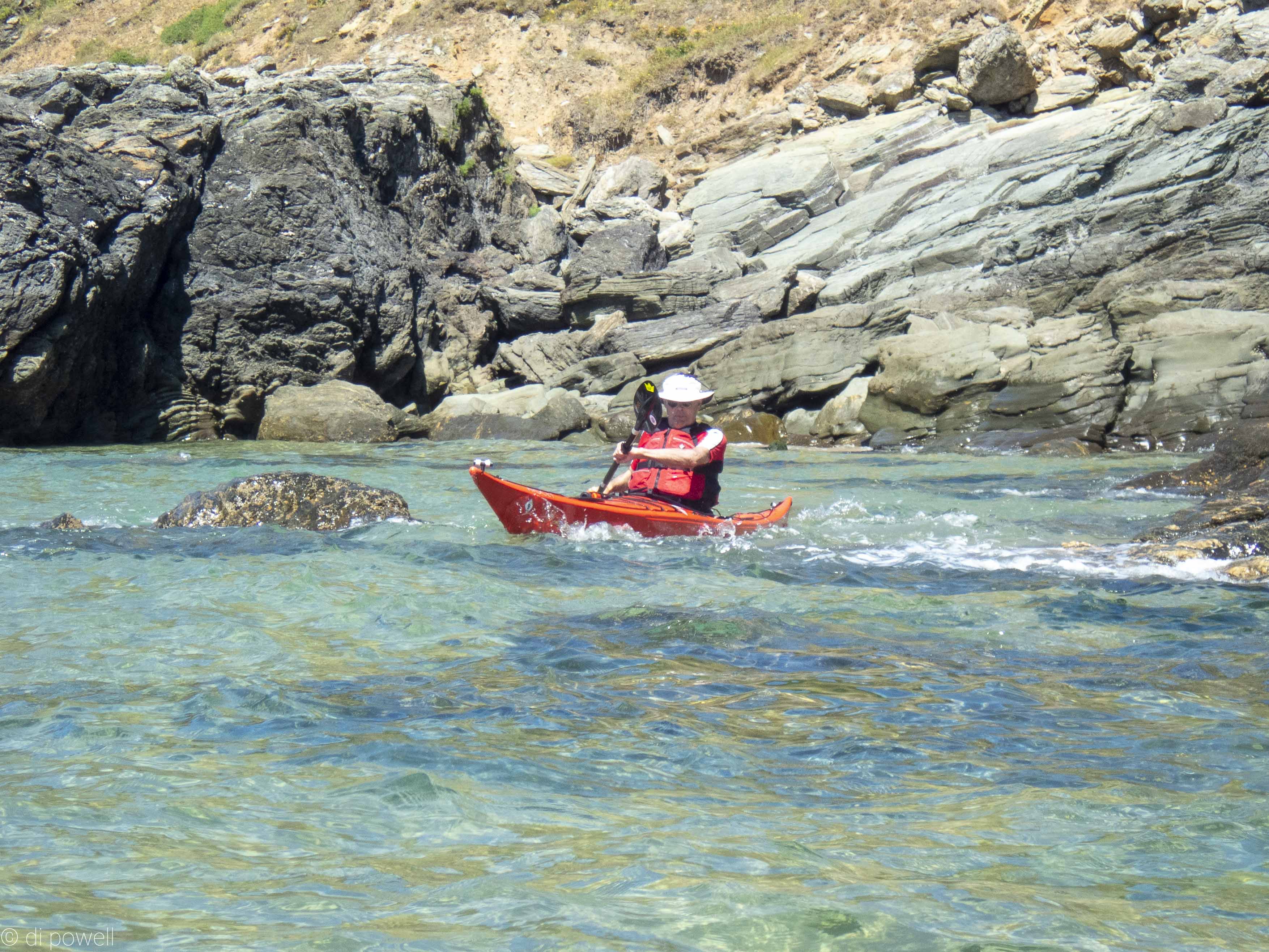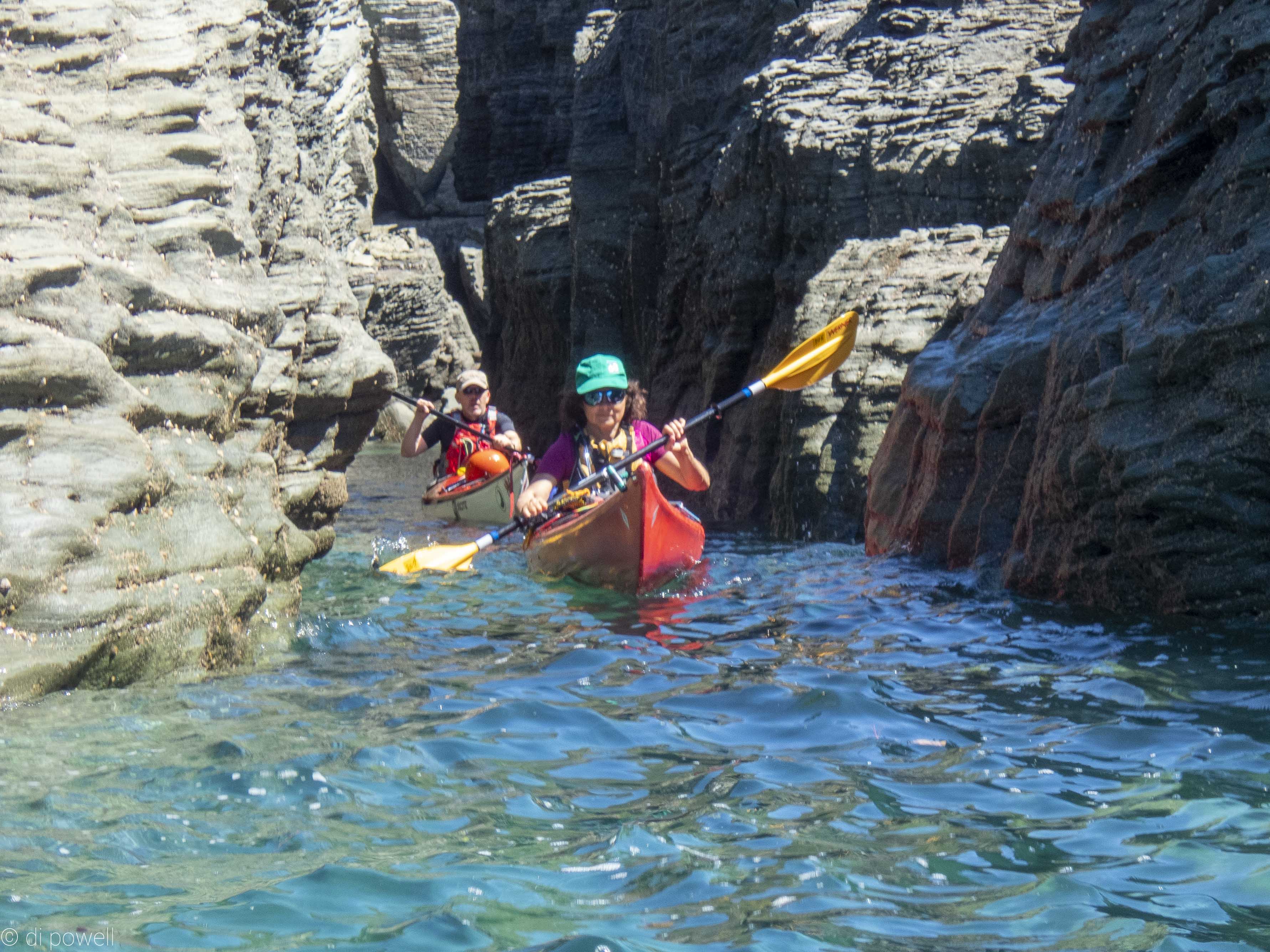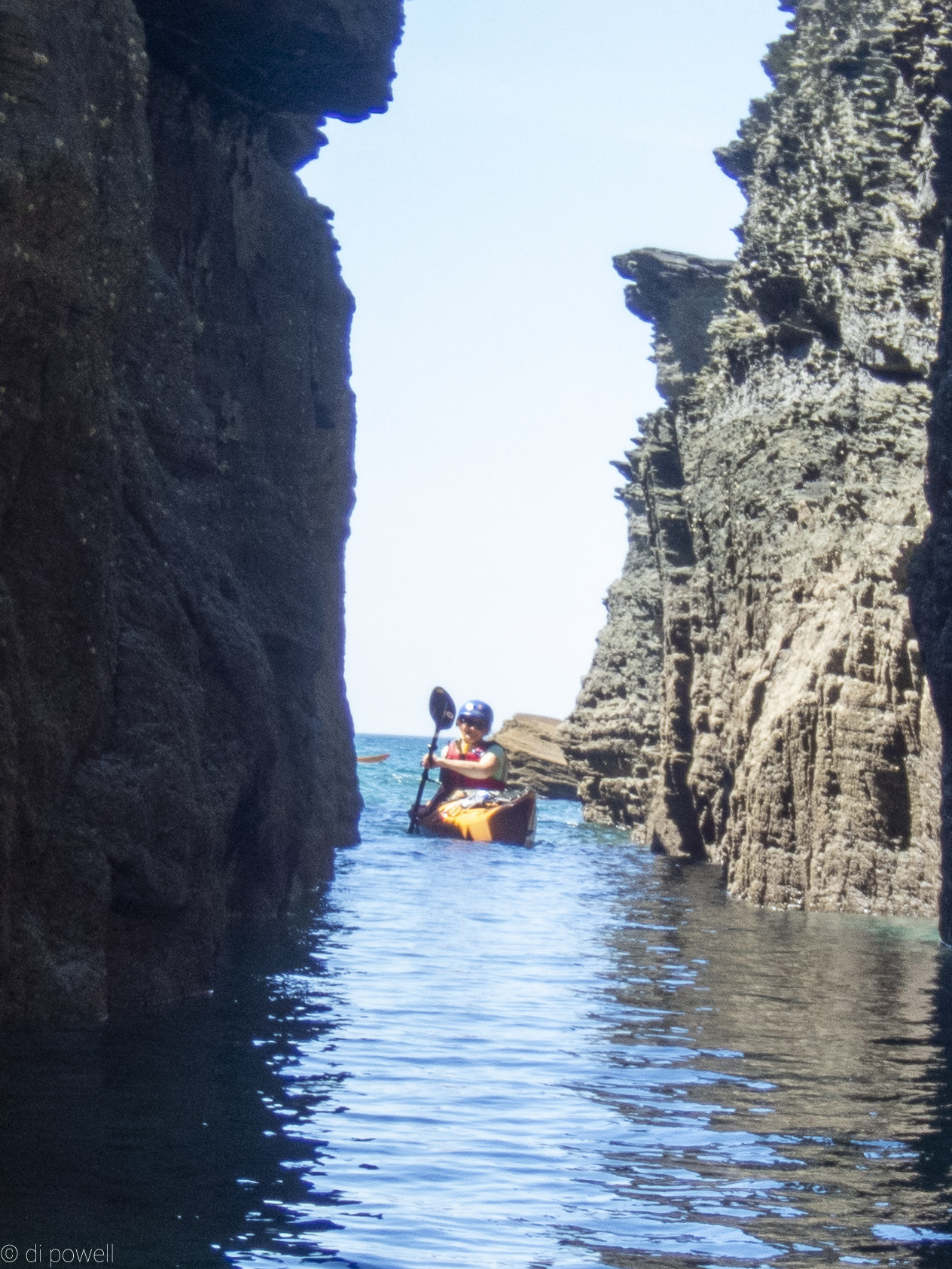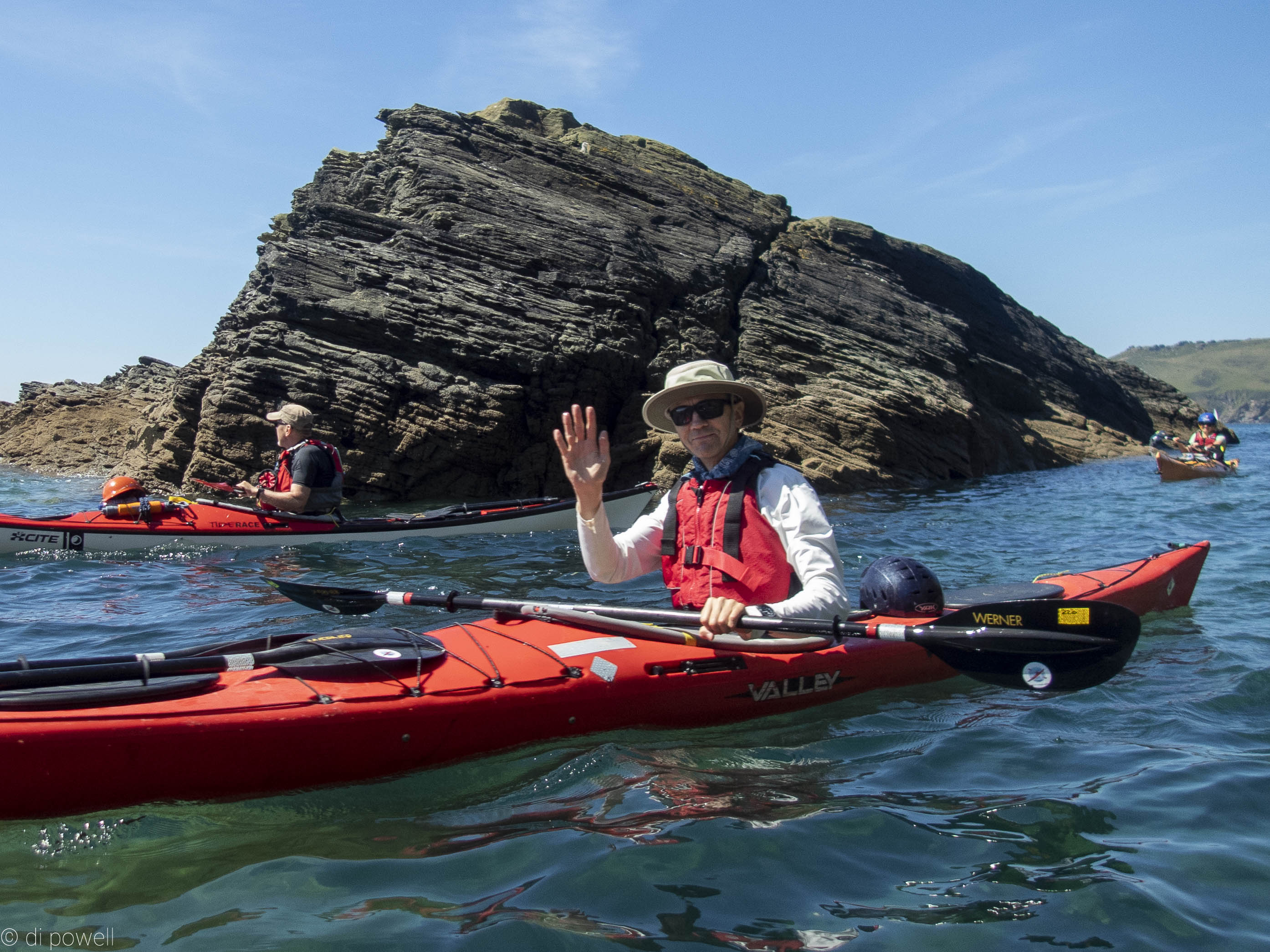 Described as rock-hopping heaven by one of our group, it was a great way to build up those technical skills required for quick decision making and agile manoeuvring.
As we approached Prawl Point, on land we could see the bright orange rusting carcass of MV Demetrios which was wrecked in December 1992. It was caught in hurricane winds (F10) while being towed to a breakers yard in the Mediterranean. It was washed up onto the rocks and then abandoned by the company towing it. As we moved closer to get a better look at the remains, the 'rock' in the sea turned out also to be part of the superstructure of the ship. However, as we were joined by an inquisitive seal at the same time so we had to divide our attention between taking pictures of the wreckage and watching the seal.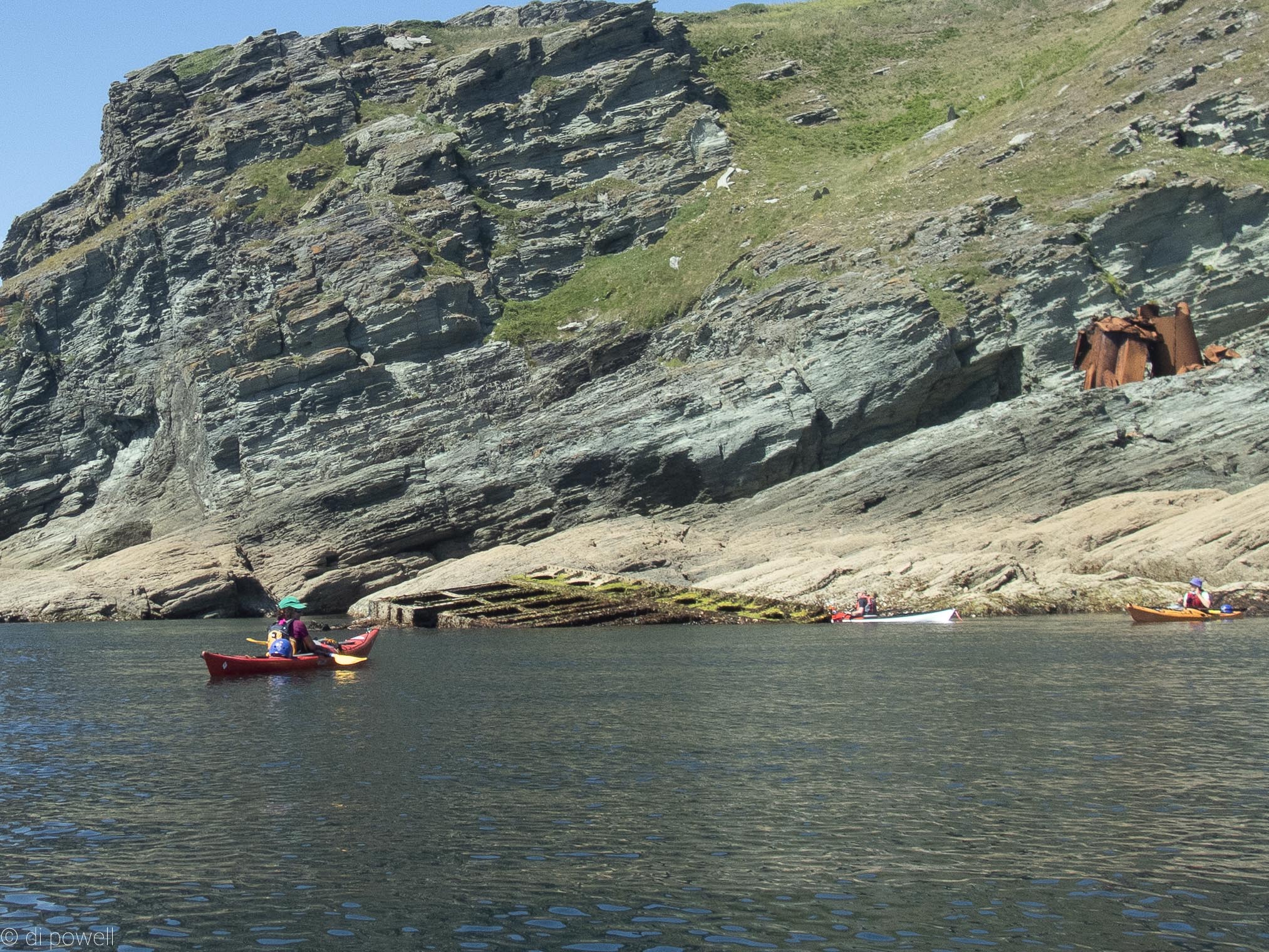 Remains of MV Demtrios
We passed around the arch of Prawle Point, although without enough water it wasn't possible to pass under it this time.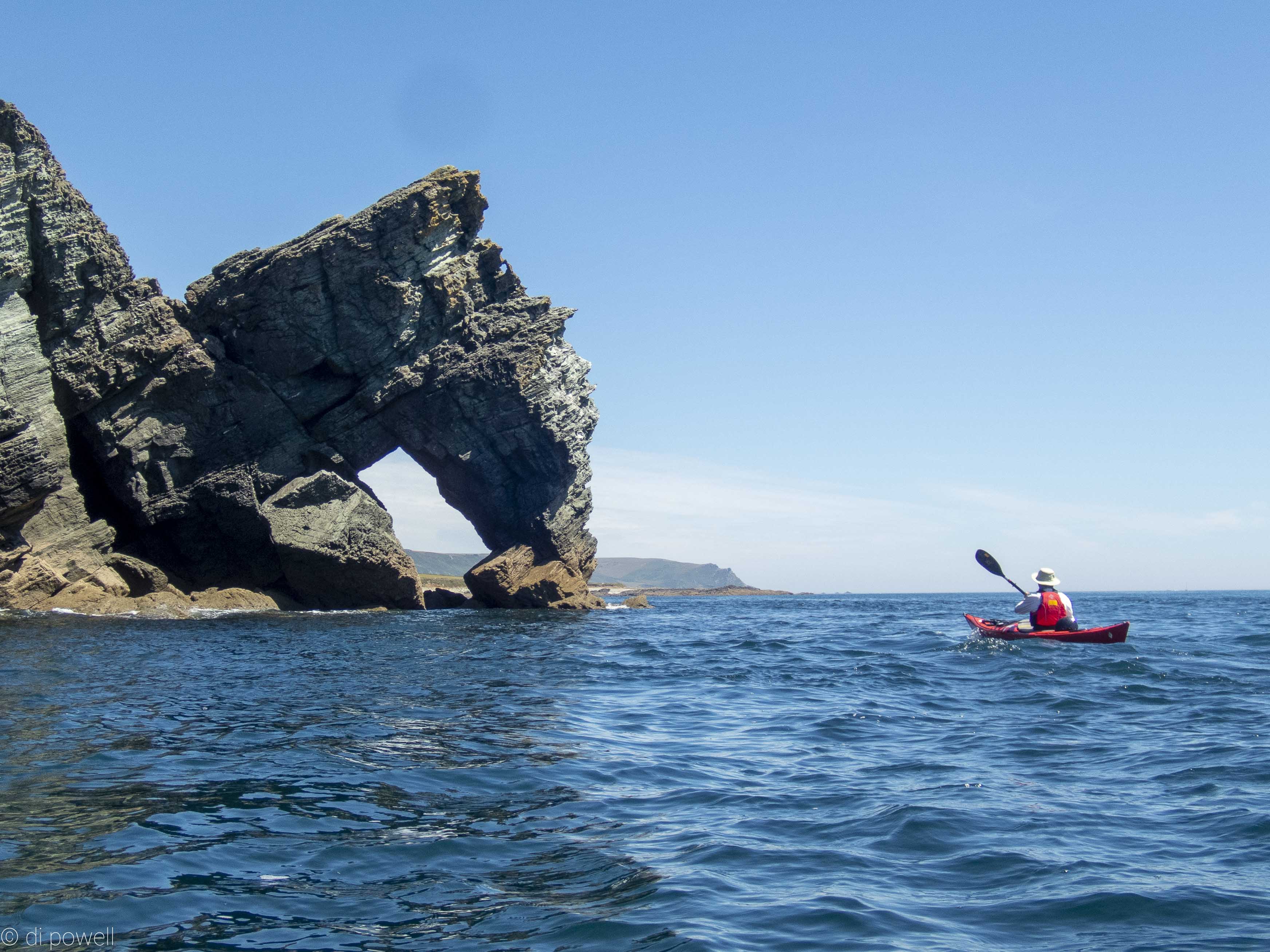 Prawle Point
After a short lunch break at Horseley Cove, we returned the same way. Through the pristine clear water we were able to follow the ropes threaded through lobster and crab pots lying on the bottom of the sea bed and saw a huge spider crab sitting on top of one.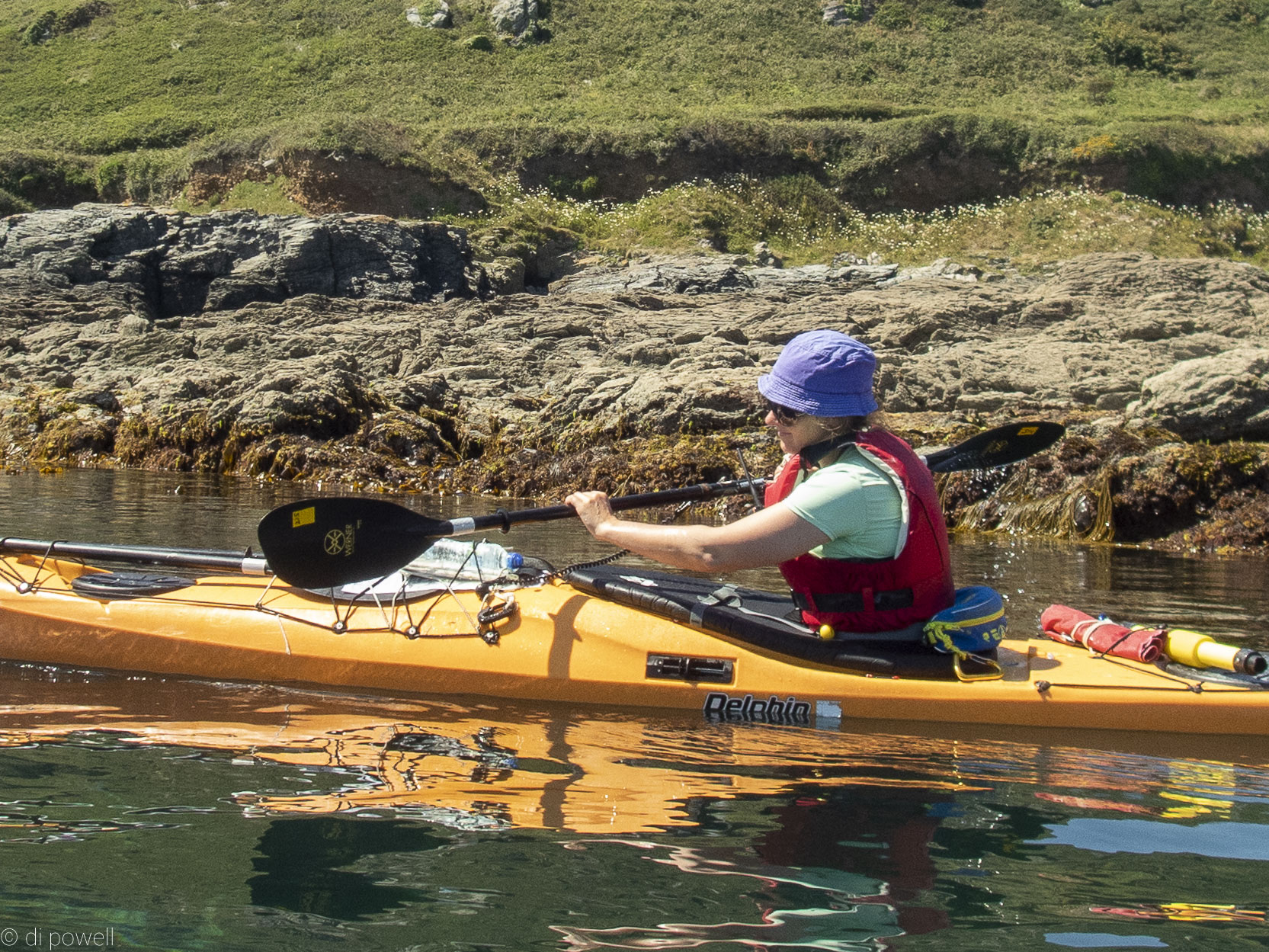 Looking for (and finding) spider crabs
Unbelievably we had spent the whole day rock hopping, covering 23km – the longest distance and time that any of us had spent playing in rocks in the sunshine.
After all that excitement the only thing to do was to retire to the Start Bay Inn at Torcross for a further dose of fish and chips while standing outside overlooking the pebbled beach.
Somewhat surprisingly, outside the pub was an original Sherman Tank. It was recovered from the bay and now used as a memorial to the more than 1000 people who died when a practice for the D-Day landings went badly wrong.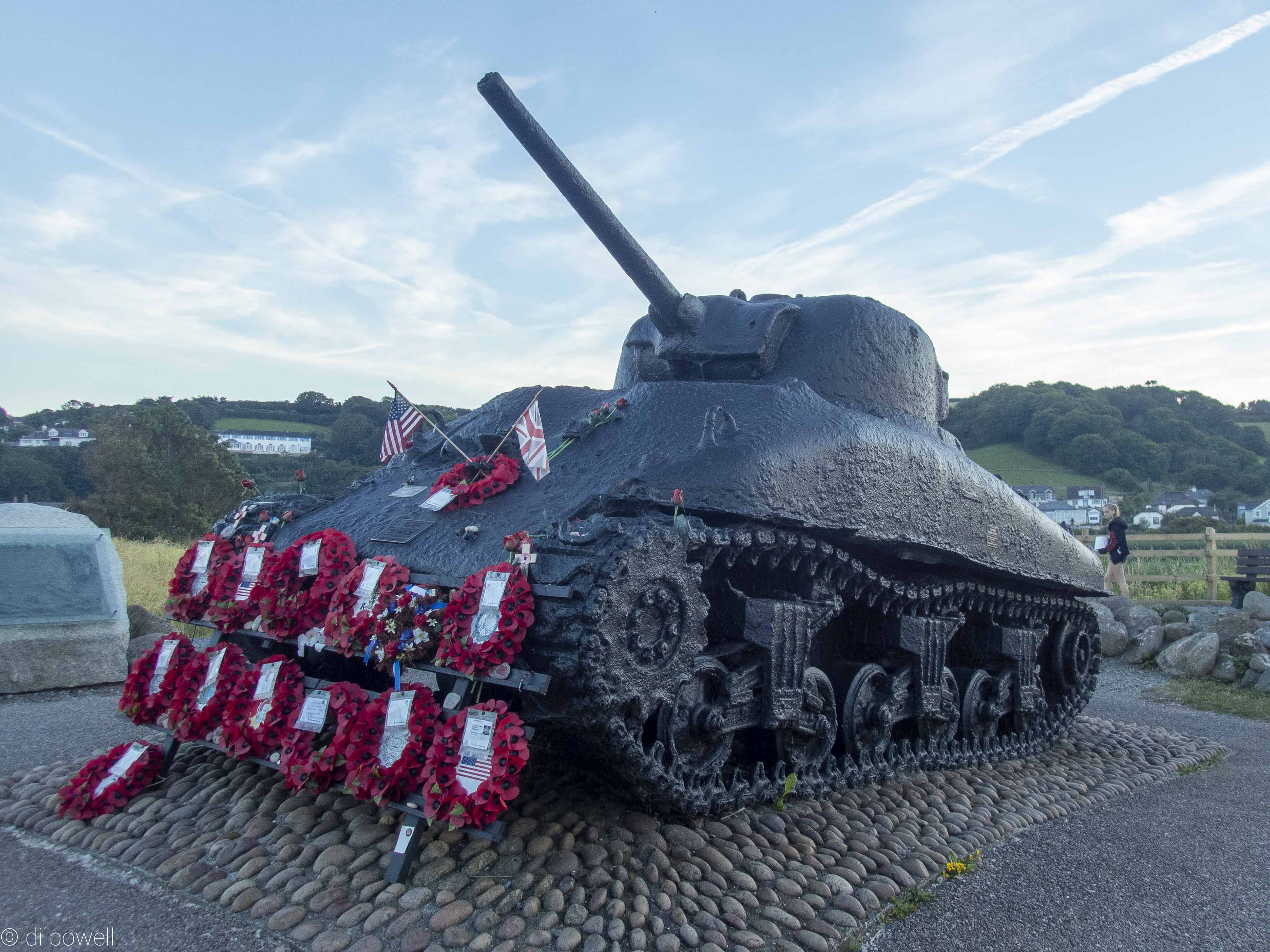 Sherman tank memorial at Torcross Bay
Another beautiful sunny day with calm winds (F2) on Saturday saw us meet up with Tim (who wasn't able to paddle with us due to eye surgery, unfortunately) and Phil H. both from Dartmouth Yacht Club. Phil had kindly offered to guide us out of Dartmouth Harbour and over to Mew Stone to spot some seals. When we paddled through the chaos that is Dartmouth Harbour, we were pretty happy that Phil knew what was going on! As although very pretty in the summer sun, Dartmouth Harbour has multiple ferries crossing and the truly bizarre Lower Ferry (two platforms pushed by tugs in circular direction from each side of the harbour simultaneously) boggles the mind as to where they were going.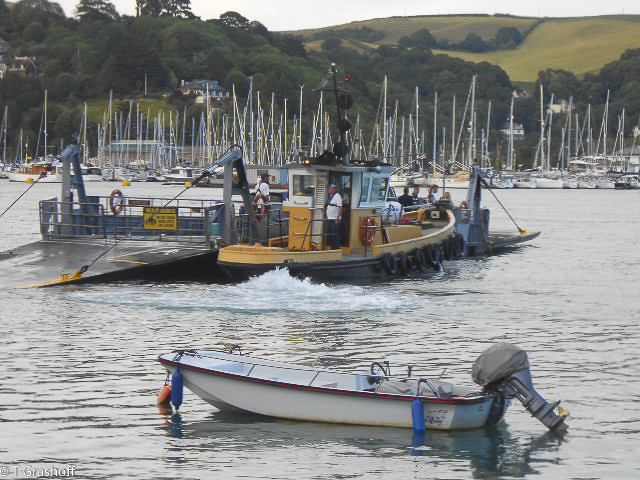 The mind boggling Lower Ferry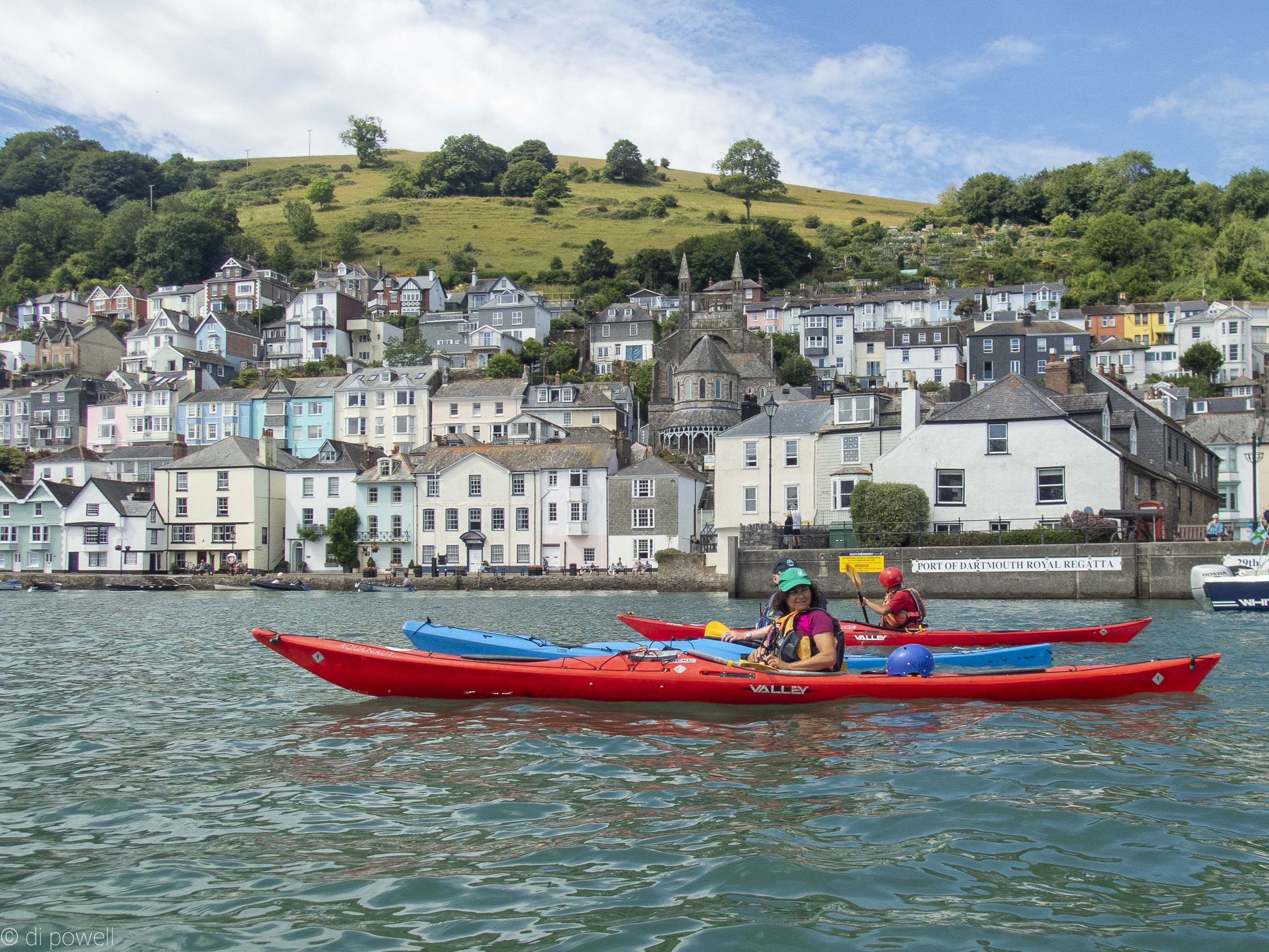 Dartmouth Harbour
Phil led the paddle through the harbour passed Dartmouth Castle then North along the coast, where we are able to get a rare picture of all paddlers on the sea by Alex on land, who had set off walking while we were unloading the boats and getting ready.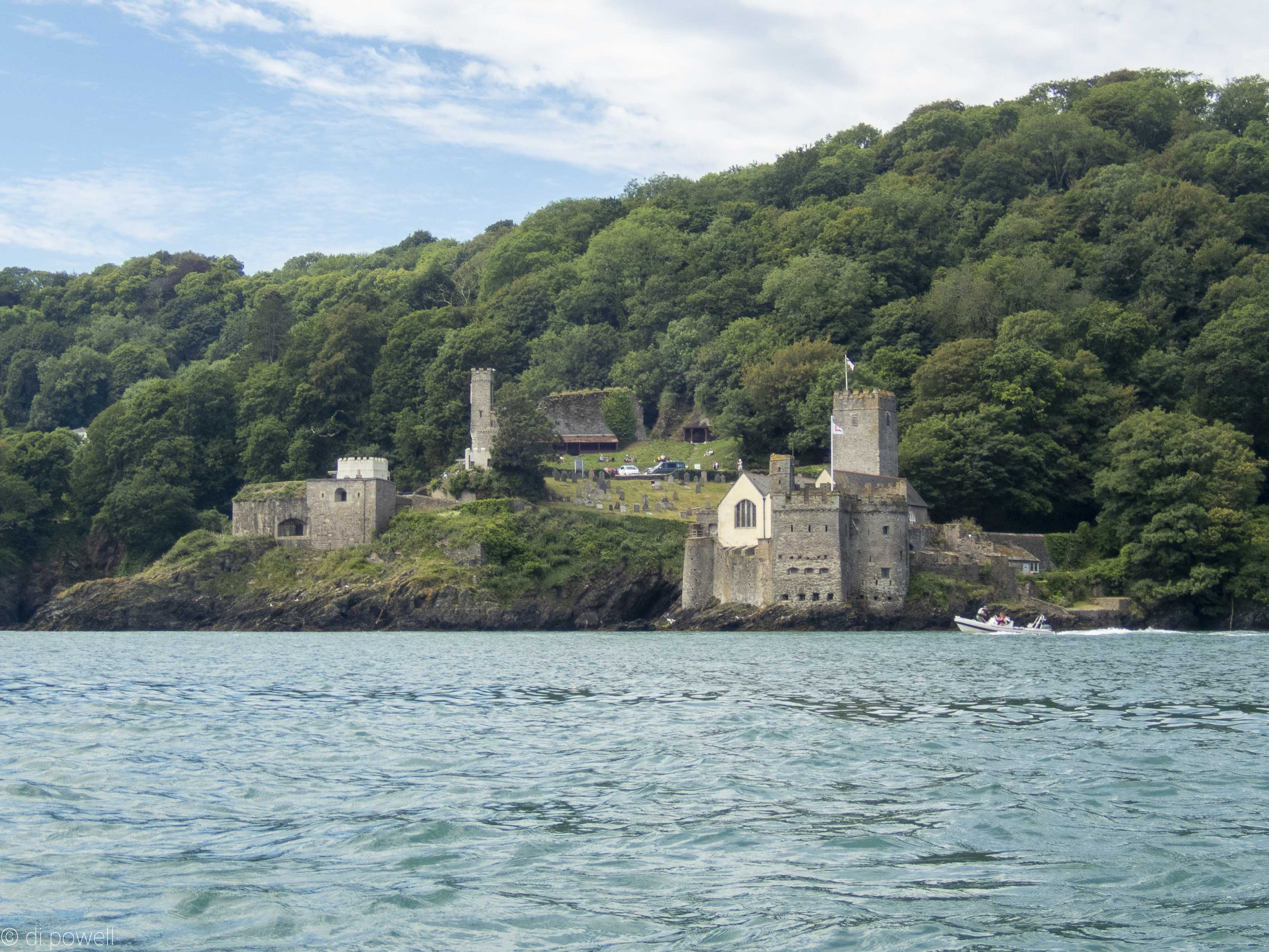 Dartmouth Castle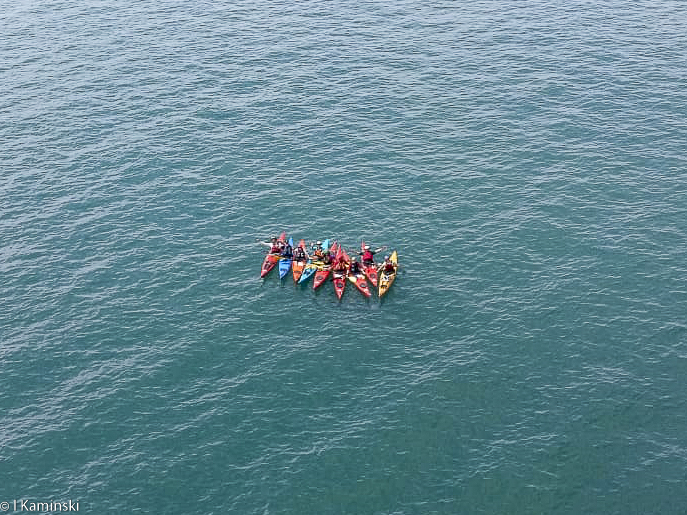 Official team photo
Then we crossed over to Mew Stone to look for seals. We had seen a few on the way, but only one at Mew Stone. As it was high water, most of the seals had gone fishing. After Mew Stone we paddled back across harbour entrance, where Phil left us, then headed south to a small sunny cove for lunch.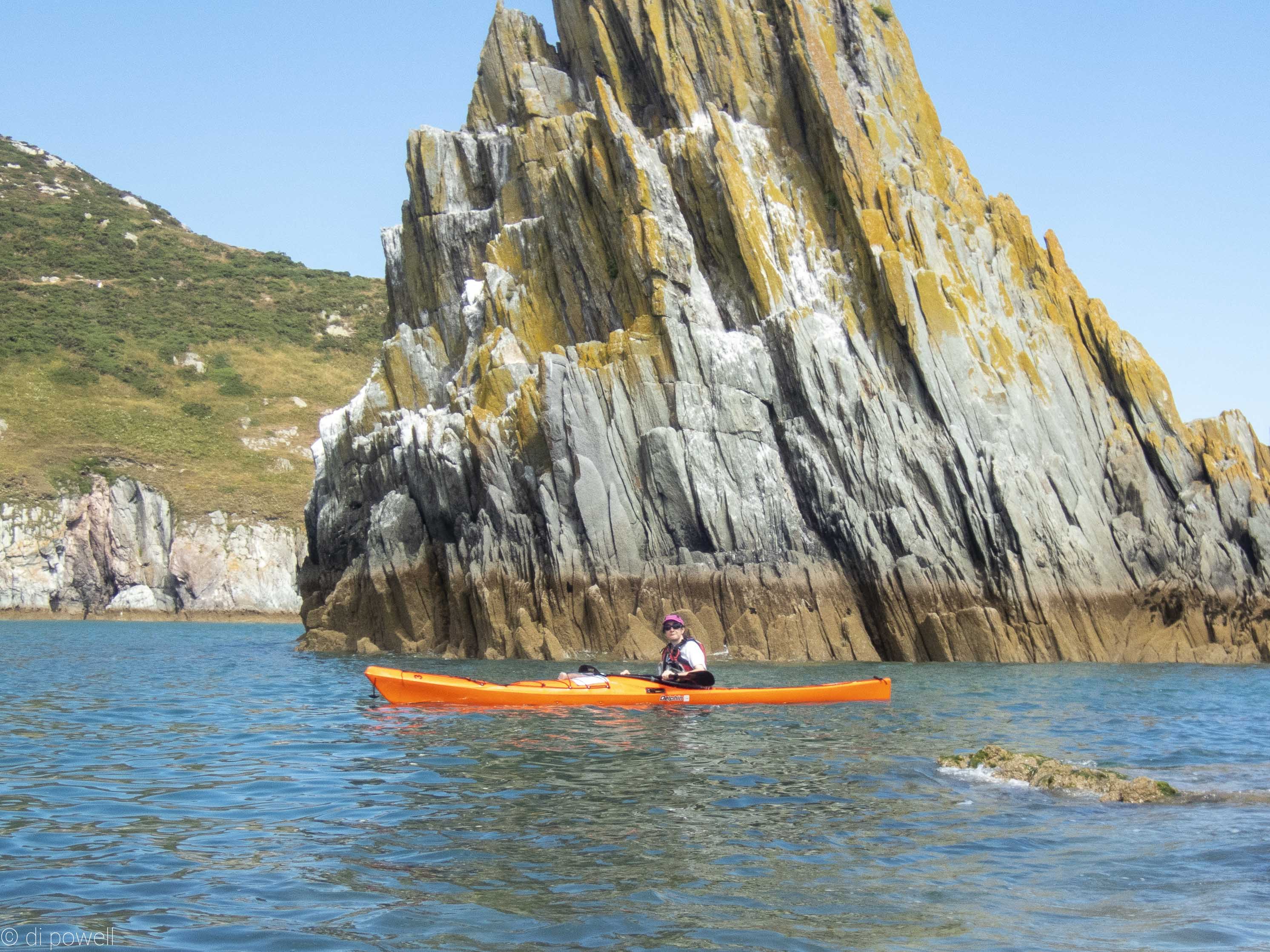 Mew Stone
After lunch we continued on to Blackpool Sands, picking up a surprising amount of swell (0.3m) as we approached the pebble beach, making timing of the landing and departing between waves a bit tricky, but managed without any dramas.
On the way back we encountered an enormous seal sunning itself, with its tail and head curled up, quite oblivious to us. It seems to be floating on top of the water!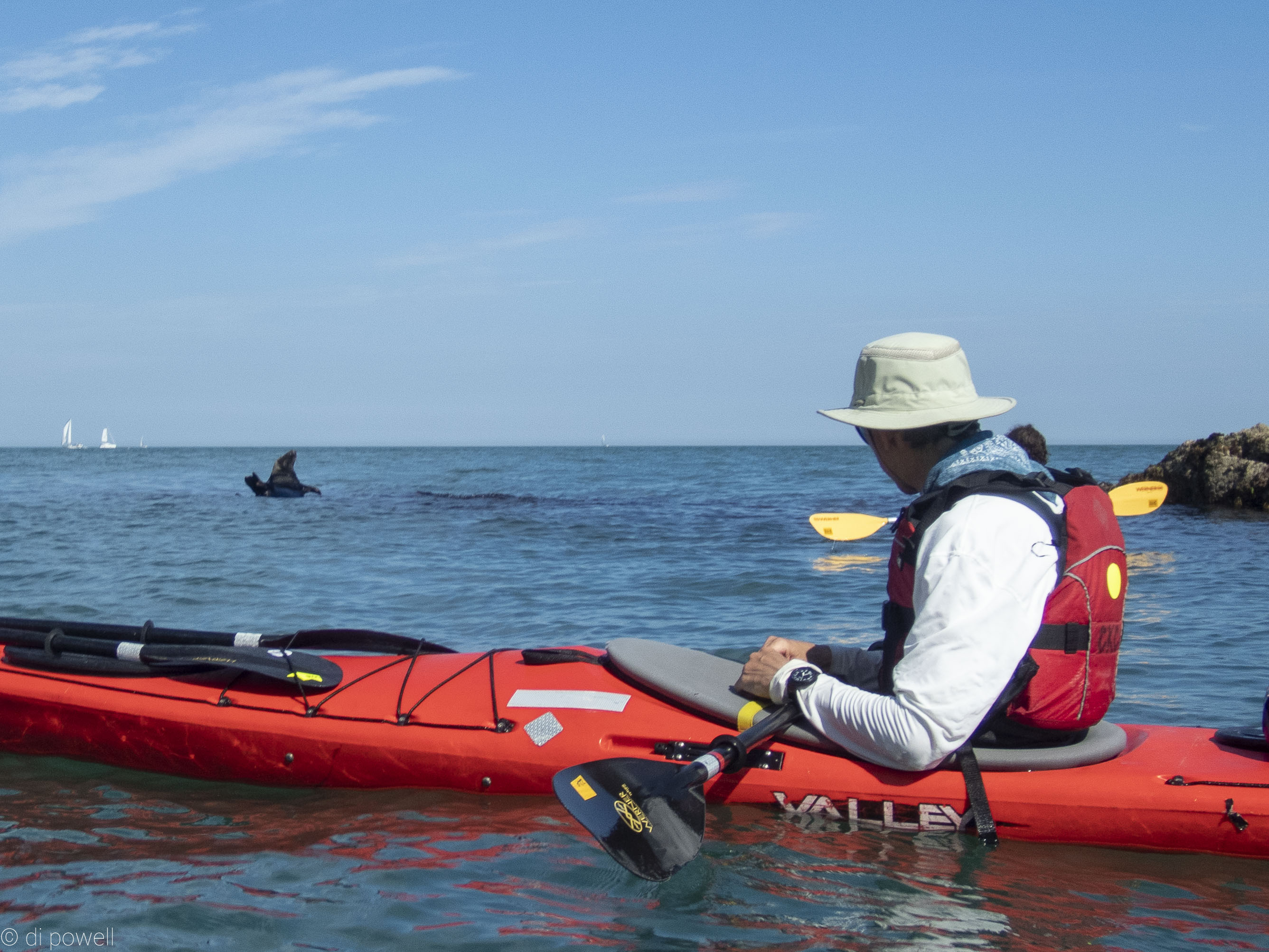 After negotiating the Dartmouth Harbour ferries one more time, we packed up and met Phil and David Jones along with their partners (and David's dog, Dougal) for dinner at The Dartmouth Inn. We realise that we have a "three Phil" dinner, with Phillippe, Philippa and Phil all together at the same time: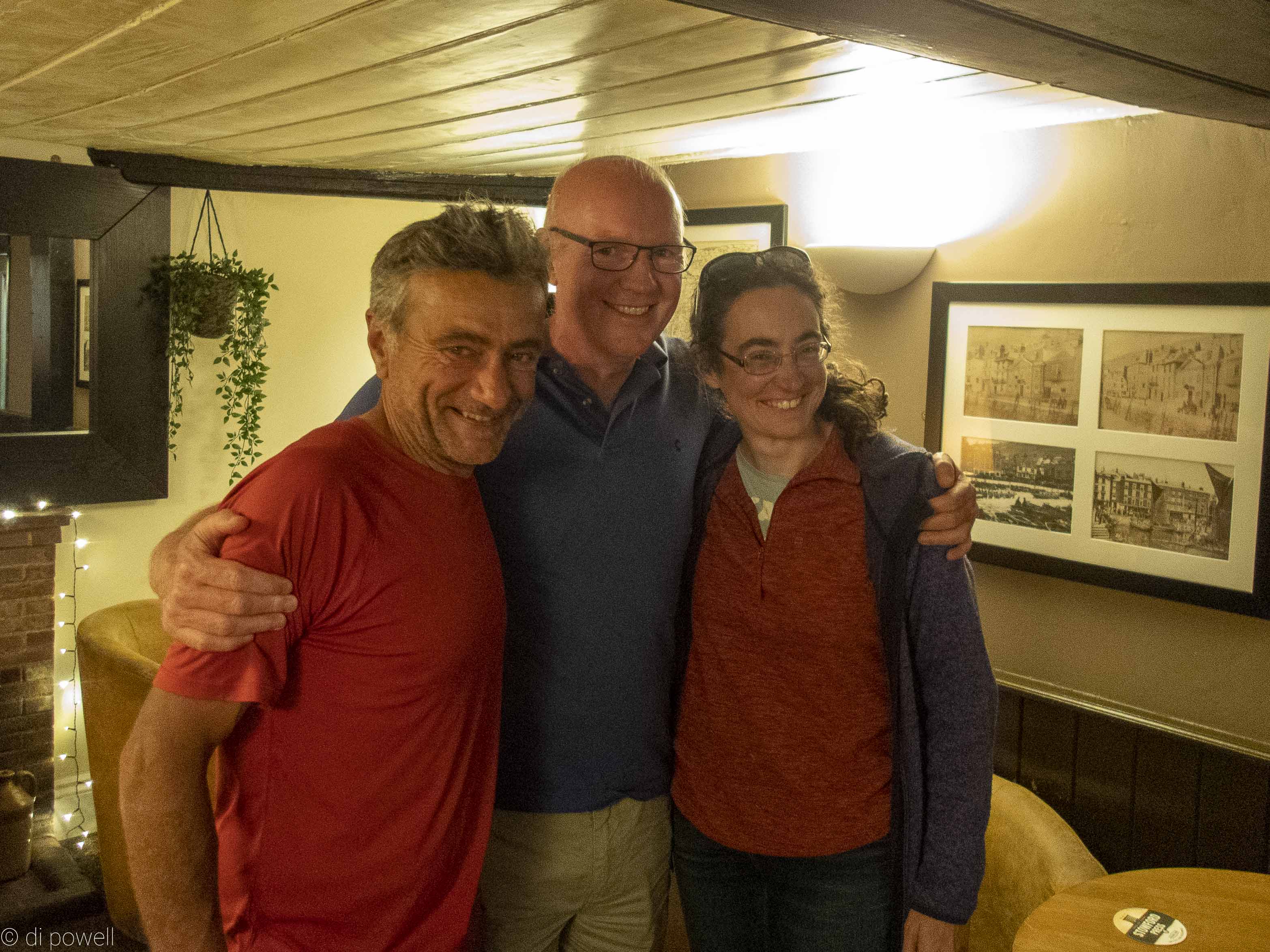 After dinner a short walk back to he cars along the now quiet Dartmouth Harbour, provided an outstandingly pretty end to a day's paddling.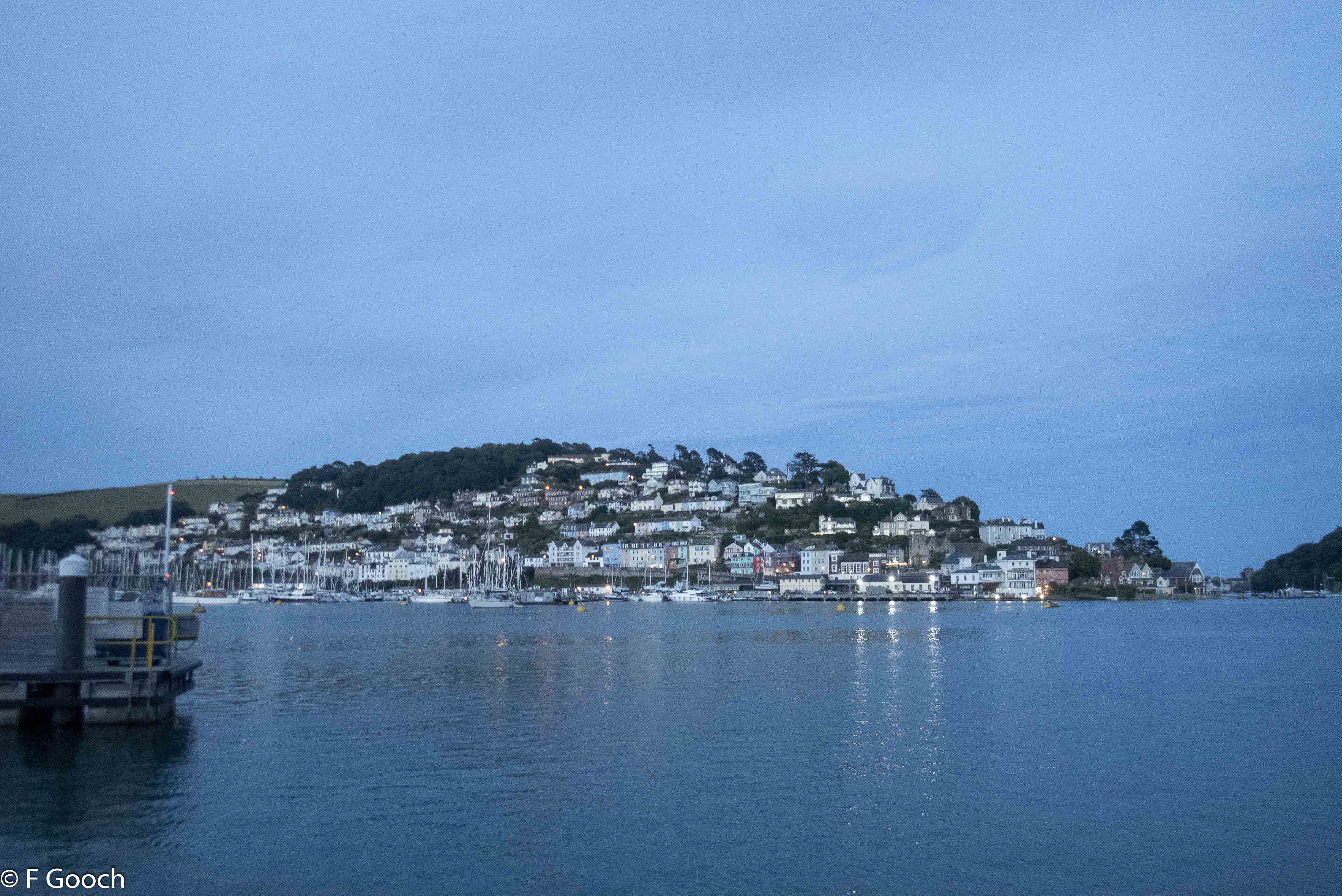 Dartmouth Harbour at night
Sunday was cloudy but warm (22C), with light winds again.
We paddled up river leaving Dartmouth from next to the Higher Ferry boat ramp and followed Old Mill Creek passed the boat yard, until we reach a very low hump back bridge (1m), but then were not able to get further. We returned back along the creek and headed north to Dittisham. Stopping for coffee on tiny beach with pub on the corner, we found the pub landlord getting ready to put up a tent on the shoreline for their regular first Sunday in the month paella and music event.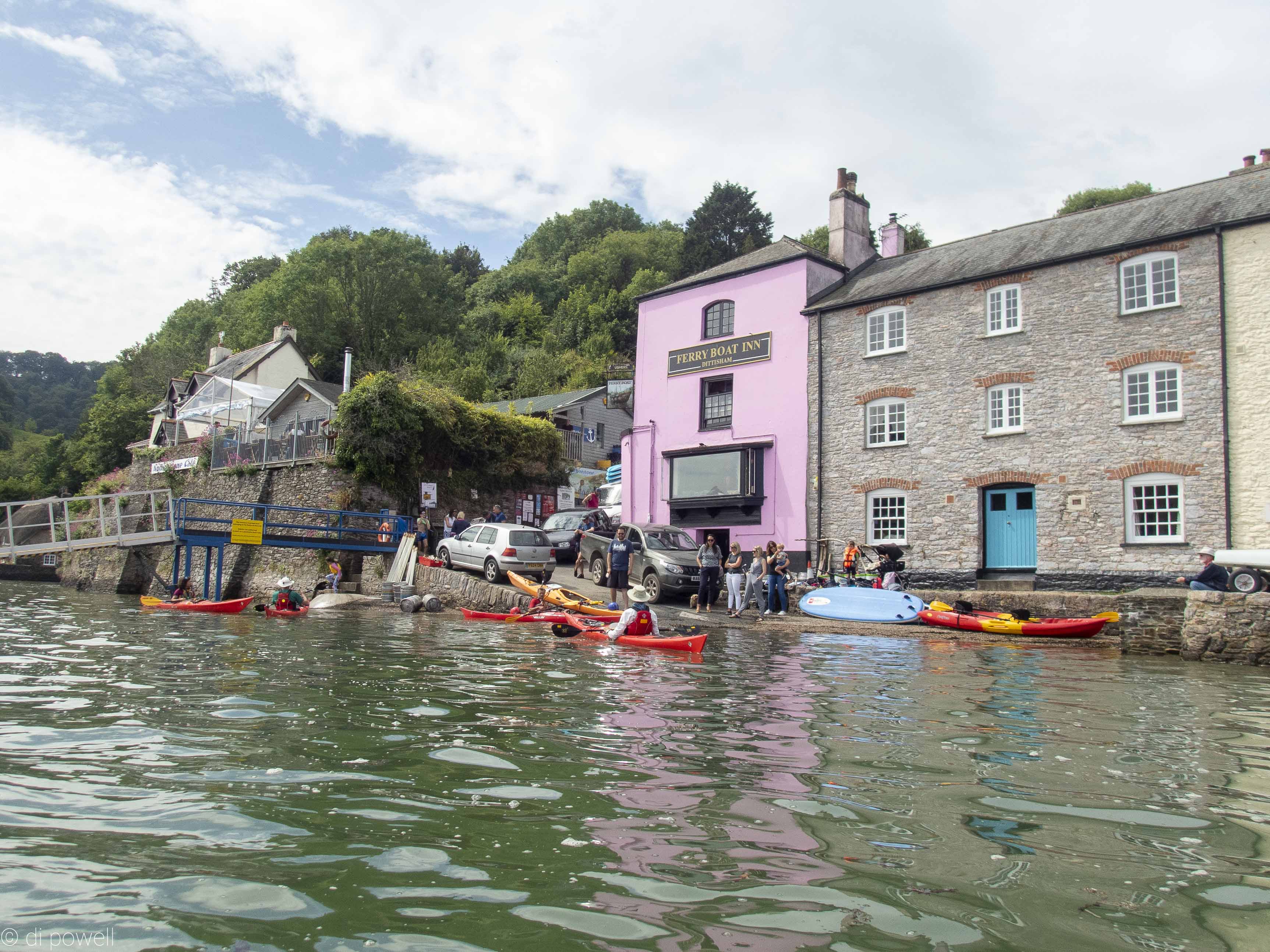 Fuelled by coffee some of the group made a quick dash up river to Pighole Bay for lunch. After that we paddled back to Dartmouth riding on the tidal flow passed Agatha Christie's house and boat house.
After packing up we departed, once again negotiating the impossibly narrow lanes and high hedges of Devon, to the motorway. Then back to London and the end of a pretty much perfect weekend of paddling and rock hopping in the summer sun.