Keen to make the most of our fleet of nine sea kayaks – and always conscious of the environment – we wanted to start reducing the number of cars going on long-haul club trips and expeditions.  The simplest way to achieve this was to invest in our very own boat-trailer. Eyes were peeled for the right opportunity.
It started with Mr T, that's Dave T, winning a sweet little 12-kayak trailer on eBay by a stealth bid of just £1.50 in the last few seconds of the auction. The quest for the CKC trailer ensued with a trip by Dave, Phil, Stu and Kate up to Buckinghamshire. With cash on the hip and full of enthusiasm off we went to see what we'd bagged ourselves. On arrival a bit of tyre-kicking and wheel removal established that it was not quite the "100% condition" we had been quoted, but with £100 knocked off the original price the deal was done.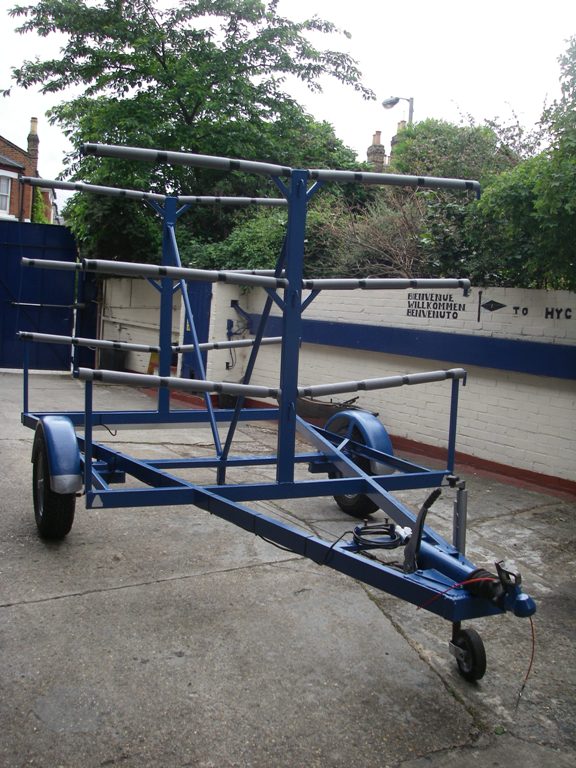 The journey back to London also proved to be more of a challenge than we expected, as we discovered we only had one working indicator and no brake lights. It was then that we realised we'd have to go hell-to-leather, to pimp up our wheels to bring them in-line with the club's high safety standards.
Our new found relationship with Hurlingham Yacht Club moved on a step further, and the trailer moved into its new home. Stu and Kate set to work chipping and grinding to remove all the rust, wearing down a whole wire brush and two grinding disks in the process. James from HYC set about removing and repairing the wheels and thanks to his expertise, the job was done in no time at all.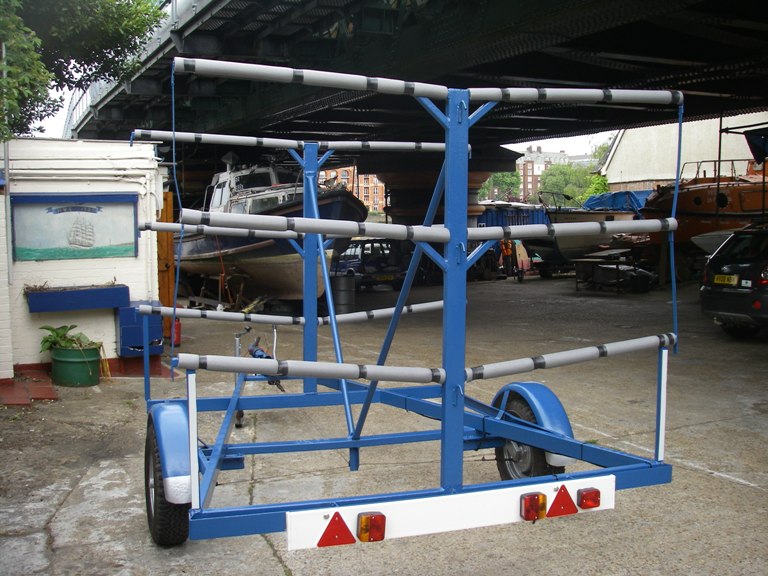 Several trips to B&Q, Homebase, Wickes and Halfords later, we got around to painting the trailer. Obviously there was no question of what colour it should be – 'John Mayne Blue' of course! So after several days of hard graft the trailer was given a new lease of life with CKC and it wasn't long before it was put to good use with its first big-trip, all the way up to Scotland!