Last Saturday a hardy few braved the cold and went down towards Portsmouth.  It meant meeting at Cremorne at 8 am,  loading up the boats and then whizzing off down the A3 to meet up with Richard B and his mates Sprucey and Peter.  Richard had done a fine job of planning and had kept us all in the loop beforehand Trip_Eastney_20101127
The good news about this is that traffic is surprisingly good at that hour.  No bad news.
Richard, as the man with all the stars, all the experience and all the local knowledge was in charge of us and although we were a little later arriving than planned, he and his salty sea dog mates were waiting patiently.  We only had to ring once for directions, I think that was because we had been given our location in some kind of incomprehensible degrees and minutes thing instead of with a nice handy TomTom friendly postcode.
The trip looked like this on paper: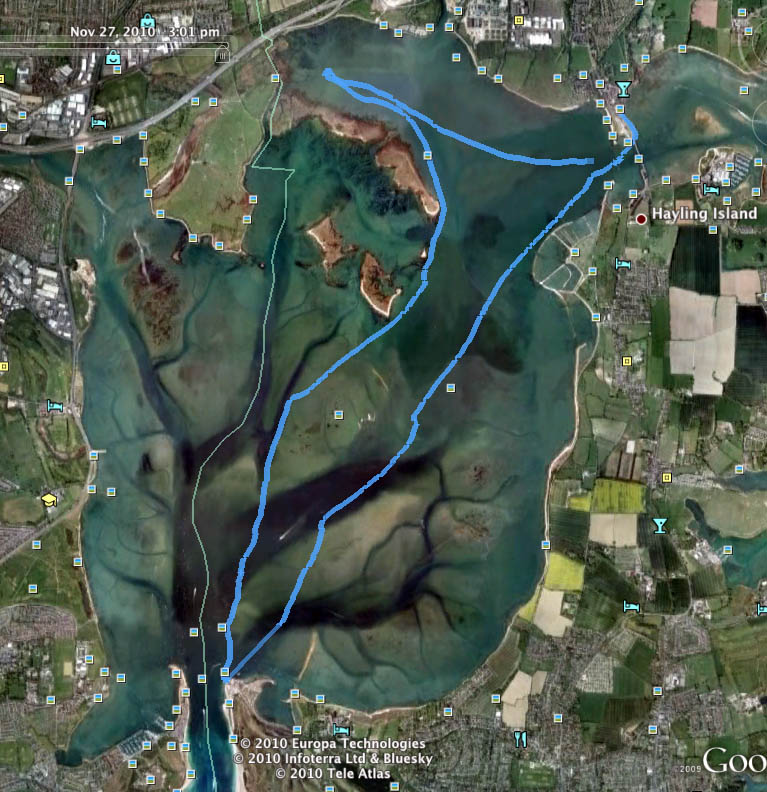 and for those of you with an interest in and feeling for tabular data of weather conditions it felt like this: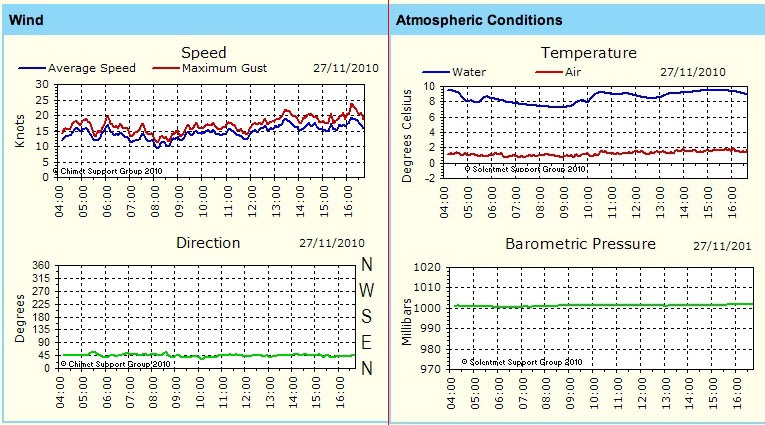 In English, what this meant was that it was cold and windy. Windchill was an issue and for the first hour (until they stopped feeling anything) I was wondering if my whole trip would be defined by the pain in my hands. Note for self – sailing gloves are good for grip and better than nothing but are not all that great for warmth.
Warning – more technical detail below…thanks Richard B. Never before have I known so much about a paddle!
Average speed 2.5knots: good for the conditions – wind or tide against us in each direction.
Time 3.2hrs excluding stops
The wind direction was NE (045º) all day and was F4 (15Kts), and blew hardest just after lunch at 1:30pm – F5/20knots. Not normally a big deal but when it never got above 1.5ºc; so was really biting as our face sun/wind burn testifys. "Actually pretty exceptional paddling temperatures in case you think this is a typical experience" quoth Richard.
On the less technical side, we went off to a point where there was no water as the tide was not in, we saw a seal, we pretty much ran aground in the shallow water, we caught a few waves, and we got to look at a ruined Mulberry Harbour which had been built for the D Day landings but never made it. Very interesting! http://en.wikipedia.org/wiki/Mulberry_harbour
The siren song of the lunch time pub visit was ignored, and while T and Richard and Fiona stopped for lunch, Andy, Geoff and Salty Peter nosed out into the Solent. Nice and lumpy conditions, just enough to make you feel alive! There's a proper overfall just at the entrance where the tide rushes in over a pipe and it's real white water.  Marvellous.
Coming back we had the tide with us but the wind had picked up against us so it was something of a slog, but at least there was plenty of water to float the boats and no danger of running aground.  For the final couple of hundred metres we had tide against us too; as we were paddling off the west side of an island there is a point where the tide floods in from the north having come all around from the east side.
Made it however and we got a picture soon after landing which was kindly taken by Salty Peter.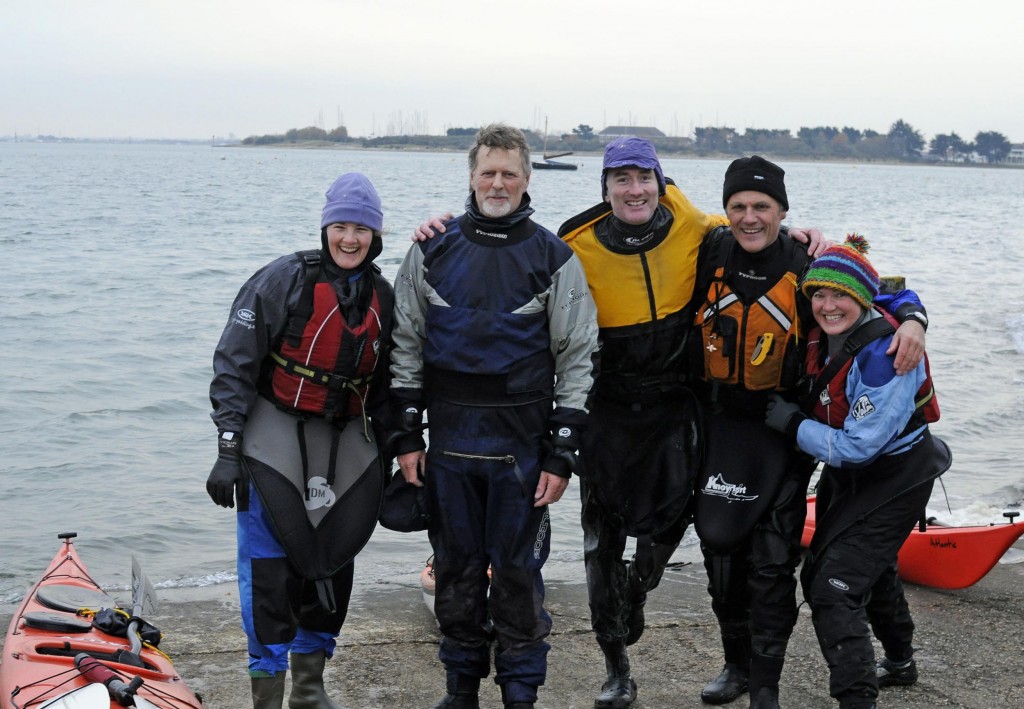 Then we were spoilt for choice with two nice pubs right beside us: real ale, open fires, the works.  Only for the painful necessity of driving back we might have stayed for the evening, but as it was we had the one for the road and then left.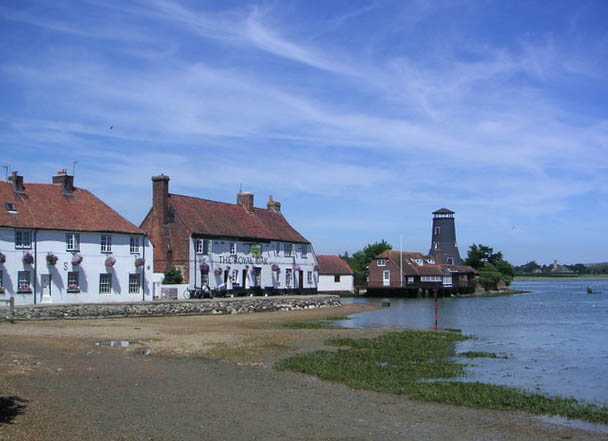 Thanks to all – especially Richard and Peter.  Well done Geoff for starting the ball rolling, and to Fiona and T for braving the cold conditions.
Andy