Saturday 10th July 2010
What do pensioners, pre-teens, cardboard and the Thames have in common? If you'd asked me a week ago I would have been stumped. But last Saturday it became clear: cardboard canoe racing.
Saturday 10 July saw Cremorne Riverside hold its first ever cardboard canoe competition, attracting regulars and newbies, young kids and oldies alike.
25 participants, five teams, 600 metres of duct tape, a few tonnes of cardboard and one hour to build. The aim? Construct a canoe-shaped flotation device to race across 20 metres of open water.
The result? Sadly, two boats started to sink within seconds of hitting the water, but the racers put on brave smiles and 'powered' on. Our very own Andy was paddling his team's boat (which looked more like a Star Wars prop than a kayak) and mighty impressive he looked. His courageous effort got him to within reach of the finishing line before the Thames took hold; however, this was enough to secure second place.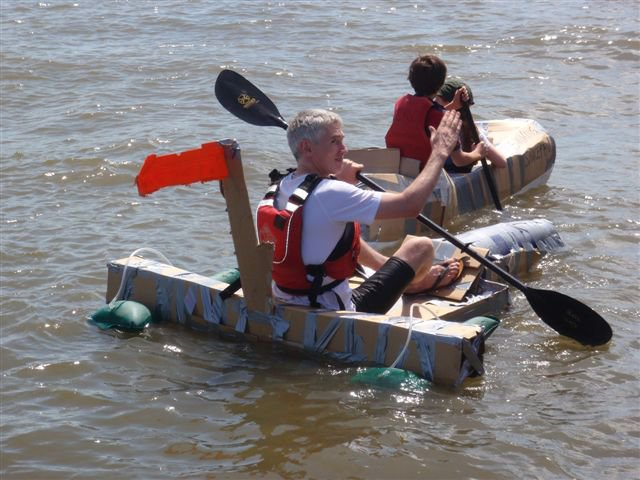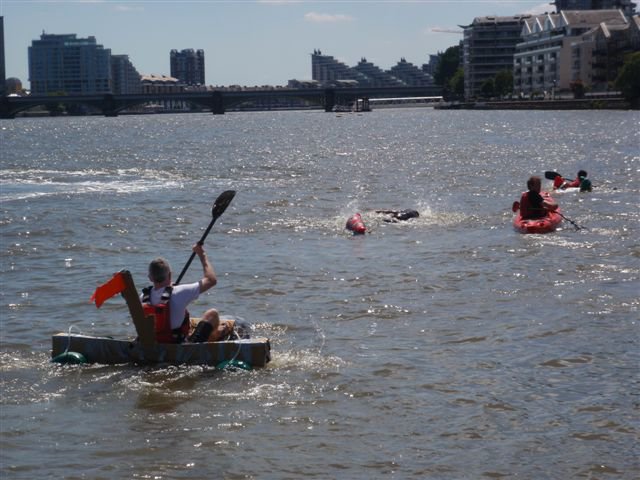 But the real story of the day was the team that won. Two kids – neither had paddled before – scrambled into the cockpit of their double 'kayak', and proceeded to paddle all the way to the finish line without a problem…and then gracefully turned around and paddled all the way back to the dock. Their boat was, ironically, called the Sinking saucepan.
The well-deserving participants and fantastic spectators were awarded with a barbeque on the jetty (although we proved that kayakers should stick to kayaking and not take up barbequing as a day job any time soon) and the winning team was presented with a fantastic trophy. Made out of cardboard and duct tape, of course.
And after five hours of sunshine, all that remained was a few tonnes of cardboard*, some left over chocolate bananas, a whole lot of sunburn, and the promise of another cardboard canoe competition in the near future.
* All cardboard was taken to the Riverside Waste Authority for recycling.
Judes