Sunday 18th April 2010
A cracking paddle on Sunday 18th April. Taking advantage of the Centre Manager's generous offer to use Cremorne when there are no youth groups in, we assembled at 11:30. There had been some mention of towing a boat and throwing unexpected factors into the mix, but as the Club had signed up for a leisurely paddle rather than a training course, these ideas were overruled.  As Phil put it "it's not boot camp".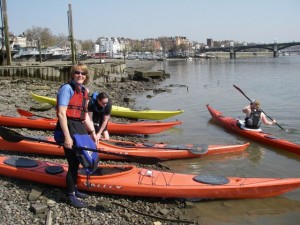 But a leisurely paddle it wasn't either. Not really. Harry sent us on our way downriver with the last of the ebb tide, promising to catch us up and take us further down.  By the time we reached Westminster, taking a leisurely pace, enjoying the sun and the lack of planes, and waiting to be joined by Harry, the flood was on. We hung about for a while, meeting a lone paddler from Putney Bridge CC, and a group from Westminster Boating Base, and went as far as the V dock at the London Eye, then with no sign of our guide we turned for home with the tide behind us. We were only just through Westminster Bridge when the man himself appeared. A quick conference – were we up for more? – "YES", "SURE", "er okay then" and we were back in safer and more experienced hands.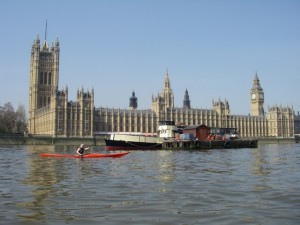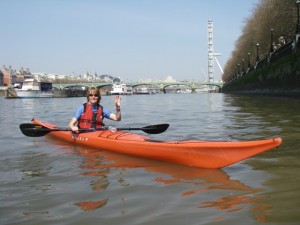 Town! Busy busy busy on a fine Sunday, ferries going both ways every few minutes, tourists on all the bridges and the banks and a decent flood tide against us.  Kate P on her first trip with the Club, Olwen concerned about being later than planned, Tim on his first trip downstream, most of us on our first foray past the London Eye. Sure what could go wrong?
Well, nothing, as it turned out. Harry pushed us hard, scornfully dismissing the easier routes in the slower flow closest to the banks and pushing us to get out into the flow, working us hard through the bridges, handling the waves from the ferries, and even waiting for the roughest water to go through the arches. Everyone did admirably, especially those with little experience in sea kayaks. We pushed on until the bow of HMS Belfast, enjoying its towering bulk, the view of Tower Bridge, the glistening new glass buildings cheek by jowl with old warehouses and medieval houses. When not instructing or leading us, Harry seemed to be surfing every wave on the river – a real master of his craft and a pleasure to watch.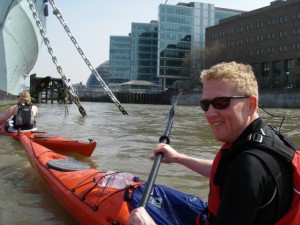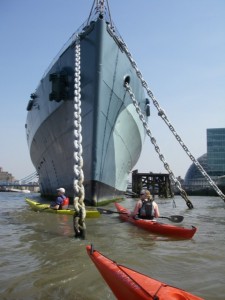 We turned at HMS Belfast and came back with the strong flood tide, pausing only to safely navigate the very congested waters between Westminster and Waterloo bridges – "don't try and sneak up the sides" was the command, "establish yourself in a tight group as part of the traffic then paddle your line". Interesting, and effective.
After Westminster, Harry left us on our own, the pace slowed and we all came home in a relaxed formation.
London at its finest – and how nice to be on the water in the midst of it all.
Andy McM