Thirteen CKCers had an excellent long weekend on the 14/15/16/17 July at Dartmouth.
The trip was significantly helped by members of the Dartmouth canoe club, (more properly the Yacht club as they are a section of that). So we were able to paddle from their base.
We were all camping, most of us at a site near Slapton sands, a shortish drive away. Two members of the DYC Timothy and Jonathan came out to the camp on the Friday evening to introduce themselves, and suggest a plan for the weekend, based on weather and tides. To save those gradually arriving from long journey from London from starving Tim from CKC got us take aways from Tor Cross pub. =:)
Saturday 15 July: Drove in convoy to the base, which turned out to be an outdoor boat park in Dartmouth, that had all the necessary amenities, toilets, water tap, and a nearby cafe, and all just over the road from the slipway.
Janice christened her new boat, and she had even brought champagne for us all to celebrate. =:)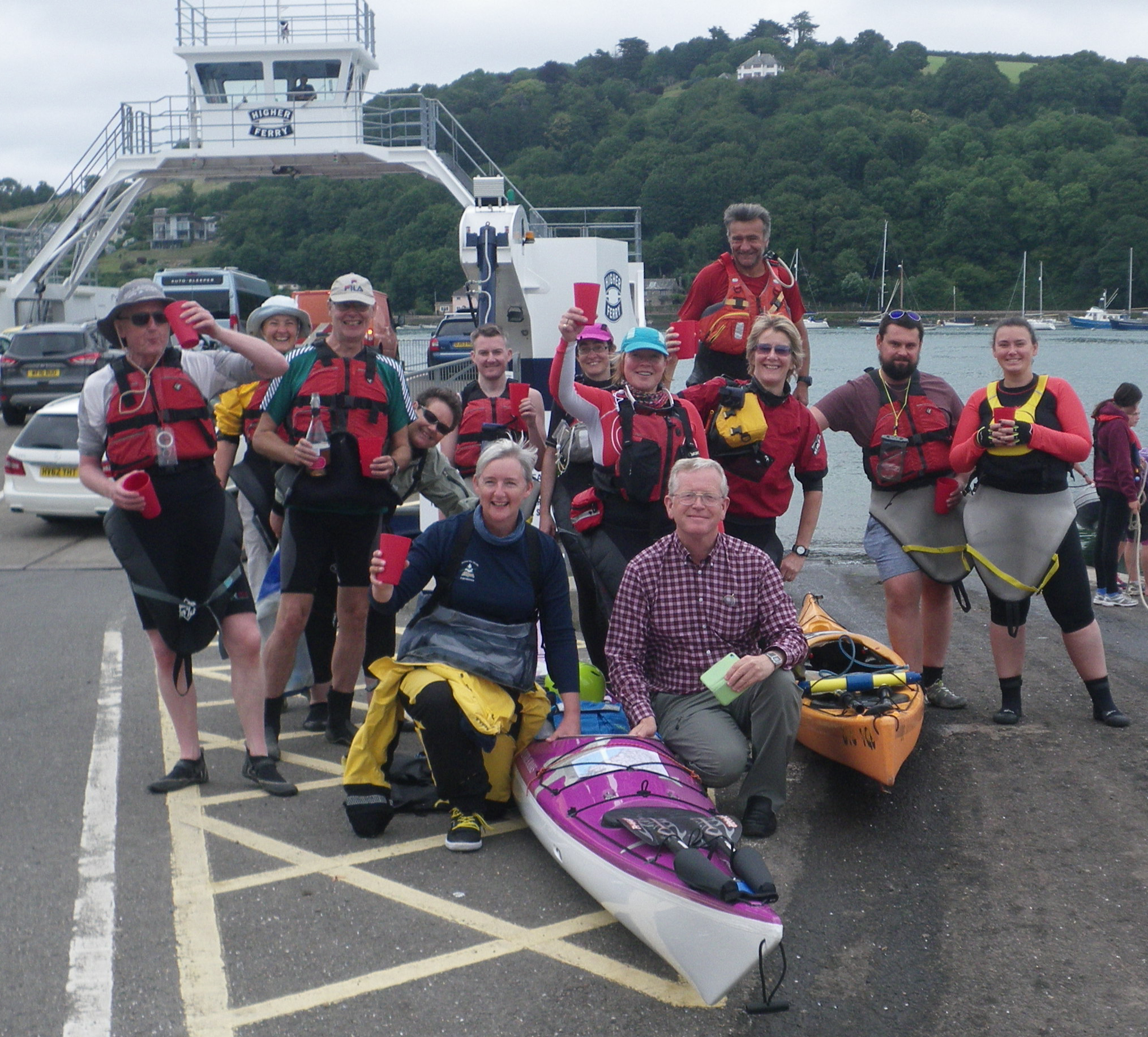 Jonathan from DYC led us down to the mouth of the river treating us en-route to his extensive knowledge of local history, we then turned right(west)and then onto the sea proper. We continued paddling enjoying some quite good swell until we reached a shingle beach called Blackpool sands. We landed there and spent an indeterminate amount of time having lunch, chilling, some swimming, climbing the rocks, going to the cafe and talking to the RNLI volunteers.
Then paddling back, crossing the mouth of the river and going up the east bank (Kingswear), past all the yacht mariners and back over the river to the slipway.
We then went directly to the pub in Tor Cross, and all ate well!
Sunday – we reconvened at the boat park, and this time headed out of the estuary in 2 groups and then turned east. The timing of our paddle coincided with the tidal range that enabled exploring a cave & going through a tunnel. One group did extensive rock hopping along almost any rock they could find, and the other group going more leisurely enjoying photographing seals and birds which were on the rocky outcrops.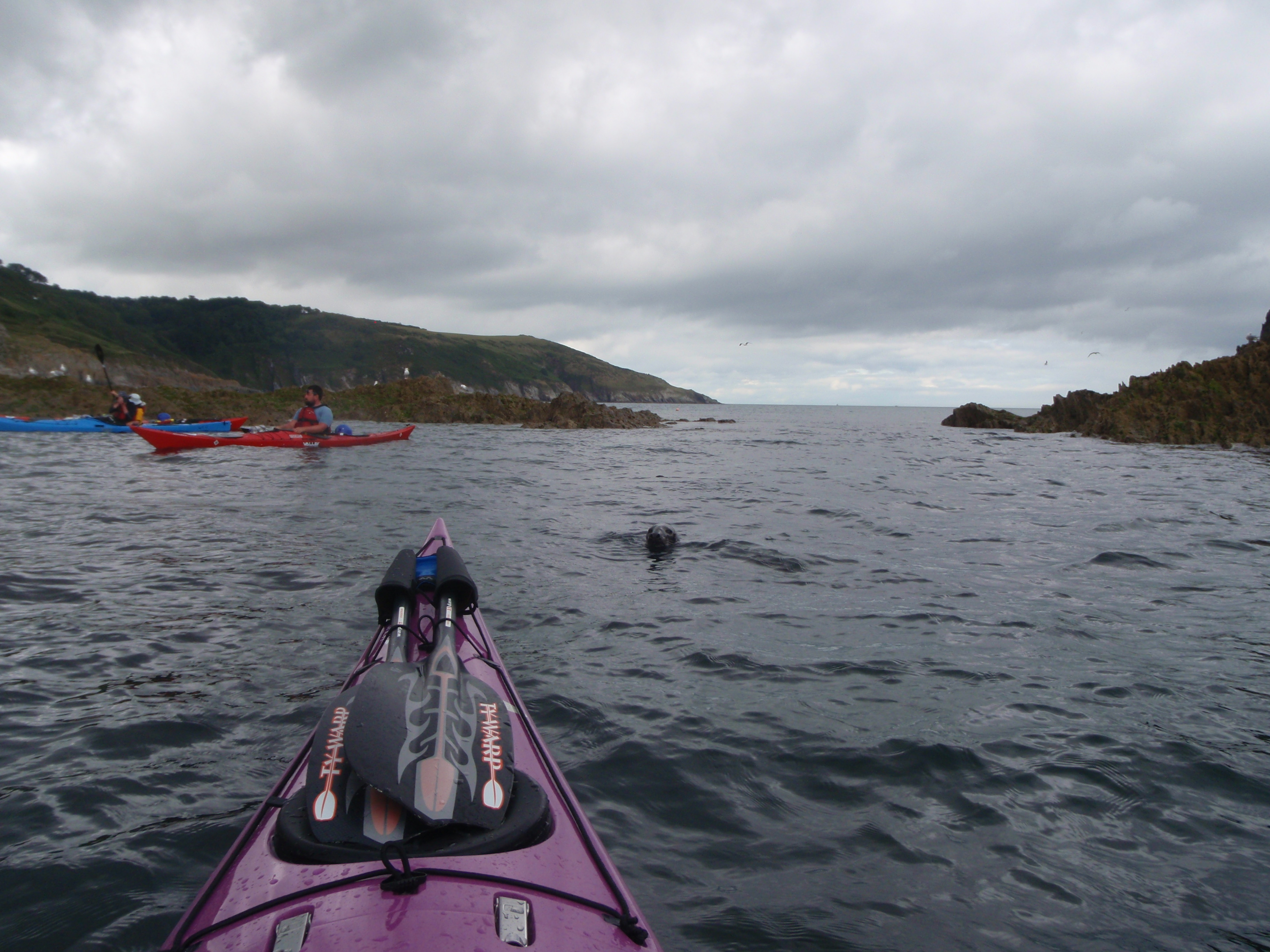 Sunday – we managed to play some frisbee, as well as return to what had became our favourite pub!
Monday – we reconvened as a smaller group at the boat park and this time headed up the estuary. Wonderfully we passed the train line just as the steam train was going past. We paddled past Agatha Christie's Greenway property which has a boat landing and up to Stoke Gabriel.  Philippa tried out her plastic-cardboard folding kayak. Over lunch some of us tried out her kayak, others practised some skills in warm sunshine. Philippa's kayak is significantly slower than the other sea kayaks & we enjoyed seeing if we could enable her to kayak with slightly less effort by riding on the wake of an advance & 2 side boats by putting her as the fourth boat at the back of a diamond formation. We landed mid afternoon in time to drive back to London & hopefully miss the worst of the rush hour.
Thanks are due to Dartmouth club members for their kind welcome as well as practical advice and support.
Thanks to Richard Hilson for contributing to this blog.