Sat 16/17 August weekend saw the continuation of the paddle from London to Lands End. Alex, Liza and Fiona met to kayak from Margate towards Dover. After dropping (not literally!) kayaks off at Margate, Alex drove his car to Dover & came back on the train to Margate to enable a 1-way paddle. Over the weekend we had lovely paddling conditions with an off-shore light wind (F2), dappled sunshine and minimal swell.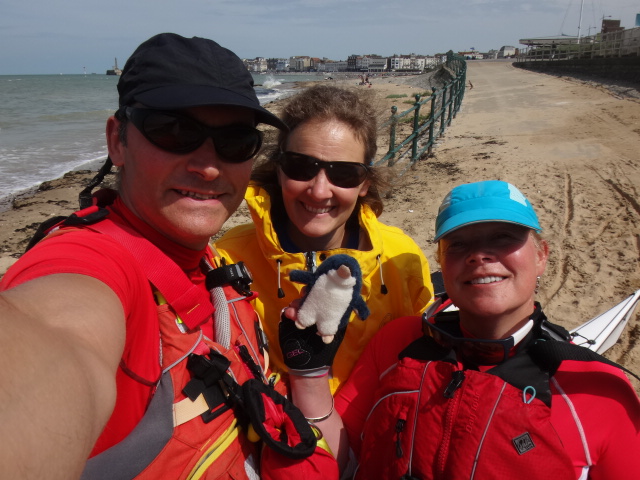 This was a fabulous trip which included an adventure! We had the opportunity to kayak through chalk arch (several times  =:) ) in Kingsgate bay where we got views of a castle, land at Broadstairs for ice cream, before crossing Ramsgate harbour entrance and then heading up the River Stour.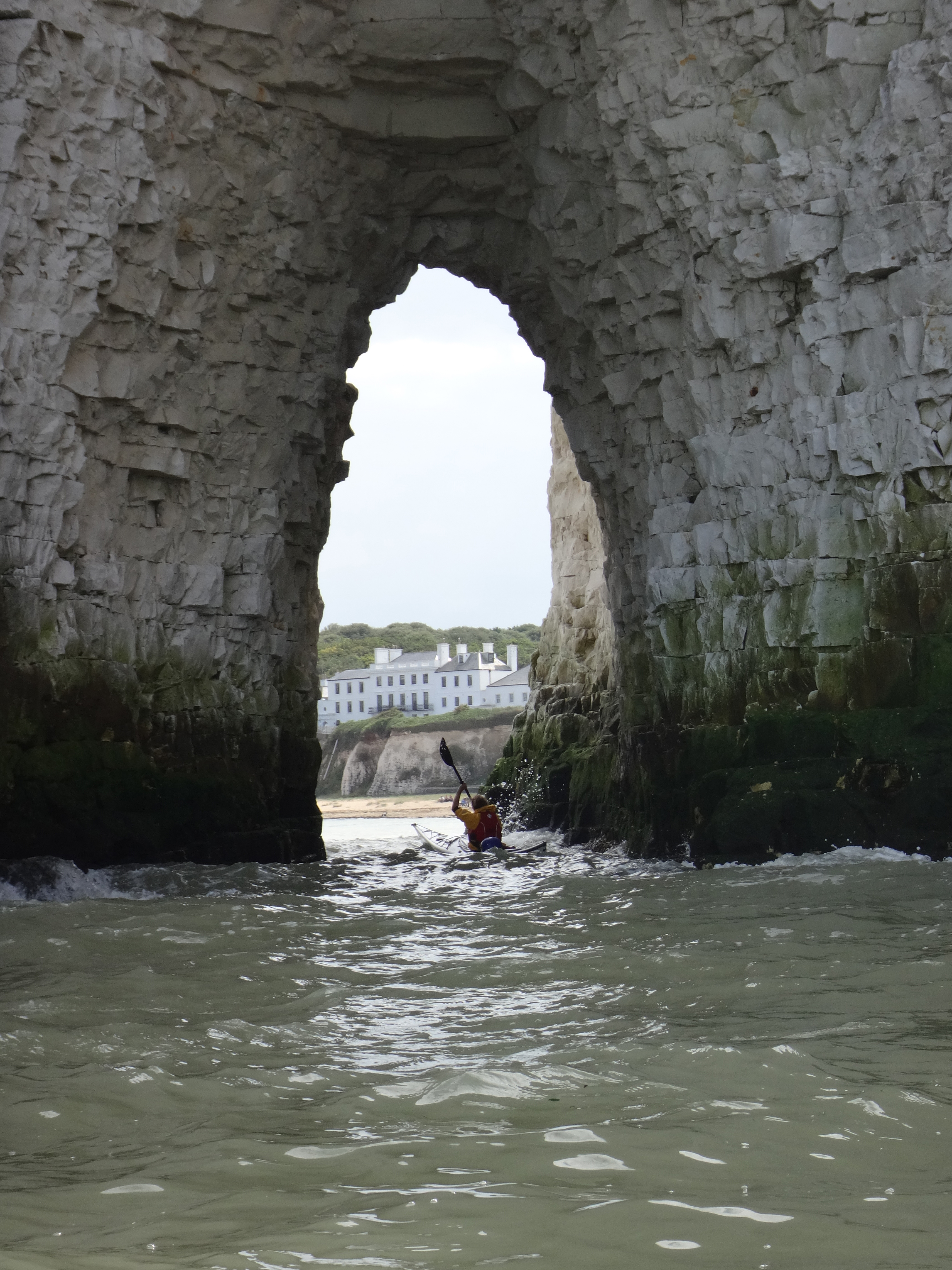 On the way we saw a porpoise, and a Vulcan Bomber flew overhead which was deafening.
As we paddled against the outgoing flow up the Stour we saw perhaps 50 or so seals which had beached themselves on high ground at high tide. As we approached some of them launched themselves down the muddy bank and slid into the water. It was amazing to watch. The same muddy bank which provided the seals with an excellent slide became our challenge [cum-adventure] as we were looking for  a place to land and camp overnight. We paddled further & further upstream looking for a place to land where we could haul the kayaks up above the high water line.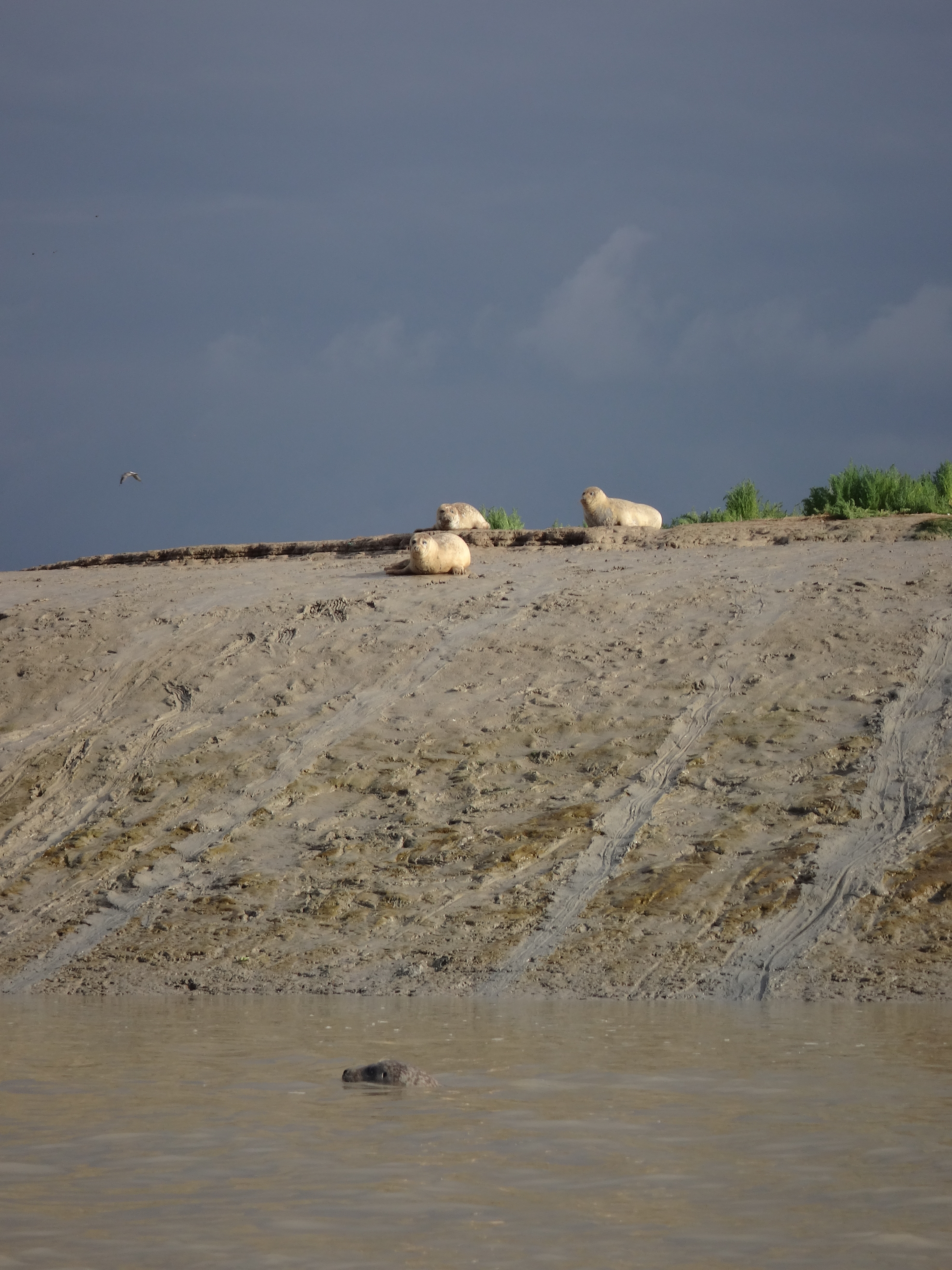 Eventually we found a gravelly spot to land and were able to create some steps and a platform from an old disused pallet to put into the mud to create a less-slippy, non-sinking surfaces to walk on & move the kayaks up. Tents were speedily put up & supper eaten by head-torch.  Our camping spot had the unusual combination of having a stunning night sky, but with sporadic noise from A road & the wind carried noise from the fairground in Ramsgate! However I was sufficiently tired that no noise would have kept me awake. We also discovered that we had camped in a particularly dewy spot & if we had camped at the top of the bank it was several degrees warmer, and got the same level of road noise.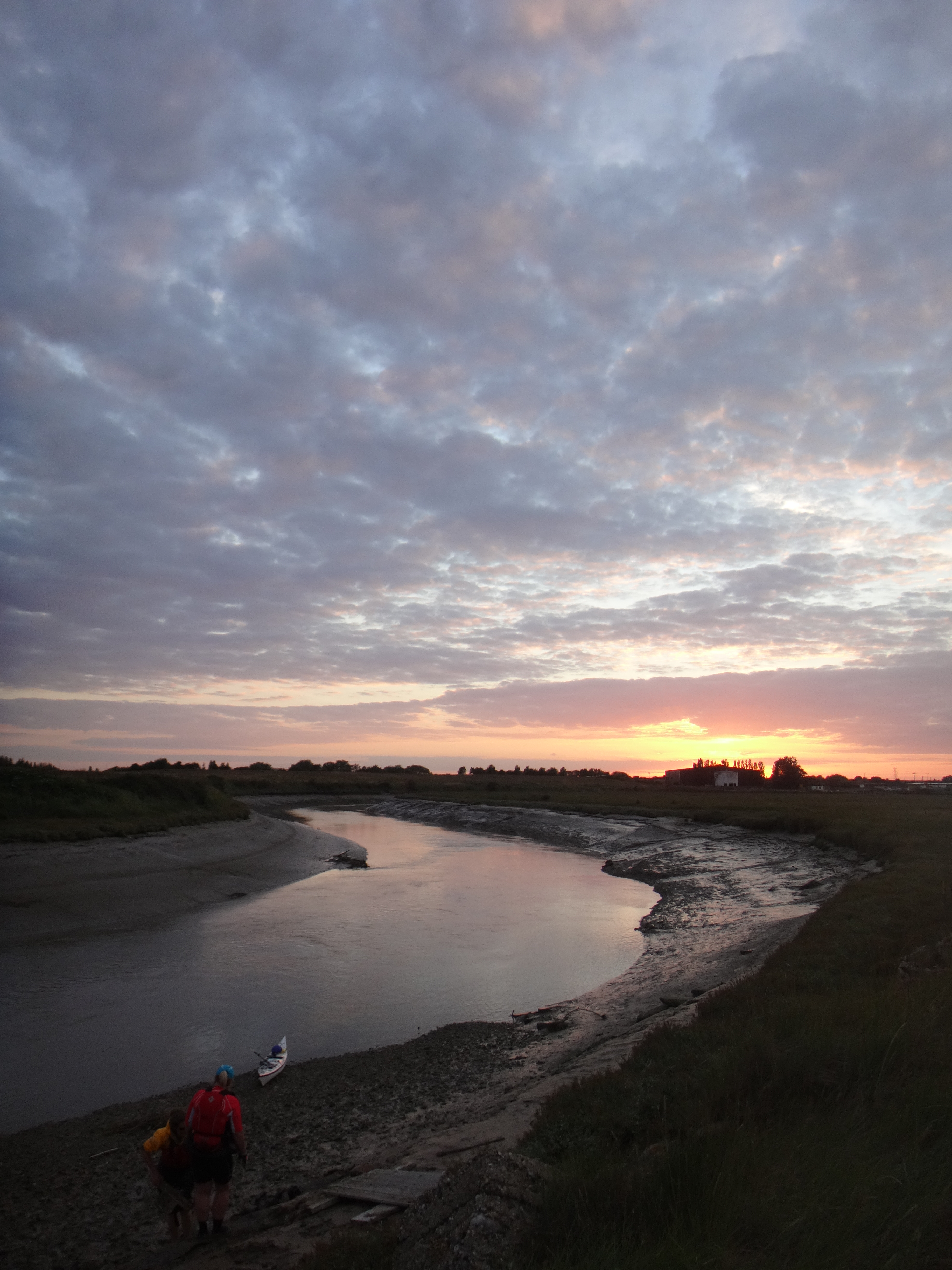 After a wonderful night's rest 5.30am came & we were getting up, to benefit from the outgoing flow down the Stour. Which we did! Having launched into the flow we were gently floated downstream & all the corners we had fought to go upstream whizzed by! Yet again we were entertained with the sight of tens of seals launching themselves down the muddy banks, as we again silently passed by, only this time a light aircraft disturbed the peace by passing by low three times – I assume to see the seals too? Further downstream the Stour becomes very shallow and even the channel markers are beached. The great part about this is that you are kayaking at the same eye height as all the birdies who are standing on the exposed sandbanks. We think we saw a pair of spoonbills.
Once out of the river we headed out to sea so that we could pick up the tide to be taken south, (as well as avoid being beached on mudflats). We landed at Deal just before the pier for a hot drink and a rest. The shingle beach was deep and even with no swell we still managed to get a fair amount of water into the cockpits when we landed!  During the trip we saw some interesting boats, an RNLI boat presumably doing a routine exercise, a windfarm boat which had interesting bow presumably for landing at the bottom of a turbine, and a boat which delivers local captains who can drive big ships into tricky harbours.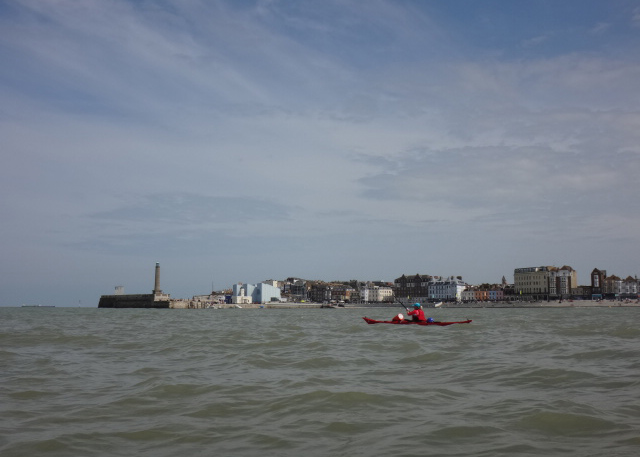 Over the course of the weekend we were highly conscious of the time window which we had for going into Dover harbour & the earlier landing points between the cliffs for the end of the paddle. Although we had ideal calm conditions for going into Dover harbour, we decided on Liza & Fiona landing at Kingsdown rather than paddling into Dover Harbour. We were starting to get tired and although conditions were good, the spring tide was turning against us and we would soon start to feel its effects; not to mention that if we missed the high water window, we could end up paddling against a 4 knot flow as the harbour drains out of the entrance. We also would need to be prepared for bigger conditions, as the north-easterly swell and waves was reflected back from both the harbour wall and the cliffs.
So we agreed Alex who was considerably fitter after recent couple of weeks of paddling in difficult weather conditions in NW Scotland, would continue to Dover and send a text before 3pm to let us know either whether he had landed in Dover Harbour, or turned back to Kingsdown or St Margaret's. As expected we got a happy text from Alex saying he had landed in Dover Harbour and the backup 3pm call to Dover port authority never needed to be made. With the sun shining, we were finally reunited at the Zetland Arms in Kingsdown, where Alex shared his experience of the last few miles under the famous white cliffs.
Thanks to Alex for organising a lovely weekend paddle along a new & stunning bit of coastline, and to Liza for being good company & bringing delicious snacks!