Langstone Harbour Skills Day (and swimming with Mulberries)
Eight of us (Philippe, Tom, Neil, Rob, Noakesy, Miranda, Toons and Richard B) made it down to Hayling Island for a skills day in Langstone Harbour on Saturday 5 May, organised by Miranda and led by Richard, who grew up in the area and knows the waters intimately, with support from Toons.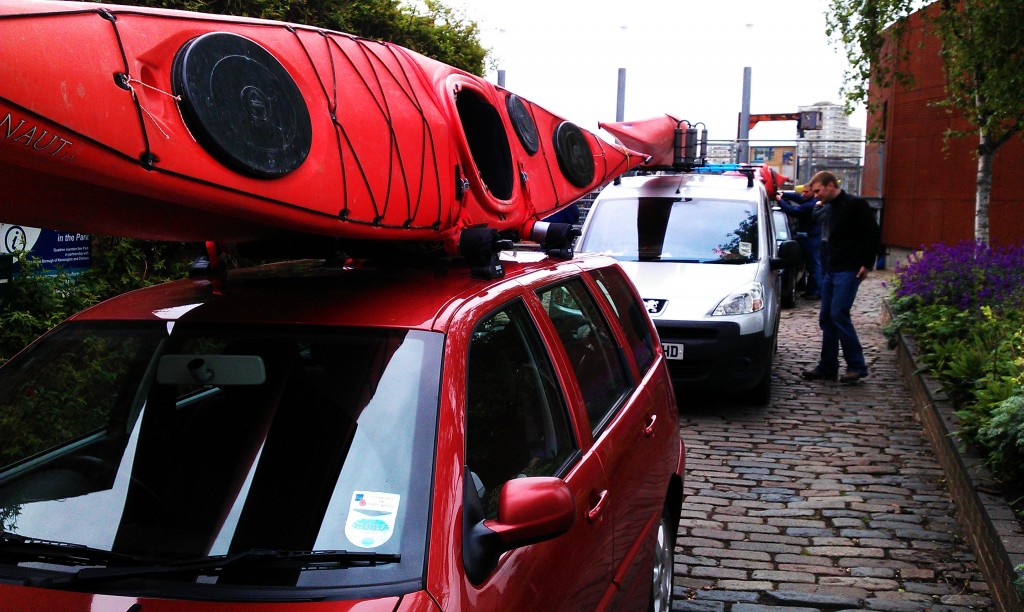 Loading up at Cremorne on Saturday morning
The harbour is one of three large tidal basins that exist between Fareham in the west and Chichester in the east, created at the end of the last ice age when sea level rose and flooded three coastal valleys. The entrance to Langstone Harbour is 250m wide and the ebb tide peaks at 4–5 knots. We were two days off springs so the tide would be running near its peak.
In Richard's words: 'The area is a really good spot for training and trying things out … From paddling in choppy water, to towing, and being aware of the tidal streams, there is nothing better than actually paddling to improve and … gaining a healthy respect for water that looks flat and without issue from the shore.'
High water was at 11am and we were on the water by 12pm as the ebb started to flow. A gentle ferry glide across the harbour entrance from the put in near the ferry on the Hayling Island side to the Portsea Island side got us all warmed up and the tidal virgins amongst us the chance to experience travelling sideways.
We paddled up Langstone Channel and around the Mulberry Caisson – a concrete relic from WWII, ¬constructed locally, but breaking its back before it was due to be towed across the Channel to hook up with hundreds of others to form the floating Mulberry Harbours that supported the Allied landings after D-Day – before sitting on the tidal flow over the fast appearing Sinah Sands and then tucking into a shallow basin called The Kench for some towing practice.
With a steady NE F3 and the ebb tide beginning to flow fast we ventured back towards the Mulberry Caisson where some nice clapotis waves had built up offering a short but tasty introduction to rough water handling. Having all safely negotiated that section and having been warned by Richard of the importance of avoiding buoys, channel markers and posts in the tidal stream we headed due north line astern…
…Noakesy, always one to learn through experience rather than theory, completely misjudged his angles (embarrassing for a former surveyor, albeit of the land rather than hydrographic variety) and became rather well acquainted with a large post to the north of the Mulberry, both in the right way up and inverted positions. Having successfully completed his bathometric survey of the post he decided it was probably a good time to take a swim and be rescued. Joking aside, it was a serious lesson in the power of the sea, and the importance of reading the conditions and being active not passive in them. In Toon's words: 'Treat the obstacle as your enemy'.
Having been inspired by Noakesy's swim with mulberries it was good to see everyone else having a go at rescuing, being rescued or self rescuing with paddle float in the afternoon. In Richard's words: 'The progression from that is to do more, so we get really slick and quick at it (back in within a minute), and then repeat in more "advanced" water.' Thereupon, Richard gave a masterclass in self rescues, with and without paddle float or Greenland stick, and demonstrated that self rescue should really be an Olympic sport in the same artistic category as rhythmic gymnastics or synchronised swimming.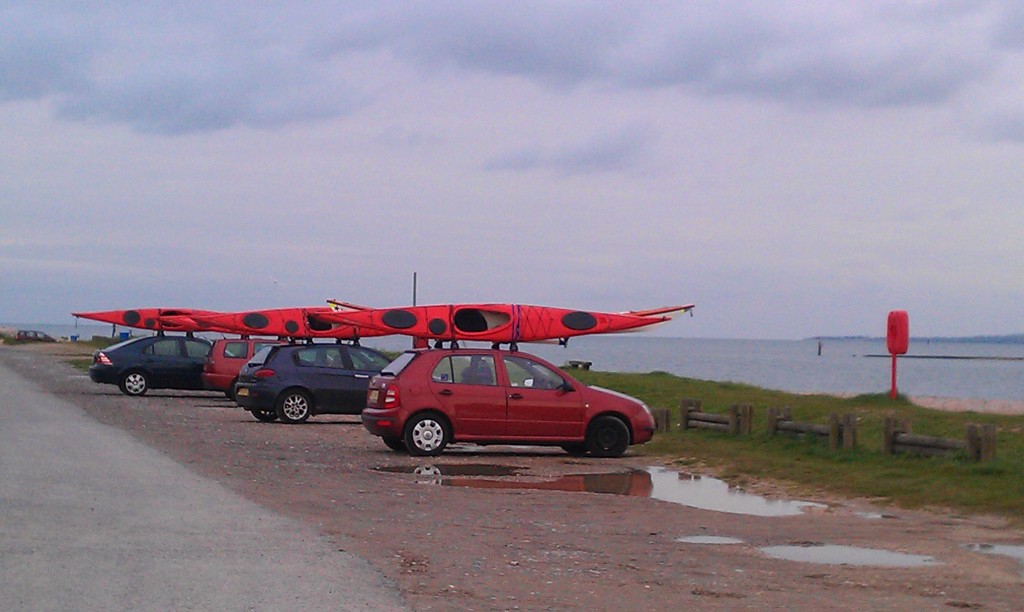 A big thank you to Miranda for organising, Richard and Toons for leading, and everyone else for making it such a memorable, inspiring and rewarding day.
David Noakes