Saturday 26th February 2011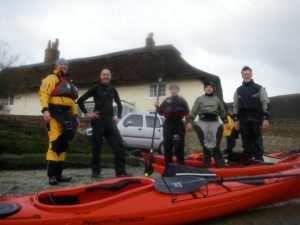 Gale-force winds had been registered on the south coast the night before we were due to paddle, so general expectations were of a tough and bumpy ride, which might have to be cut short. We were down to just six paddlers and approached the village of Bosham on Saturday morning with caution, but the skies soon cleared and the westerly winds seemed to be on our side.
Miranda had meticulously planned out a route and a strict timetable, and thankfully we didn't have to cut it short. After an extended kitting-up process, in which shiny new equipment (deck compasses!) was displayed and fussed over, we made our way along Bosham Channel and out into Chichester Channel.
We took a break for a few minutes to scope out the state of the sea, at which point the sun came out and the sky was so clear that the Isle of Wight was visible in the distance. After crossing the harbour mouth onto Hayling Island, we stopped for a quick lunch and gawped at the sight of a tiny one-main hydrofoil sailing boat zipping across the sea, but it was still too cold to linger for long.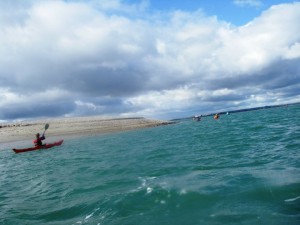 We started to make our way along Hayling Island, indulging in a spot of birdwatching on the way (plovers and sandpipers, according to our resident twitcher Paul), with the aim of exploring a particular channel. The view was astonishing – the clouds parted slightly in the middle with the tempting promise of more sunshine but Phil and Manda rightly decided to hang back, because there was little to see upstream.
As we came out of the channel, the dark clouds that had been lingering on the edges of the horizon passed over us, the wind picked up and it started to rain. It felt like a gentle but insistent threat to get away from the island, and I expected the crossing back to the east side of the harbour, over a seemingly huge expanse of sea and a horizon that seemed to get further and further, to be difficult.
But the clouds soon passed by and instead we ended up running aground on the harbour's wide sandbank, and were forced to get out and drag our boats (I'm still not convinced that counts as a swim, Phil). To a distant onlooker, it would have looked as if we were walking on water, like giggling neoprene-clad messiahs.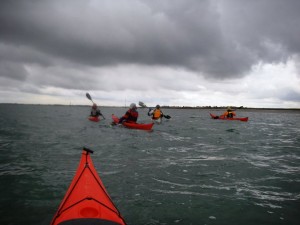 Back in our boats, we made our way back to Bosham Channel, where a brave Manda practiced rolling in a sheltered spot while Richard showed off his self-rescue skills. I was quite content to stay dry this time. The last stretch was hampered a little by the rain and wind, but at least we were paddling with the tide.
The 11Nm paddle was technically undemanding, but the three and a half hours on the water were pleasantly tiring and it was an unexpectedly beautiful and friendly trip on a cold February day. I couldn't have asked for a better first paddle with Chelsea.
Izzy K