Saturday 11th September 2010
After a few weeks back from an amazing trip to Sweden we thought it's about time we got back onto salt water.  We got in touch with Seapoint and as luck would have it their boats and kit were available for a journey on Saturday.
After checking the tides, tidal streams and some local knowledge with Rob at the centre a rough plan was developed which involved heading west towards Dungeness and then back with the wind for some skills stuff.  However, the weather forecasts were slightly conflicting everything from modest south westerly's to gales so it was clear that we were always going to have to revise our plan if needed.
Rob got in contact the day before to say the sea state had really kicked up (more so than was predicted).  After a quick email exchange we decided that the anticipated conditions provided us with a great opportunity – it's not often that we get the opportunity to get out into moderate conditions and practice our boat handling skills.
So a small contingent of CKC (me, Jac, Jacquelin, Miranda and Geoff) headed down to Folkestone with the knowledge that we were all going to get wet and potentially a bit bashed about a bit.
Jac grabbed a copy of Gordon Brown's book (not the former Prime Minister – the other much more important one) to remind us of what we'd learnt with Owen Burson on the Isle of Wight and other useful bits and pieces of relevance.  We particularly liked the bit which covered questions to ask yourself when catching a wave – including can you get off it when you want to? and is your third party liability insurance up to date?…
Arriving at Seapoint first Jac and I nipped onto the beach and the conditions looked ok but with the tide coming in for a good few hours yet it would probably get bigger – and we were right!
Everyone else arrived and after a small amount of faff (really?) we got the boats and kit (including helmets!) onto the beach and picked out a clockwise circuit for us to stick within using two buoys a good few hundred metres apart and out from the shore.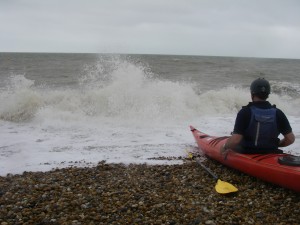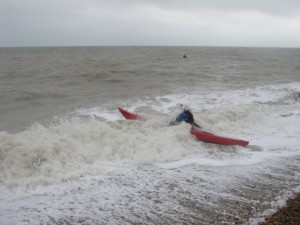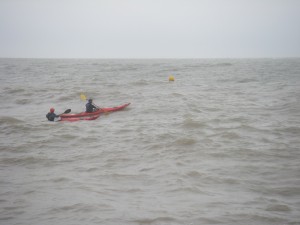 One by one everyone got onto the water attempting to time the wave sets as best they could.  Once out it certainly was lumpy and the swell was definitely getting bigger.  We practiced going across the waves, turning, experimenting with catching the waves (which were coming in pretty fast), and landings – which given my leg length I'm rubbish at.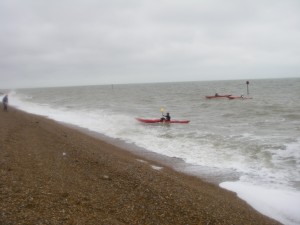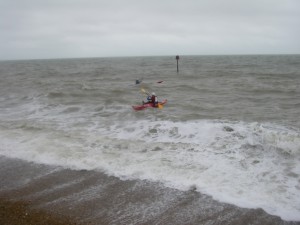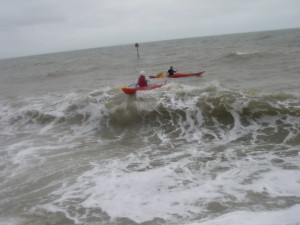 Amazingly no one swam as they were pulling their legs out to straddle the boat to come for the landings – although there were a few technical swims I guess. Geoff even did a roll in anger – after his first one (which was set-up) failed him.  Jacquelin was all smiles as it was her first time out onto salt water for a long time and did pretty well with the landings although she got a bit of a beating in the waves at times.  By the time we got off the water it was definitely sea state 4 and probably pushing a 5.  We rinsed all the kit off and headed to the Nutmeg Cafe in Hythe for some well earned food.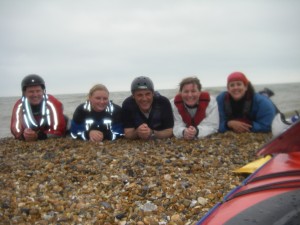 All in all a great session and great experience – ok we're all about trips but if the conditions kick up and scupper your plans they may always be right for a skills session.  As ever thanks to Dave Barker and Rob Davis from Seapoint for loaning us the use of their boats and kit.
Phil