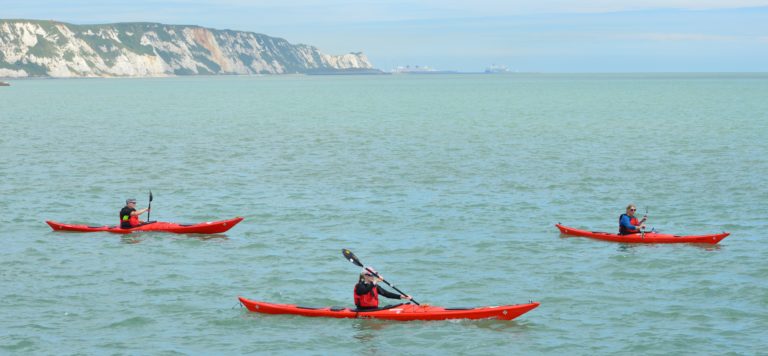 Take part in an Explore course.
To find out when the next course is, take a look at the Training page of our website.
If you would like to take part, email info@chelseakayakclub.co.uk and let us know.

You should have been paddling regularly for a few months before considering booking onto this course.
Ideally, you should have completed a Discover course before taking part in an Explore.

You will need to join the club (as a full member) before you can take part.
Click here to visit our membership page and join the club.
Full payment is required two weeks before the course, or when the course is full – whichever is earlier.
Some Background
BC Paddle Explore – what is it? BC stands for British Canoeing, which is the governing body for many paddlesports in the UK – including Kayaking, Canoeing and White Water Rafting (amongst others). The Paddle Explore is a 'Personal Performance Award' designed by British Canoeing to introduce beginners to the sport. Back in the day, these performance awards were known as the star awards. Roughly speaking, the Explore is somewhat equivalent to the old 2 Star.
Click here to visit the official British Canoeing website.

Click here to find the official syllabus for the Paddle Explore.
What's involved?
The Explore covers similar content to the Discover, with more of a focus on rescues and confidence building. We aim to run our Explore courses on the sea (though this is weather dependant). Usually this will involve a weekend trip to somewhere on the South/South East coast with six members of the club. We hire an experienced local coach who will take you through basic paddling techniques and give you plenty of opportunity to learn some rescue skills. If the weather is right, you should be exposed to a slightly more challenging environment than the Discover, with a few small waves to keep you on your toes.
Unlike the Discover, where the logistics are largely taken care of by other volunteers in the club, you will need to be self-sufficient on an Explore. You will need to organise your own transport, accommodation and how to get your kayak to and from the venue. As a full club member, you are welcome to borrow a club kayak for this course, but you must find your own way of transporting it. If there are other drivers taking part, they may be able to help by taking a boat for you. There may be an option to hire a kayak from your coach, but you should consider this before booking on to make sure that you are able to get yourself and a boat there.
The cost varies slightly on every course. Chelsea Kayak Club will hire a local coach for the weekend and the cost of hiring the coach will be split evenly between those taking part. It is likely to cost between £60 – £120 per person – the more people take part, the cheaper it will be for everyone involved (usually up to six people).
Timeline
Friday
Usually the group will meet at Kew Bridge sometime on Friday to collect the equipment you'll need for the weekend. You will need kayaks, paddles, buoyancy aids, spray decks, cags and helmets. You will also need to take a base layer of your own (e.g. wetsuit/drysuit) that is suitable for spending a significant amount of time in the water – dress for the swim! Once you've loaded all the kit into the vehicles that are driving down, you will drive to the area that the course is taking place – this is different for every course but it will be somewhere on the South/South East coast.

You will need to organise your own accommodation. This could involve the whole group camping together or perhaps splitting up with some people staying in hotels/B&Bs etc. – either way, you need to consider how you're going to get to the venue in the morning.
Saturday
In the morning, you'll drive to the venue, where you'll meet your coach, get briefed and get on the water. You'll spend most of the day out paddling and going over how to paddle safely and efficiently as part of a group. Towards the end of the day, expect to spend an hour or two in and out of the water, practicing various rescue techniques.
After your time on the water, you may want to all meet up and go out for some food at a local pub with the rest of the group before heading back to your accommodation for the night.
Sunday
This will be much like the Saturday, but likely will involve more time focused on rescues, where you'll also be assessed on your ability to perform deep water, assisted and perhaps self rescues. Once the day is done, you'll all drive back to Kew in order to return the kit that you've borrowed for the weekend.

You can arrange for a certificate to be emailed to you with your coach, for a small cost (around £7). This fee is paid by the coach, to British Canoeing, who will process the issuing of the certificate.