After a short safety briefing on the beach we left Rottingdean just after low water under cloudy skies, light winds and a small amount of swell – perfect kayaking conditions for this mostly straightforward paddle, but with some significant distance to cover.
The trip followed the cliffs passed Saltdean and Peachaven, crossing over the Greenwich Meridian. This is marked at Peacehaven by the Greenwich Meridian Memorial, which was just visible from the sea with its green ball on top. Sea defences form a barrier at the bottom of the cliffs to slow down coastal erosion.
The cliffs stretched out in front of us all the way down to the Seven Sisters.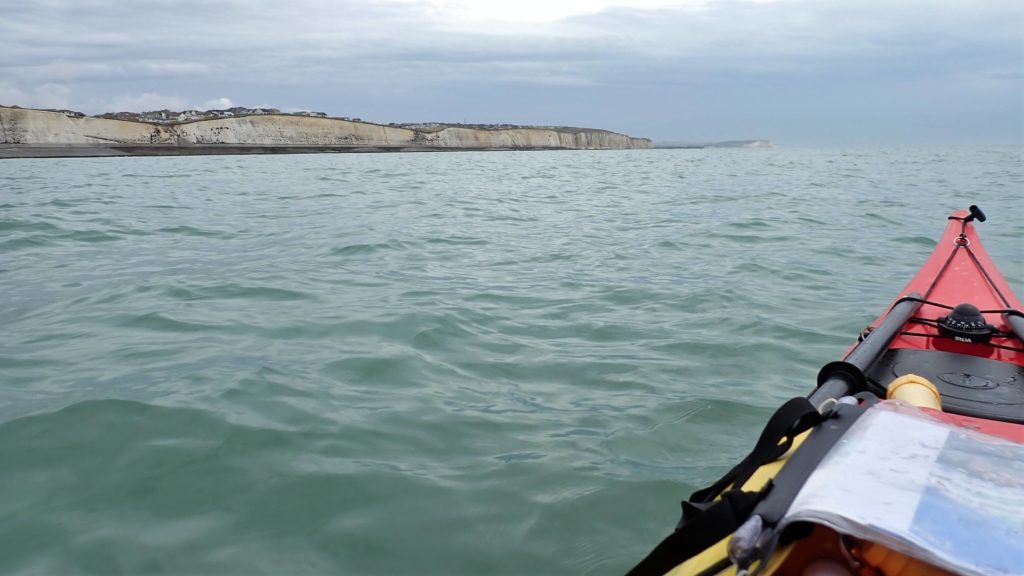 Travelling deep into the Eastern hemisphere we experienced some clapotic conditions at the breakwater at Newhaven. This quickly calmed down as we go around the breakwater and, after crossing the channel into the harbour, we took a break at the beach before continuing passed the Martello tower and cannon at Seaford.
Paddling passed Seaford we started to see the joined up white cliffs of the Seven Sisters, and so started to count the 'Sisters' as we moved closer to our lunch destination. Rounding Seaford Head we could see Hope Gap and the Cuckmere Haven Coastguard Cottages – famous for films such as Atonement and Summerland. Harry Potter and the Goblet of Fire was also filmed on Seaford Head nearby.
We planned to paddle up the estuary for lunch, but actually finding the entrance was trickier than we expected. Only when we were right on top of the channel could we see the entrance, between the groynes and shingle banks. As it was approaching high water, the flow into the entrance was quite strong and we surfed in individually to our lunch spot on the bank of the channel.
After lunch, getting back out to the sea was more challenging. Although we were able to get about half way back up the channel the flow was too strong, so we ferry glided over to the other side and portaged along the beach for a surf launch. Even when we launched from the beach, the draw into the estuary channel was still surprisingly strong.
Once safely on the water we started the long paddle back to the launch point, which would take about 3 hours. To make it a bit quicker we decided not to land at a beach, but some of us decided to stretch our legs while rafting up instead.
After re-crossing the Meridian and returning to Rottingdean, we had one more adventure before heading home: a surf landing. Once again we landed individually and helped each other get out of the boats/surf while some big waves threatened to take our boats back into the sea. In the end everyone landed safely and although tired, we were also very pleased to have crossed the Meridian and seen the Seven Sisters close-up. Maybe we can get in the next film being made along this coast too?
The trip was 35km, which was the longest trip that some of the group had done. Even with some tidal assistance, it was still a good effort by everyone. You can see a video of the day's trip here (2:45):