Chelsea Kayak Club has had some great press since it started back in 2010, as well as some notable praise in the 'club-circuit'.  We pulled this page together to share the spotlight with you:
CKC AWARDS & ACHIEVEMENTS:
AND HERE IS WHAT THE MEDIA HAD TO SAY: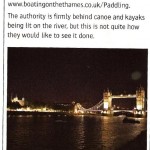 .
Canoe Focus (February 2012):
The handiwork of kit officer Jacqui Marsh helps to get CKC in the safety spotlight, when she created the Club's diffuser lights for paddling on the Thames at night.
.
.
.
.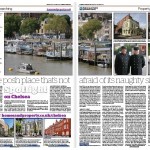 .
London Evening Standard (October 2011):
Our Chairman, Andrew McMenamin, sporting a CKC deck in this splash on why Chelsea is trendy!
.
.
.
.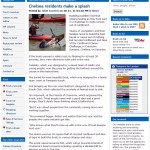 .
Kensington & Chelsea Chronicle (July 2011):
Following the Cardboard Canoe Day, the CKC entry made the news… but not for winning the race!
.
.
.
.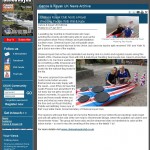 .
Canoe & Kayak Magazine (April 2011):
The CKC Royal Wedding paddle was something a little unusual, so caught made interesting reading.
.
.
.
.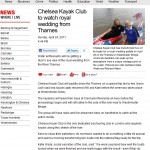 .
London24.com (April 2011):
CKC's Royal Wedding paddle made more than just the listings in the local papers.
.
.
.
.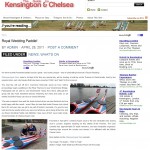 .
The Guide to Kensington & Chelsea (April 2011):
It's all talk about Chelsea Kayak Club getting arty for the Royal Wedding paddle.
.
.
.
.
.
TNT Magazine (April 2011):
With a few Aussies and South African's in the club, we knew our Royal Wedding paddle would be explosive material for TNT.
.
.
.
.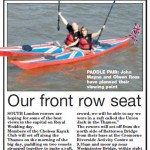 .
South London Press (April 2011):
As a good few of our members are from south of the river, a few members had their 'home' paper cover the Royal  Wedding paddle.
.
.
.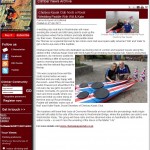 .
Climber (April 2011):
Yet another story on the CKC Royal Wedding paddle.
.
.
.
.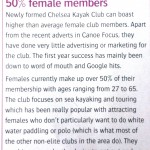 .
Canoe Focus (April 2011):
Due to the high number of ladies paddling with the club after just one year on the clock, we caught the attention of the BCU and were included in the 'Women & Girls in Paddlesport' section of the magazine.
.
.
.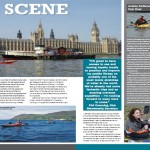 .
Canoe & Kayak Magazine (December 2010):
This FOUR PAGE feature gives a great overview to the club and everything it stands for – from the Thames sessions, through to the trip abroad. Click here for full feature.
.
.
.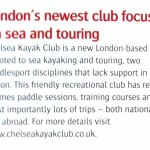 .
Canoe Focus (August 2010):
Making the news!  Although a few months after we started, we made it into the British Canoe Union's flagship publication.
.
.
.
.